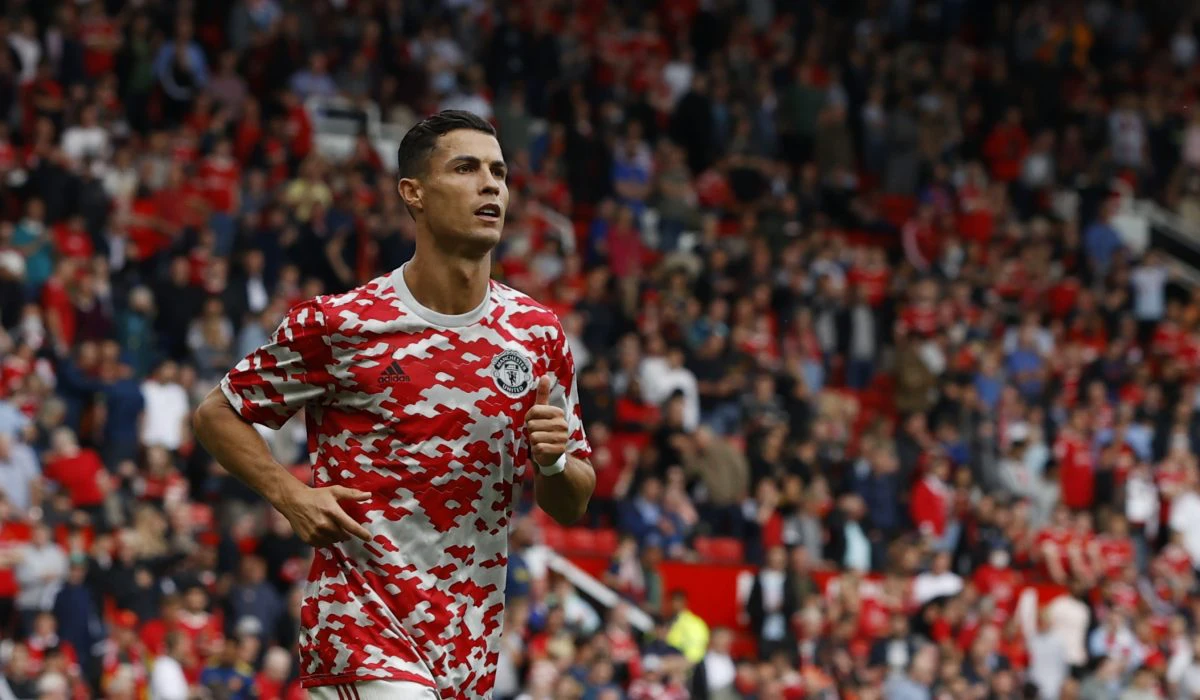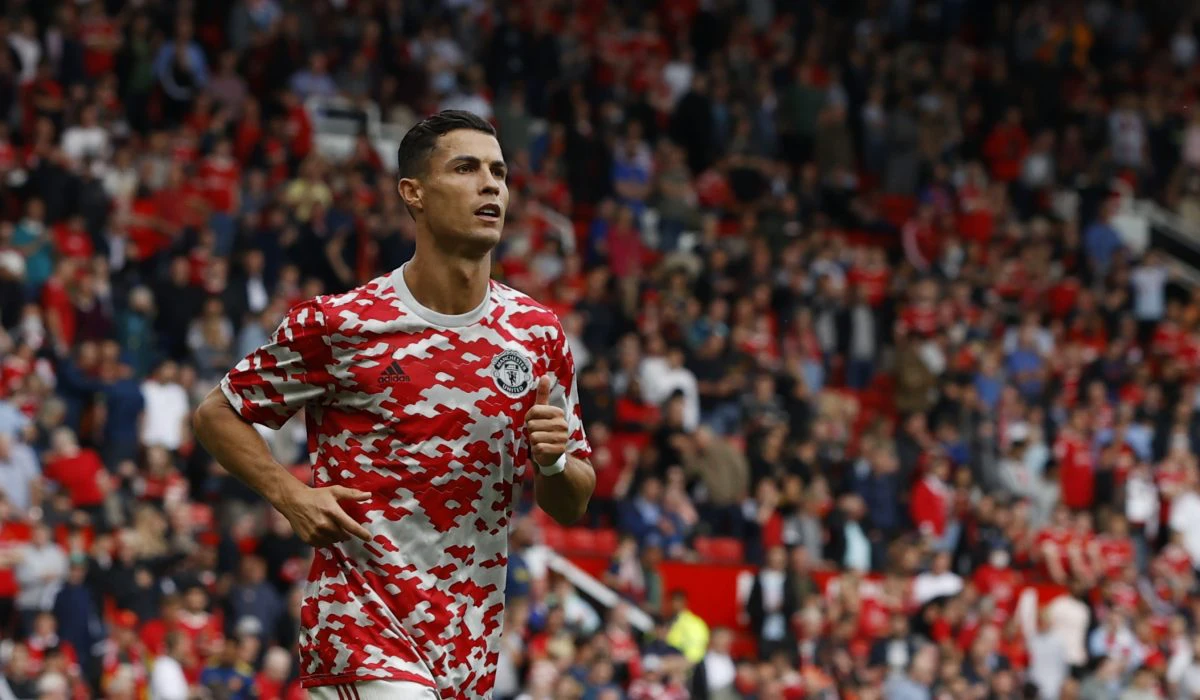 West Ham United vs. Manchester United
After the first matchday in the Champions League and Europa League took place during the week, we can look forward to the Premier League next weekend. On matchday five, West Ham United host one of England's biggest clubs, Manchester United, at the London Stadium. The upcoming home team West Ham United currently find themselves in eighth place in the table and have managed to earn eight points in this still young season.
Manchester United have not yet been beaten in the Premier League, just like their upcoming opponents, but have already bagged three victories. The Red Devils are therefore in first place with ten points. With the signing of Cristiano Ronaldo, they have once again become a hot candidate for the championship. The Portuguese scored twice in the last league match. Find out more about this match in our West Ham vs Man United betting tips
West Ham – Man United Info
– Date & Time: 19/09/2021, at 15:00.
– Venue: London, London Stadium (60,000 spectators)
– Competition: Premier League, Matchday 5
– TV coverage: SkySport
West Ham Form & Balance Check
West Ham United got off to a flying start in the Premier League: Right at the beginning they celebrated a 4:2 victory over Newcastle United and a 4:1 win against Leicester City. However, this was followed by two disappointing draws against Crystal Palace and Southampton FC. In the Europa League, David Moyes' side regained their confidence with a 2-0 win over Dinamo Zagreb. In view of this success, the Hammers' form curve is again pointing slightly upwards.
Antonio in goal mood
West Ham possess an incredibly flexible striker in Antonio. The Jamaican is as quick as a winger and has the physicality of a penalty area striker. In addition, the already 31-year-old has been at the club since 2015 and therefore knows the Premier League very well. This season, he has scored an average of one goal in every league game. We think he could become an X-factor against Man United.
West Ham facts & analysis
– They are currently eighth in the table
– West Ham have been without a win in the Premier League for two games now.
– They last won 2-0 against Dinamo Zagreb in the Europa League
Man United Form & Balance Check
Manchester United are undoubtedly in top form in the Premier League. Against Young Boys Bern in the Champions League, the ever-increasing form curve over four matchdays in the Premier League got a small bend. Solskjaer's men lost the game against the Swiss club practically at the last second after all. Lingard played the ball back to the goalkeeper. However, the latter starved, leaving the Bern striker alone in front of De Gea to calmly slot the ball into the corner of the goal.
Ronaldo – Man United's cornerstone
Cristiano Ronaldo is already indispensable. The Portuguese has scored an incredible three goals in his past two competitive games. As luck would have it, he was substituted against Young Boys Bern during the week and his side actually ended up losing the game. Whether there is a connection between his substitution and the defeat is uncertain. Nevertheless, he helps Man United immensely as the opposing team focuses mainly on him.
Man United facts & analysis
– They are the Premier League leaders.
– Man United have not lost any of their first four Premier League games
– They last lost 2-1 to Young Boys Bern
Predicted line-up – last update on 17 September 2021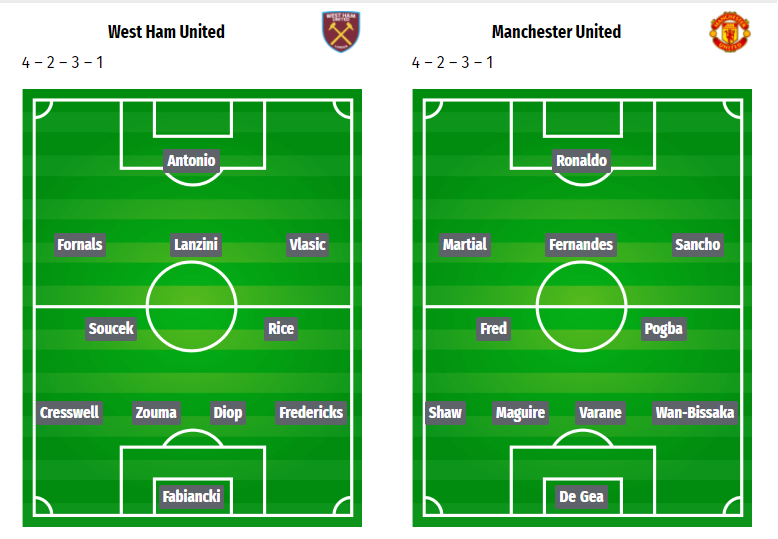 We don't expect any starting eleven changes at West Ham United. However, it is reasonable to assume that manager David Moyes will make early changes. We expect the Hammers to play in their usual 4-2-3-1 system at their own stadium.
For Manchester United, we expect one change: Pogba will most likely play in the six-position again and Martial could start in left midfield. Manchester United currently operate in a classic 4-2-3-1 system, as do West Ham United.
West Ham – Man United direct comparison & Statistics
The last four direct duels between West Ham United and Manchester United were very successful for the Red Devils. Three times, the team of coach Solskjaer was the winner and only once the two teams parted with a draw. Man United recently celebrated three wins in a row against West Ham.
– When West Ham United are 0-1 down in home games, they win 0% of the games.
– West Ham United have won only 1 of their last 5 Premier League matches against Manchester United
– West Ham United have not lost any of their last 15 matches