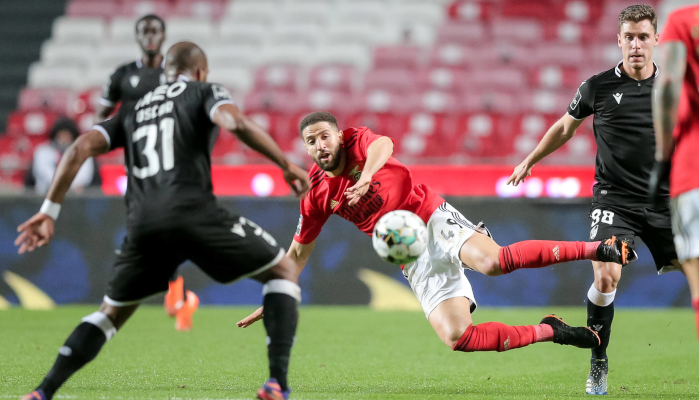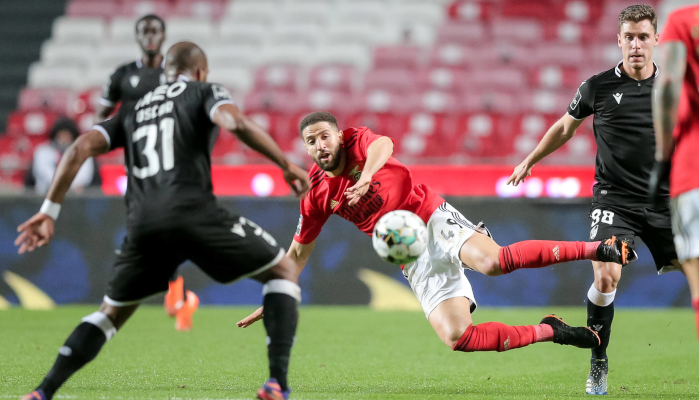 Betting odds, tip & Prediction for Vitoria Guimaraes – Benfica Lisbon ➔ Primeira Liga, Wednesday, 19.05.2021 at 21:00
The season finale in the Portuguese Primeira Liga is just around the corner. The champions and runners-up have already been decided. So is third place, yet a top club would like to go into the break with a win.
Also because a cup final awaits next weekend. On Wednesday (21:00), they want to win in order to stay in rhythm. In my Vitoria Guimaraes Benfica Lisbon tip you can find out what I think about the match.
Many decisions in the Primeira Liga have already been made, but of course the season finale is not without suspense. Vitoria Guimaraes have an important match coming up, against Benfica Lisbon of all teams.
The team is currently sixth, but both Santa Clara in seventh and Famalicao in eighth could still pass them by. The European Conference League will only work out if they win against Benfica or if their competitors slip up.
Guimaraes have only won two of their last twelve games, which doesn't exactly bode well for a spectacle against Benfica. At least have always scored in their own stadium in the last six months.

Nevertheless, it is of course striking that Vitoria have not yet celebrated a single victory against a top team. Why should it work now of all times? Hope is fading more and more as fans look at the direct comparison. Benfica is an absolutely fearful opponent.
Guimaraes have been winless for 21 games, 18 of which have been lost. Goals in the aforementioned period: just five! In no less than 16 games, the outsider has remained without a goal.
So it seems clear: The white angels only have a chance against Benfica if the favourite does not give 100%. The football betting companies see it the same way, even though the odds on a single bet are not too high.
If you bet on a home win, Betano offers average odds of 3.50. As a bonus, new customers can look forward to redeeming a free bet.
With Benfica Lisbon, the question will be: How seriously do we take Wednesday's match? The Eagles will definitely finish the season in third place. So, with Sporting and Porto unbeatable this season, they will now finish third with four defeats.
Will Benfica want to go all out offensively on the last matchday? Last Saturday they had a 4:3 spectacle against Sporting. This was the first defeat of the entire season for the local rivals!
The derby was, of course, a special occasion, as both clubs had nothing at stake. It is hard to imagine that the third-placed team in the table will be in full force on Wednesday.
While there is no chance of winning the championship, Benfica still have a chance of winning the cup. Next Sunday, the final against Braga awaits A win is absolutely necessary here, so a rotation against Vitoria Guimaraes is quite likely.
I wonder if that has factored into the bookies' valuation? They are leading an away win with relatively high betting odds around 2.00. And that despite Benfica having such a sensational record against this opponent.
The Eagles have no problems whatsoever on the offensive, scoring exactly two goals on average. Of course, this is also because former Frankfurt player Haris Seferovic is in top form. With 20 goals and seven assists, he is playing an enormously strong season.
35 away goals – that is even the absolute top value of all teams. If I want to find a "fault", it's that at least one goal has been conceded in six of the last seven games.
I wonder if the defence will let it slip a little on Wednesday, while Vitoria have to come?
On paper, of course, Benfica travel as clear favourites. The opinion of the football bookmakers is backed up by the direct comparison. There is no question that the Eagles are the better team.