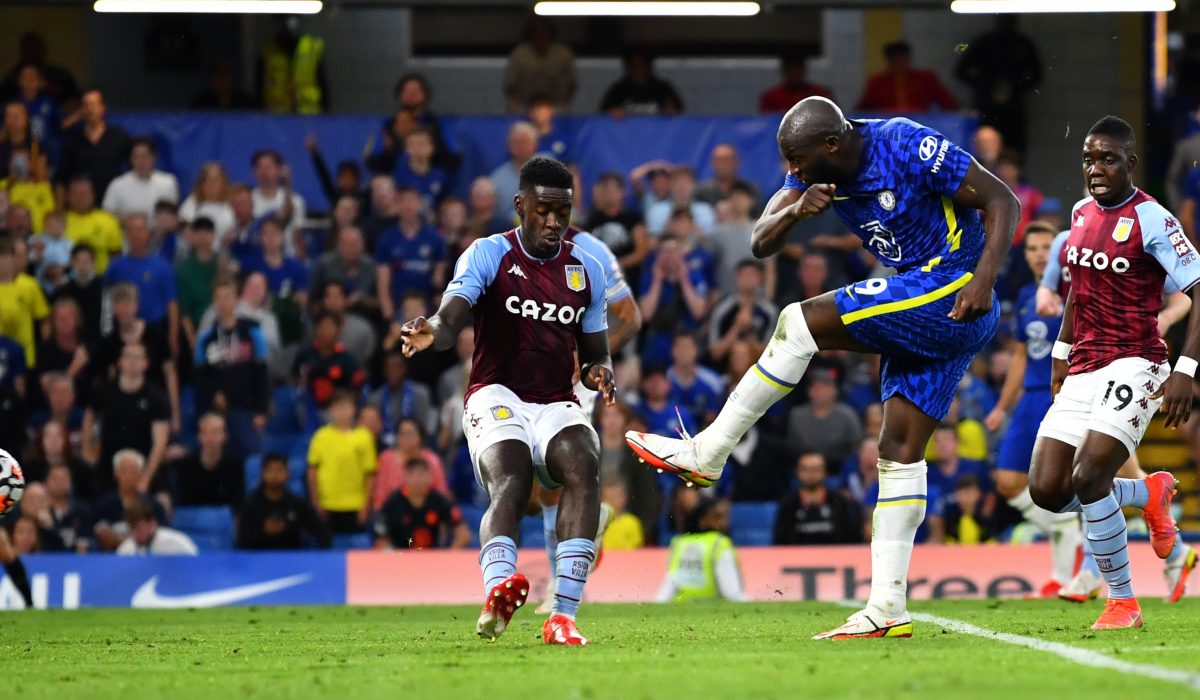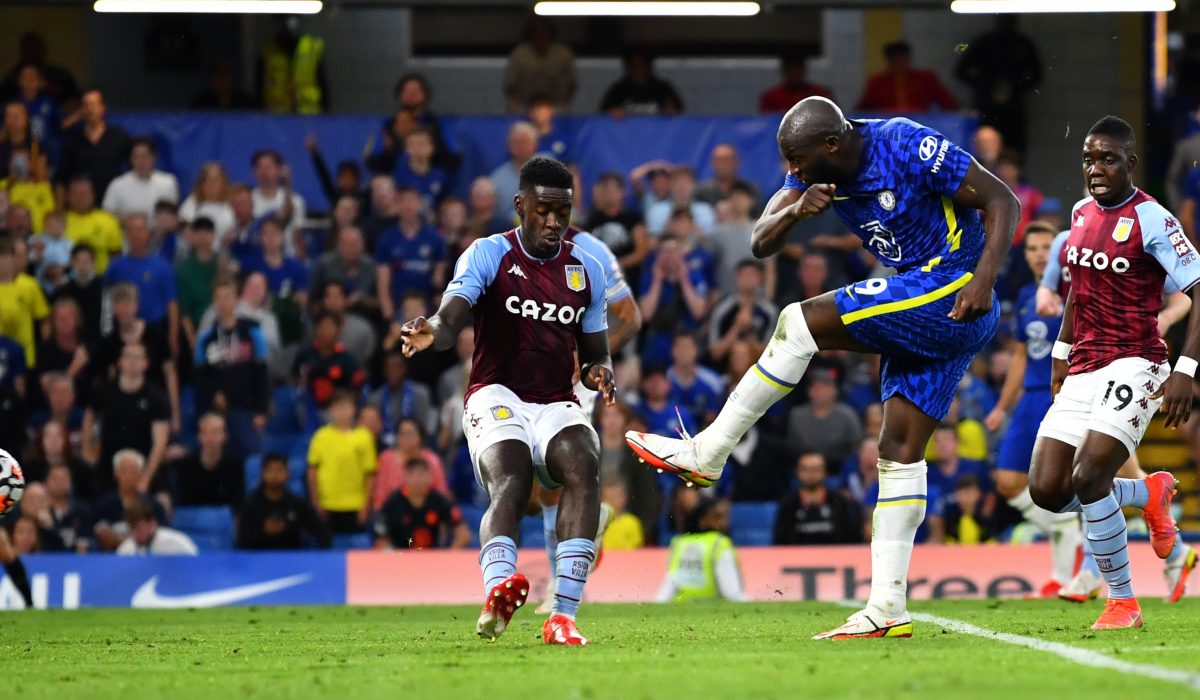 Tottenham Hotspur vs. Chelsea FC
At the end of the 5th matchday in the English Premier League, the top game and a real classic awaits us. In the London derby, Spurs welcome Chelsea FC and thus the 7th in the table meets the 2nd. While Tottenham started the season with 3 wins, including a 1-0 victory over the reigning champions Manchester City, Chelsea is still completely unbeaten. Spurs suffered a bitter 3-0 defeat against Crystal Palace and have slipped down the table accordingly. Who we see in front in the derby, you can find out in this Tottenham – Chelsea tip.
So far, both teams have put a lot of emphasis on defending in the season and have remained without conceding a goal in 3 of the 4 games they have played. Above all, Chelsea are in very good early form and underline their own ambitions to win the title. But the competition is enormous and City, United and Liverpool are also in extremely good form at this early stage of the season. Accordingly, an exciting battle for the title awaits us. For Sunday we predict a close game, which Chelsea will win due to their good form.
Tottenham Form & Balance Check
Tottenham Hotspur will naturally be looking to improve significantly after last season's disappointing campaign. After simply lacking consistency last season, new coach Nuno Espirito Santo is expected to bring it back. The start to the season was excellent and Spurs won each of their first 3 games 1-0, but they suffered a major setback last weekend when they went down 3-0 to city rivals Crystal Palace. Now they must show a reaction against the Champions League winners, otherwise the euphoria will be completely gone.
When will Harry Kane get going?
Defensively, of course, it looks very tidy so far, but offensively Spurs' performance has been rather poor so far this season. This is also due to the fact that Harry Kane does not seem to have quite arrived again after the quarrels in the summer. The world-class striker has yet to score and Tottenham's best attacking player so far, Heung-Min Son, is injured. So it would be extremely important if the 28-year-old regains his form as soon as possible. Otherwise it will be another difficult season for Tottenham.
Tottenham Facts & Statistics
– Tottenham have not conceded a goal at home so far.
– Top scorer Heung-Min Son is out injured.
– The average goals scored in a Tottenham Hotspur vs Chelsea FC clash is 2
– When Tottenham Hotspur lead 1-0 in home games, they win 80% of matches
Chelsea form & balance check
Since Thomas Tuchel has been coach of the Blues, things have gone steeply uphill for the club from north London. Not only have they become Champions League winners, the defence has also become extremely stable and Chelsea have become a real top team again. This summer, they spent a lot of money and signed Romelu Lukaku from Inter Milan for more than €100 million. In return, however, they have also made a lot of money and sold Tammy Abrahams, for example, for 40 million. This signing has put Chelsea in the running for the title.
Do the players get on with Thomas Tuchel in the long run?
There is no doubt that the German is an excellent coach. He has a lot of experience and has already coached top teams like Dortmund or PSG. But at some point, the chemistry between the team and the coach failed, as the 48-year-old is said to be not such an easy character. It was quite extreme in Dortmund when the club and coach fell out. So far, there are no signs that Tuchel and the team do not harmonise. Accordingly, a long cooperation is absolutely conceivable and desirable.
Chelsea Facts & Statistics
– The Blues have only conceded one goal in the current season.
– Romelu Lukaku has scored three times for Chelsea FC
– Chelsea have won 4 of their last 5 meetings against Spurs in the Premier League
– Chelsea FC have not lost any of their last 10 matches
Predicted line-up – last update on 17 September 2021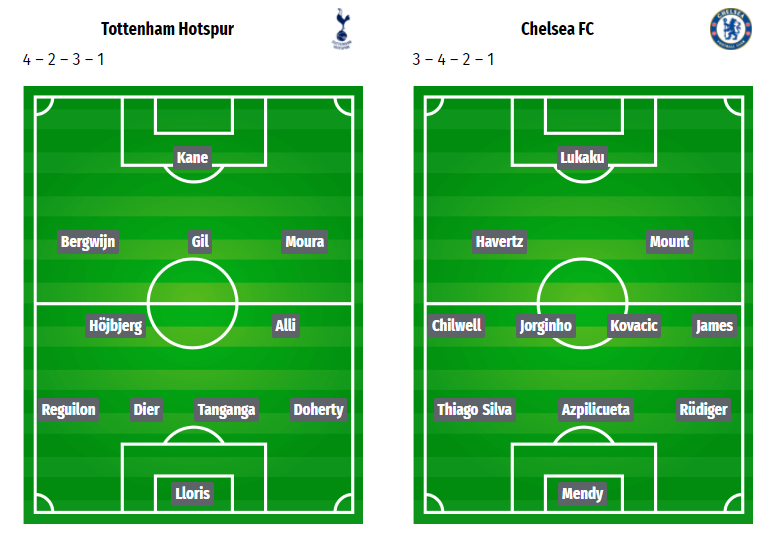 The home side in particular are currently without a number of regulars. The two regular centre-backs are still in quarantine and will be replaced by Tanganga and Dier. Son, too, will not be fit again in the offensive. Lucas Moura will start again. For the Blues, we expect the same formation as last time out in the top flight, in a 3-4-3, with Thomas Tuchel having a variety of options and possibly Kai Havertz starting in attack and also the experienced Thiago Silva likely to return to central defence.
Missing and injured players Tottenham Hotspur
– Son, Heung Min
– Dier, Eric
– Moura, Lucas
– Bergwijn, Steven
– Sanchez, Davinson
– Lo Celso, Giovani
– Romero, Cristian
– Tanganga, Japhet
– Sessegnon, Ryan
Missing and injured players Chelsea FC
– Kante, N'Golo
– Pulisic, Christian
Tottenham Hotspur vs Chelsea FC – Premier League 21/22 on 19/09/2021
– Match start: Sunday 17:30 hrs.
– TV Broadcast: Sky Sport HD 1 (D) – Astra (19.2E) – SKY
– Venue: London, England
– Stadium: Tottenham Hotspur Stadium
– Stadium capacity: 60463 spectators
Tottenham Hotspur vs Chelsea FC TV broadcast, live stream and time
The match between Tottenham Hotspur and Chelsea FC takes place on Sunday, 19/09/2021 at 17:30 on TV channel Sky Sport HD 1 (D) – Astra (19.2E) – SKY.
Tottenham Hotspur vs Chelsea FC – Form Check and Comparison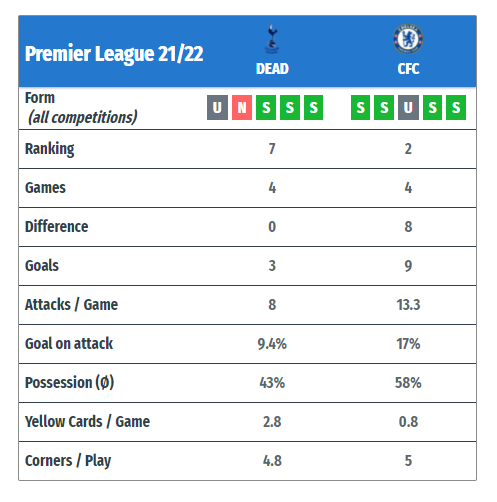 Result Statistics – Tottenham Hotspur and Chelsea FC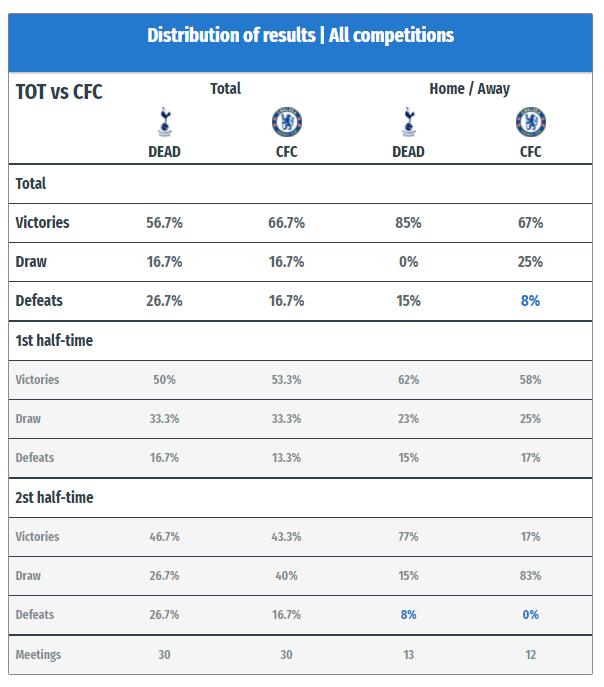 Goal betting and Over/Under predictions