FC Torino vs. Lazio Roma
Like Ligue 1 and La Liga, the Italian Serie A has an English week ahead. In order to fit the multitude of fixtures into the busy schedule, it's necessary. In our Turin – Lazio betting tips you will find all the information you need for a well-considered bet. In addition, we offer you all the information about both teams and three betting recommendations for this match, which will take place on Thursday. Juventus Turin have proven this season that you shouldn't always bet on big names. With the departure of Cristiano Ronaldo, the life insurance of the Turin team fell away and they are currently in a relegation spot with 2 draws after 4 games.
Apart from Juve, there are no big surprises in Serie A so far. The usual clubs are at the top end of the table and are fighting for the championship, the Champions League places or other European ranks. The two teams in question today want to be up there and are currently only one point apart. While Lazio Rome lost some ground in the last two games and could not collect many points, FC Torino got back on track after starting difficulties. Thus, one can say that the form arrows point in opposite directions. For Lazio clearly downwards and for the Turin team steeply upwards.
Turin – Lazio info
– Date & Time: 23/09/2021, at 18:30.
– Venue: Turin, Olimpico Grande (28,177 spectators).
– Competition: Serie A, Matchday 5
– TV broadcast: DAZN
Turin Form & Balance Check
Turin had a very difficult opening programme, which left them with 0 points after two games. FC Turin lost against Atalanta Bergamo and AC Florence with 2:1. Even though the results were very close, they did not bring them any points. In the following games, Torino found its way back to success. Against promoted US Salernitana they won 4:0, before they also won against Sassuolo 1:0. FC Torino are in a clear upswing in form at the moment and the last two victories have given the players a lot of self-confidence to be able to put their best performance on the pitch against Lazio.
With loan players to success
The Turin side's first two games were both narrowly lost. As a reaction to this, the officials became active again shortly before the end of the transfer market and brought in two attacking players who should help directly. With Josip Brekalo from Wolfsburg and Dennis Praet from Leicester City, two very talented players were loaned out. And the victories came promptly. Admittedly, Praet was only a substitute in the 4-0 win against Salernitana and Brekalo did not even play. However, both were in the starting eleven in the last match against Sassuolo. We will see how the two attacking players can help FC Torino against Lazio.
Turin facts & Analysis
– Horrendous start to the season
– Two wins in the last two games
– Two very good loan deals bagged shortly before end of transfer window
– Only one point behind Lazio
– With a win, Torino will stay at the top
Lazio form & balance check
Lazio's form curve runs exactly opposite to that of FC Torino. The Romans won their first two games this season impressively. Against Empoli it was a 3:1 success and at Spezia Calcio the capital added three more goals, so that in the end it came to a 6:1 victory. However, then came the drop in performance. It started when Lazio were beaten 2-0 by AC in Milan. Then came the surprising 1:0 defeat against Galatasaray Istanbul in the Europa League. Maurizio Sarri's men also failed to convince in their last encounter in the league. A 2:2 against Cagliari in their own stadium is far too little by Lazio's standards. The clash with FC Torino will show whether the form curve or individual quality will decide victory or defeat.
Many controversial new arrivals
Lazio Roma have had a very turbulent transfer period. In addition to success coach Simone Inzaghi, who left for Inter Milan, many key players also fell away. For example, Joaquin Correa, who followed his coach to Inter, Senad Lulic and Marco Parolo, who are no longer available due to their age, and Felipe Caicedo, who went to Genoa. For a long time, no major new signings were made and Lazio fans were already getting a little restless. But then Felipe Anderson was brought back and Elseid Hysaj was signed from Napoli. However, the latter immediately made himself unpopular with the fans when he sang "Bella Ciao" at a team evening. The title song of the series "House of Money" is a partisan song about resistance against Mussolini. This has been a thorn in the side of some openly fascist ultra groups, causing Hysaj to be directly insulted by a banner in the stadium. This action almost drowned out Pedro's transfer from hated city rivals AS Roma to Lazio.
Lazio facts & analysis
– Dream start in Serie A
– Afterwards sharp drop in performance
– Last 2 defeats and 1 draw in 3 competitive matches
– New arrivals very unpopular with fans
Predicted line-up – last update on 21 September 2021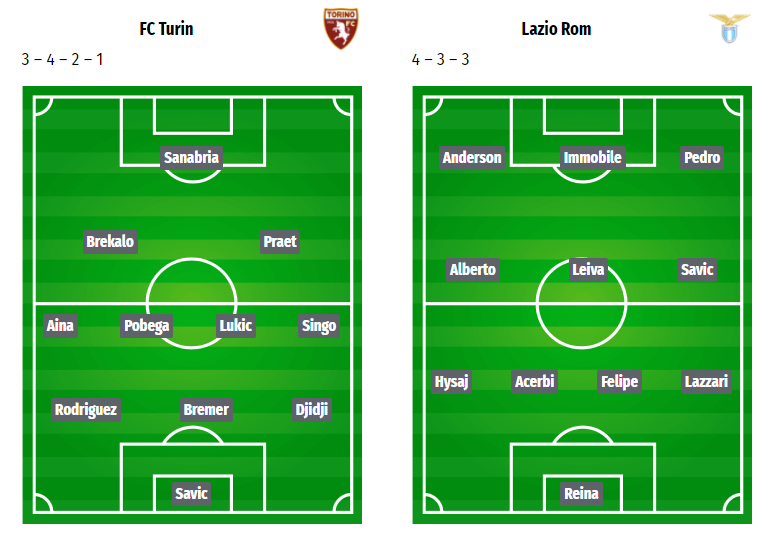 Turin FC will remain faithful to the 3-4-2-1 system. In addition, the two newcomers Brekalo and Praet will once again be in the starting eleven to cause trouble in the Lazio defence. Otherwise, there will be few changes for Torino. The situation is similar for Lazio Roma. Even if the last results were not crowned with success, the usual eleven will still be on the pitch. The reason for this is the limited width of the squad and the high quality in the first eleven.
Turin – Lazio direct comparison & Statistics
The direct comparison between these two teams could not be more even. In a total of 132 encounters, there have been 55 point-splits, 38 wins for the Romans and 39 victories for the Turinese. Thus, little advantage can be drawn here for the respective teams. However, the last duels between these two are interesting, as a clear Roman preponderance can be seen. In the past 15 games, Lazio have only been defeated 2 times.
– Very balanced record
– Lazio have lost only 2 times in the last 15 games against Torino.
– Turin failed to win their last two home matches against Lazio
– Only 1 time in the last 12 years did a duel end 0:0
– Torino currently have the better form