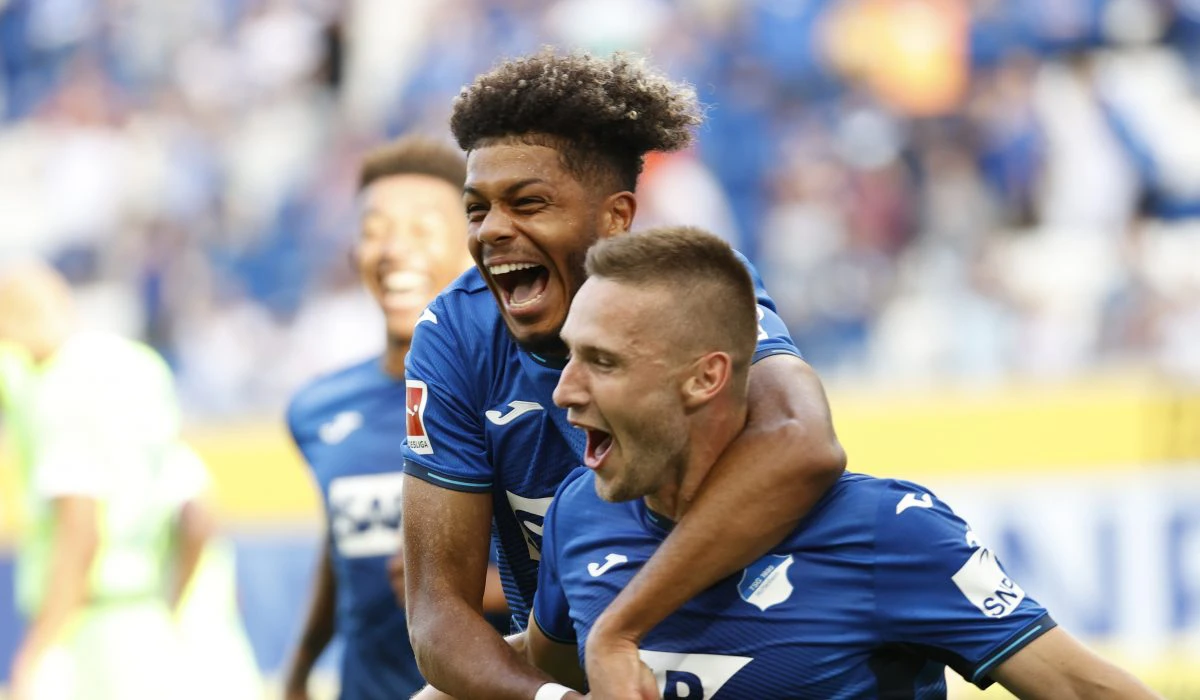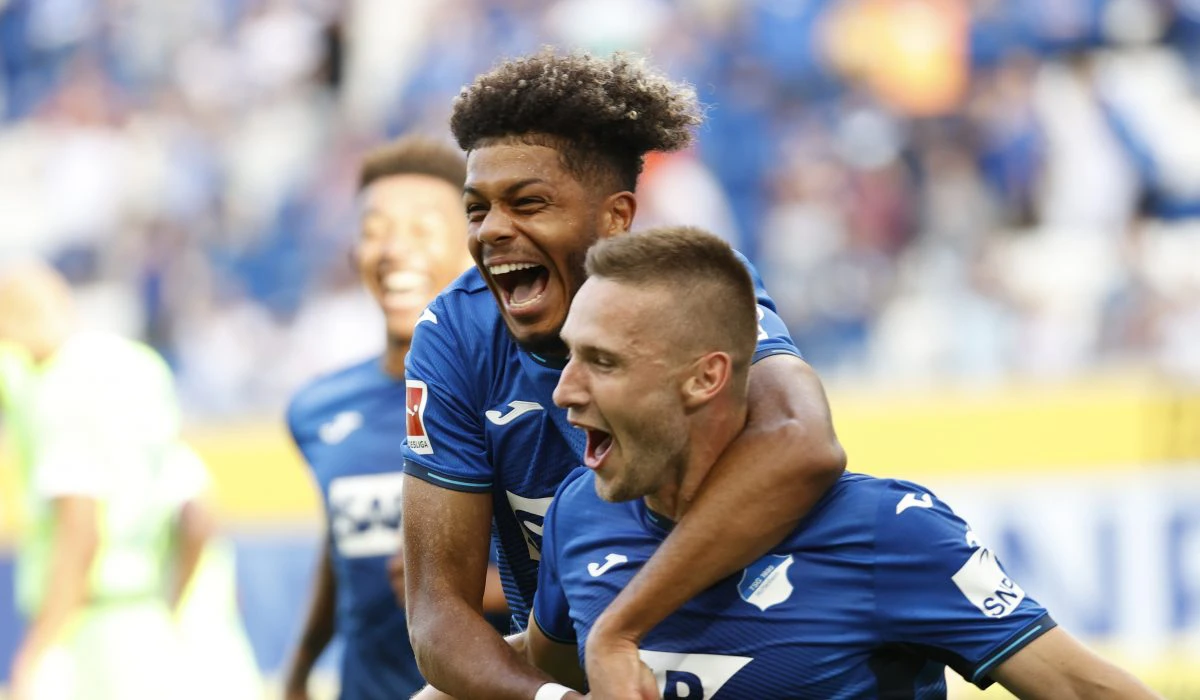 VfB Stuttgart vs. TSG Hoffenheim
While the top German teams such as Bayern, Dortmund and Leipzig were away on international duty, the remaining teams were able to prepare for the upcoming matchday in the Bundesliga in peace. Our Stuttgart – Hoffenheim betting tips will tell you everything you need to know about this derby. We will provide you with the most attractive odds, the most interesting statistics and the current form. With this amount of information, you can place well-considered bets for this matchday.
The match between TSG 1899 Hoffenheim and VFB Stuttgart is a clash between two teams that are currently mid-table. VfB have come back down to earth after the incredible opening euphoria due to the 5:1 victory against Fürth. After this resounding victory, things only went downhill for the Swabians. The Sinsheim season was similar. The only difference is that TSG is now back in form. With the win against the previously undefeated VFL from Wolfsburg, they reported back again.
Stuttgart – Hoffenheim Info
– Date & Time: 02.10.2021, at 15:30 hrs.
– Venue: Stuttgart, Mercedes-Benz Arena
– Competition: Bundesliga, Matchday 7
– TV broadcast: Sky
Stuttgart Form & Balance Check
VFB Stuttgart got off to an outstanding start in their first match of the season. The Bundesliga promoted side from Fürth were swept off the pitch with 5:1. However, the resulting euphoria did not last very long. Already on the second matchday, they suffered a 4-0 defeat against Leipzig. The following duel against Freiburg was also lost. Only against Frankfurt and Bochum could the VFB collect two points with two draws. In between, they also lost 3:1 to Leverkusen. Admittedly, you can lose against teams like Leipzig, Leverkusen and Freiburg, who are in very good form. However, it must be the Swabians' ambition to get more than a point against Frankfurt and Bochum, who are in extremely poor form. The VFB are currently in 14th place in the table with five points, just one point away from the relegation zone.
Will Mavropanos be fit?
Konstantinos Mavropanos has developed into a defensive pillar in Stuttgart this season. The young Greek has always put in a very good performance on the pitch so far, even if you can't necessarily tell that from the results. Last matchday, against Bochum, Mavropanos suffered a slight muscular injury. Up to and including Tuesday, he was only able to train individually. However, there is good news for all Stuttgart players. Since Wednesday, the centre-back has been back in team training and he can participate in almost all of the sessions. So there should be nothing standing in the way of his playing against Hoffenheim at the weekend.
Stuttgart facts & analysis
– Perfect opening game delivered
– Afterwards big drop in performance
– Only 2 points from 5 games
– Mavropanos injured, but fit for Hoffenheim
Hoffenheim Form & Balance Check
TSG Hoffenheim have been a rollercoaster of emotions this season. In the opening game against Augsburg, the Sinsheim side delivered completely, winning 4-0, followed by a 2-2 draw against Union. So far, so good. However, there was then a downhill slide. Against BVB, Hoffenheim could not get past a 3:2 defeat and against Mainz they had no chance and went down 0:2. But as a roller coaster goes, it also goes up again. In the penultimate match against Bielefeld, a meagre 0-0 score was collected. And against Wolfsburg last weekend, TSG was back in full force and earned an important three points. As you can see, Hoffenheim's performance is very difficult to predict. However, they should have gained a lot of self-confidence with last week's win. In addition, the VFB is currently at the bottom of the form curve.
Crosses as a means to happiness
In principle, TSG Hoffenheim is a very strong team. They also have strong wingers like David Raum and Pavel Kaderabek, who can also hit very good crosses. Recently, the Sinsheim team's playful approach has been lacking and they have come back to the crosses. As we saw against Wolfsburg, this worked excellently. However, you can't rely on that alone. With Kempf and Mavropanos, Stuttgart have two skilful players in the penalty area who will head away any cross. So Hoffenheim's complete flexibility will be needed in the derby against Stuttgart.
Hoffenheim info & facts
– Strong opening game
– After that came the drop in performance
– Recently in better form again
– Inflicted Wolfsburg's first defeat of the season
Predicted line-up – last update on 30 September 2021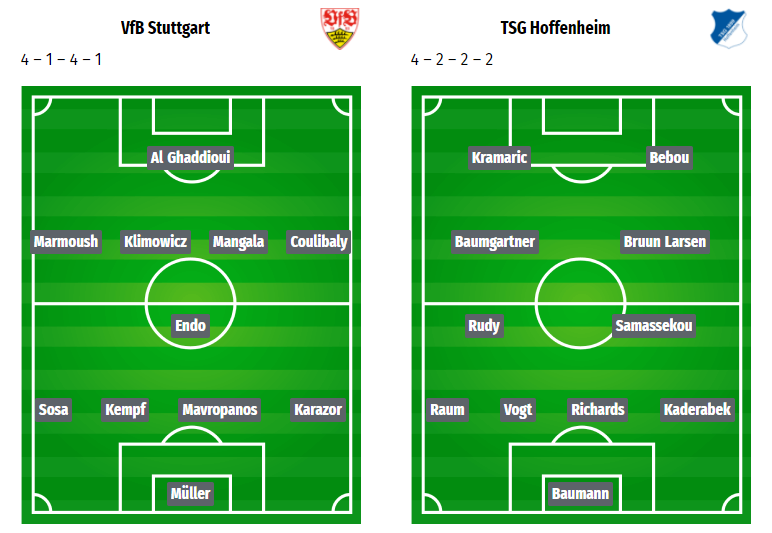 VFB Stuttgart will not make many changes to their starting eleven. In the 4-1-4-1 they are relatively stable defensively. Only offensively they need to become more effective to get wins. TSG will make a few changes offensively. Bruun Larsen and Rudy will probably make their starting eleven comeback. Together with the in-form Kramaric and Baumgartner, the Sinsheim attack will create a stir.
Stuttgart – Hoffenheim direct comparison & statistics
To date, this derby has taken place 23 times. In these encounters, it was usually a tidy affair. From Hoffenheim's point of view, the balance of the direct comparison is negative. They won only six duels, while Stuttgart won ten. In addition, there have been seven point-splits. Last season, the VFB won the home match and in Sinsheim they drew 3:3.
– Balance speaks for Stuttgart
Stuttgart have not lost their last three meetings with TSG.
– Stuttgart have not lost their last 4 home games against Hoffenheim
– Stuttgart have won 3 of their last 4 home games against Hoffenheim
– Hoffenheim are currently in better form than Stuttgart