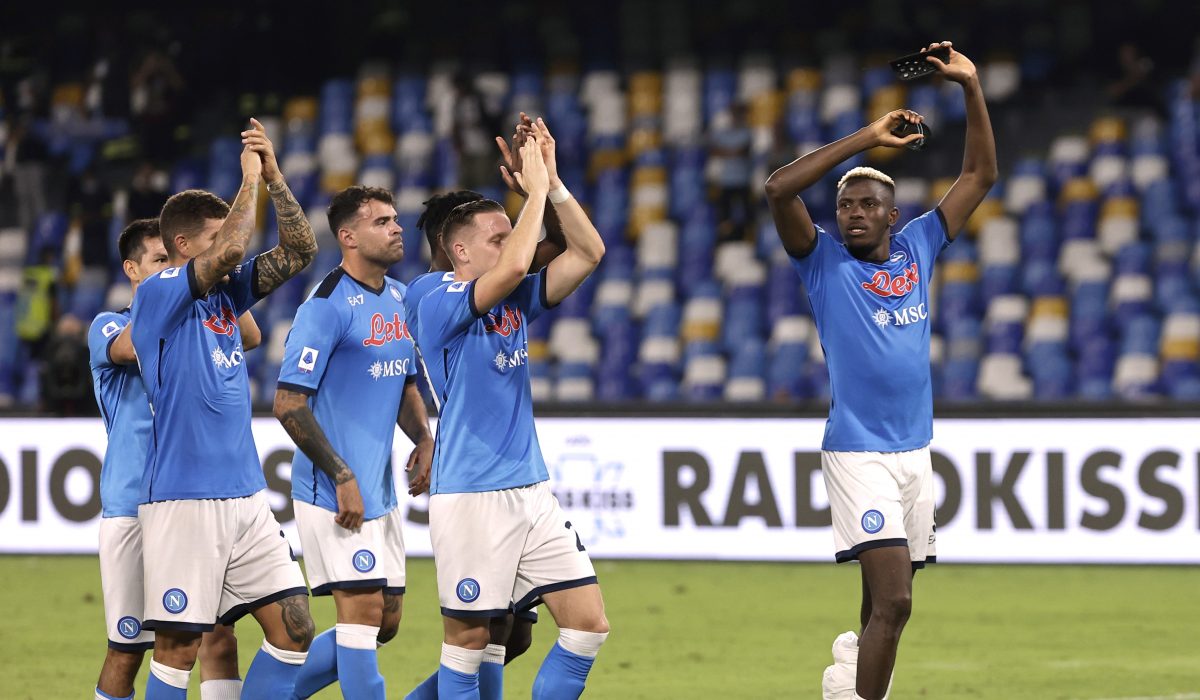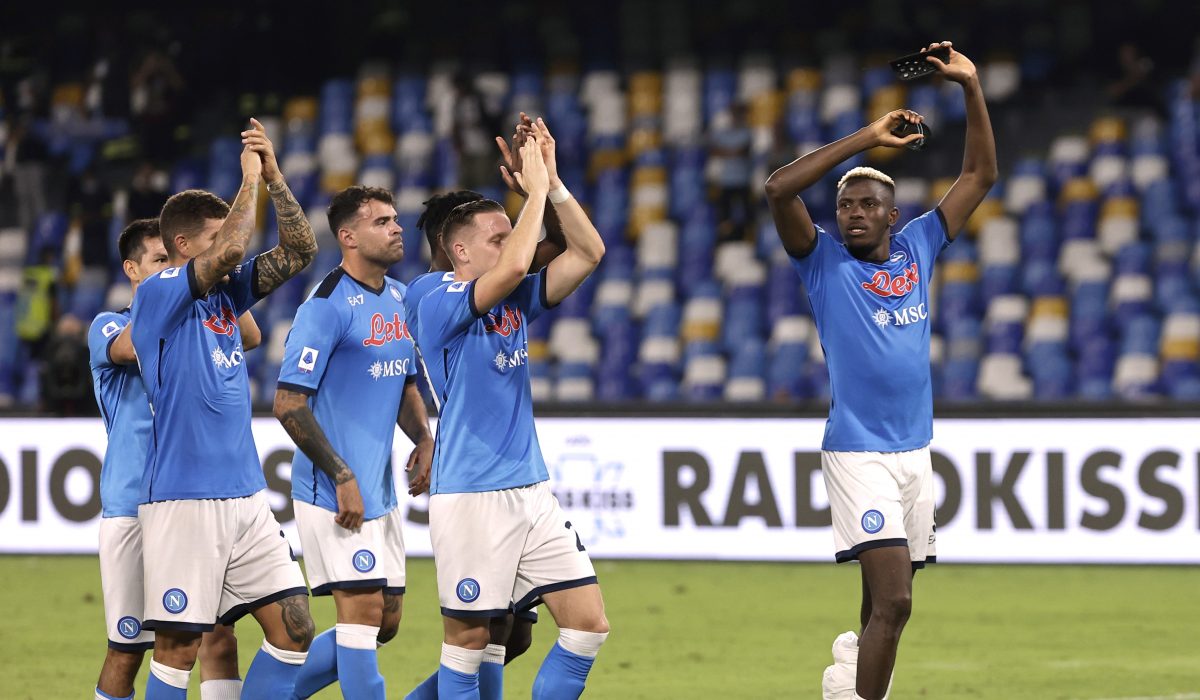 Sampdoria Genoa vs SSC Napoli
There is sure to be plenty going on at the Stadio Luigi Ferraris on matchday five. Sampdoria Exactly will receive SSC Napoli on 23/09 at 18:30. Both teams won their last league match to zero and are currently in good shape. Sampdoria are in the midfield of the table and currently occupy eleventh place.
The southern Italians are currently top of the table. The team of coach Luciano Spaletti has won all of its first four league games. That is why the Neapolitans are also the big favourites in Genoa. However, Sampdoria is particularly difficult to beat in their own stadium. Inter Milan already made this experience, as they could not get beyond a 2:2 draw with the Genoese. Find out more about this match in our Sampdoria vs. Napoli betting tips.
Sampdoria – Napoli Info
– Date & Time: 23/09/2021, at 18:30.
– Venue: Genoa, Stadio Luigi Ferraris (36,599 spectators)
– Competition: Serie A, Matchday 5
– TV coverage: DAZN
Sampdoria Form & Balance Check
Sampdoria Genoa conceded their first home defeat right at the start of the season: the port city side lost 1-0 to AC Milan on matchday one. This was followed by a solid and mood-lifting 0-0 against Sassuolo. Now the second difficult home match against Inter Milan was on the agenda. In this match, however, the Genoese were on a par with the team from the fashionable city and were able to earn a deserved 2-2 draw. In their last match, coach Roberto D'Aversa's men were buoyed by a 3-0 win over FC Empoli.
Fearful opponents SSC Napoli
Sampdoria Genoa are known in Italy as a very strong team at home, but they could never really live up to that image against SSC Napoli. In the past two home games, the port cities suffered two defeats against the southern Italians. In total, Sampdoria Genoa have only managed to win one of their last 18 games against Napoli. Therefore, SSC Napoli can be called the Genoese's fearful opponent.

Sampdoria facts & analysis
– They are currently in eleventh place in the table.
– They won the last match 3:0 against FC Empoli
– Napoli are a big fear opponent of Sampdoria Genoa
Napoli Form & Balance Check
The southern Italians have not lost any of their first five competitive matches. Coach Spaletti's team is the only team in Serie A to win their first four league games. Napoli even played to nil twice and already shone against eternal nemesis Juventus Torino. The Old Lady led in the Vesuvius-based city, but were mercilessly punished for their individual mistakes in the second half and had to accept a 2-1 defeat at SSC Napoli.
Neaples incredible attack
Napoli have always been an attack-minded team, and season after season they have been one of the most goal-hungry Italian sides. This year, surprisingly, it's the defenders, among others, who have gotten Napoli to where they are right now. Centre-back Koulibaly has joined in the attack in recent games and is currently Calcio Napoli's top scorer with two goals scored. Overall, Napoli has the third best attack in the entire league.
Napoli Facts & Analysis
– They possess the third best offence in their ranks (10 goals after four games).
– Napoli are currently in first place in the table
– Napoli have not lost any of their first five competitive matches
Predicted line-up – last update on 21 September 2021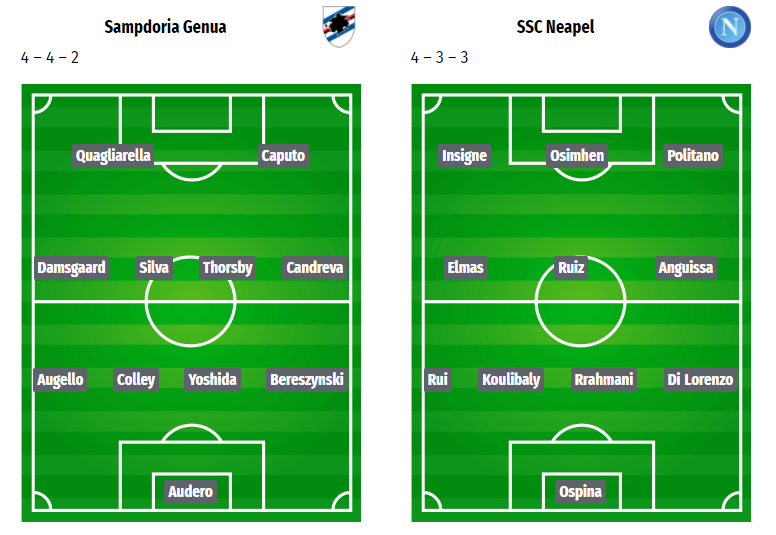 Sampdoria Genoa are currently operating in a 4-4-2 system. The team of coach Roberto D'Aversa showed an excellent performance against FC Empoli in the last match. Therefore, we do not expect any changes in the starting eleven. Vieira and Gabbiadini are still missing due to injury.
Since Napoli convinced in all aspects in the last match, we suspect that coach Spaletti will keep everything the same. In addition, we expect them to play in their usual attacking 4-3-3 system. Missing due to injury will be Diego Demme, but he is expected to return soon.
Sampdoria vs Napoli direct comparison & stats
Napoli have always been in top form against Sampdoria Genoa over the last two seasons. The southern Italians have won the last five direct duels against the port city side from Genoa. Most recently, Calcio Napoli were even able to celebrate a 2-0 defeat at Sampdoria Genoa. Napoli have won 14 of their last 18 matches, while Sampdoria have only won once.
Sampdoria Genoa have won only 0 of their last 5 Serie A matches against SSC Napoli.
– SSC Napoli have not lost any of their last 9 away games
– The most common result between Sampdoria Genoa and SSC Napoli is 0-2 (9 matches ended like this)