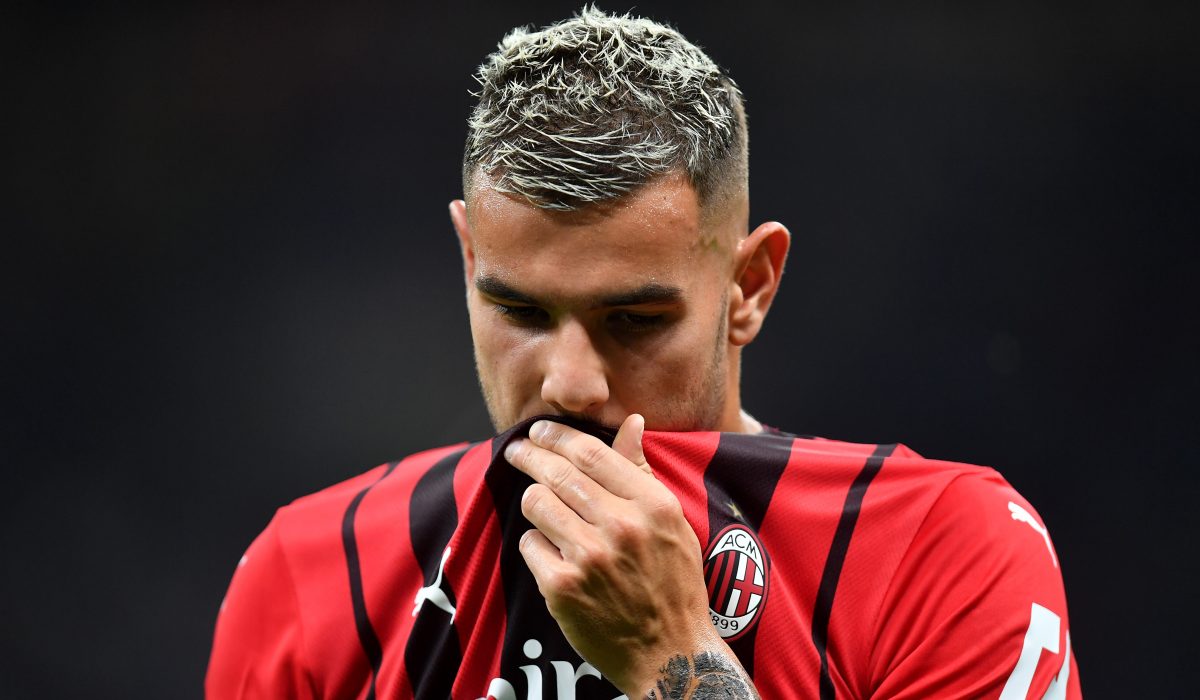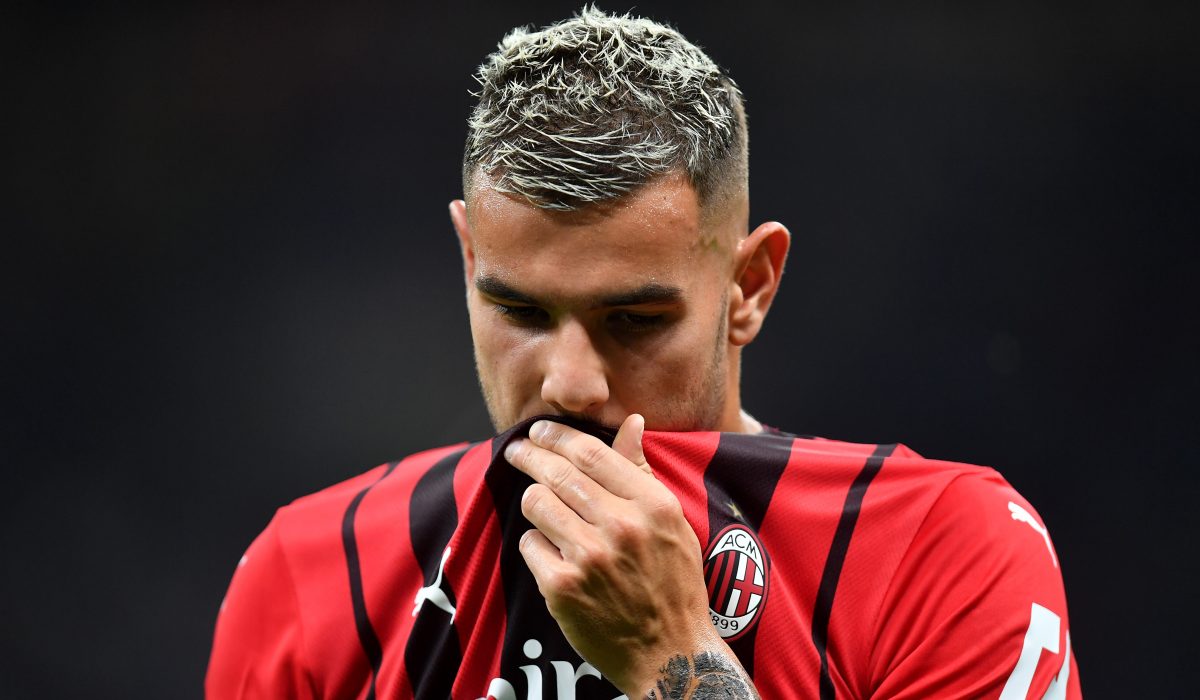 AC Milan vs. FC Venice
An English week awaits us in Serie A this Tuesday, Wednesday and Thursday, and on Wednesday evening it comes down to a clash between two northern Italian clubs. The great AC Milan welcome the promoted Venice, who are back in Italy's top division after a 19-year absence. The Rossoneri have had a very good start to the season, picking up a point against struggling serial champions Juventus Torino last Sunday. This puts them in 2nd place in the table after 4 matchdays and they have collected a total of 10 points. Whether we think Milan will live up to their role as favourites, you can find out in this Milan – Venice tip.
Venice also managed to win on the first 4 matchdays, but unfortunately it was also the only victory in the course of the season so far. The other 3 games were lost and the prospects on Wednesday are not much better. However, it was clear that Venezia would not play the stars from the start. The northern Italians are solely concerned with staying in the league and, in the best case scenario, establishing themselves in Italy's top division in the next few years. We don't think the promoted side have a chance at the Giuseppe Meazza Stadium on Wednesday and the 3 points will stay in Milan.
Milan vs Venice Info
– Date & Time: 22/09/2021, 20:45 hrs.
– Venue: Giuseppe Meazza Stadium
– Competition: Serie A, Matchday 5
– TV broadcast: Only in Livestream at DAZN
Milan Form & Balance Check
It almost seems as if Milan can finally match the success of their earlier days. Last season they were on course for the championship for a long time, but then collapsed and in the end had to watch their city rivals Inter win the Scudetto. Now it's a new year, new luck and the start was certainly promising. The Rossoneri are not convincing with exhilarating offensive football, but with good old Italian stability in defence. So far they have only conceded 2 goals and have already played against top teams like Lazio and Juve. Against Venice, they can get the next three-goal win and that would be a big step in the right direction.
Is Milan strong enough to compete?
Last year Stefano Pioli's side ran out of steam towards the middle of the season and so they squandered the championship. Before this season they lost 2 key players of the last years and to find an equal replacement has not been easy. So far, as mentioned, they are doing very well, but the question is whether they can maintain this level over a whole season. At the moment it seems to be the case, but we are slightly sceptical as the team simply lacks world-class players. Zlatan Ibrahimovic in all honour, but the Swede will soon turn 40 and is currently injured and out indefinitely. We're curious to see if they can still pull it off and win their first title in 10 years.

Milan facts & analysis
– AC Milan have not lost any of their last 5 home matches.
– Rafael Leao has scored the most goals for Milan with 2.
– AC Milan win 55% of their halves
– When AC Milan lead 1-0 in home games, they win 80% of matches
Venice Form & Balance Check
Venice have proved in the past that football fairytales are still possible in this day and age. Since relegation in 2002, the club has been insolvent three times (!). That means 3 forced relegations to Serie D. Nevertheless, the club always came back up and has been able to stabilise since its re-foundation in 2015. In the promotion playoffs, they were finally able to return to the highest Italian division after 19 years and are now trying to do everything they can to stay in the league.
Does Venice have enough quality for Serie A?
Compared to the squads and market values of the other first division clubs, Venice is of course at a clear disadvantage. Their start to the new season was not necessarily auspicious either and while they beat Empoli 1-0 2 weeks ago, they suffered a come-from-behind 2-1 home defeat to rivals Spezia last weekend. Against Milan they are of course the clear underdogs, but in the following weeks they face FC Torino and Cagliari, who are both beatable. It would be very important from the winged lions' point of view so that they don't lose the connection and come under pressure early on.
Venice facts & analysis
– Venezia have only scored 3 goals this season.
– At the moment they are in 14th place in the table with 3 points
– When Venice FC lead 0-1 in away matches, they win 53% of the matches
Predicted line-up – last update on 20 September 2021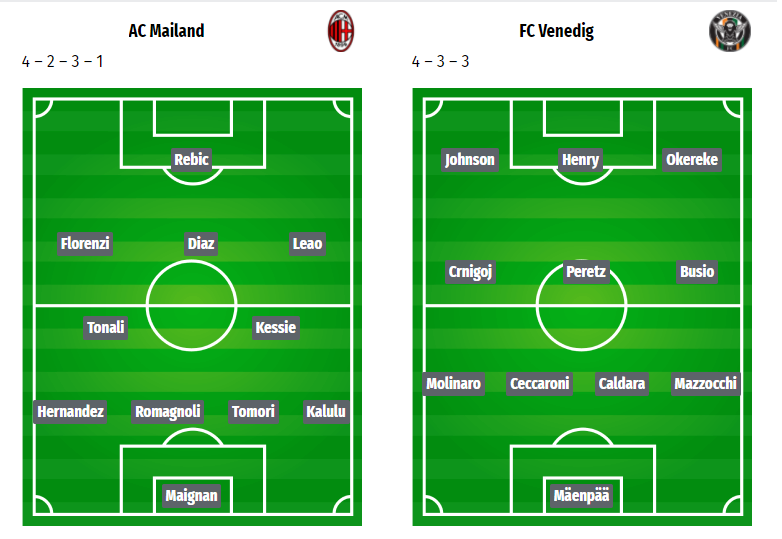 Milan doesn't really have a reason to change performance-wise, but regular centre-back Simon Kjaer got injured against Juve and is likely to be out. Tomori will move into central defence and Kalulu will start at right back. On the offensive side, the experienced and technically strong Florenzi could move into the team. For the visitors, there is also little reason to change, only the young Peretz we expect on the six. In the attack, newcomer Henry will probably get another chance.
Milan – Venice direct comparison & Statistics
The last encounter in the highest Italian division was quite a while ago. Back then, in the winter of 2002, Milan won 4:1 and the entire direct comparison also goes to the Rossoneri. Milan have won 14 of a total of 24 Serie A duels. Venice have only won four of those matches. However, we consider the direct comparison to be relatively unimportant for the outcome on Wednesday. The last direct encounters were simply too long ago and all the players from back then are now retired. Accordingly, one should focus more on the facts and the current form in this match. However, it never hurts to know the direct comparison.
– AC Milan scores an average of 1.83 goals in home matches and FC Venice scores an average of 1.29 goals in away matches.
– The average number of goals scored when AC Milan and Venice FC meet is 2.8
– AC Milan's current performance in Serie A is better than Venice FC's performance.
– AC Milan have not lost any of their last 5 home matches