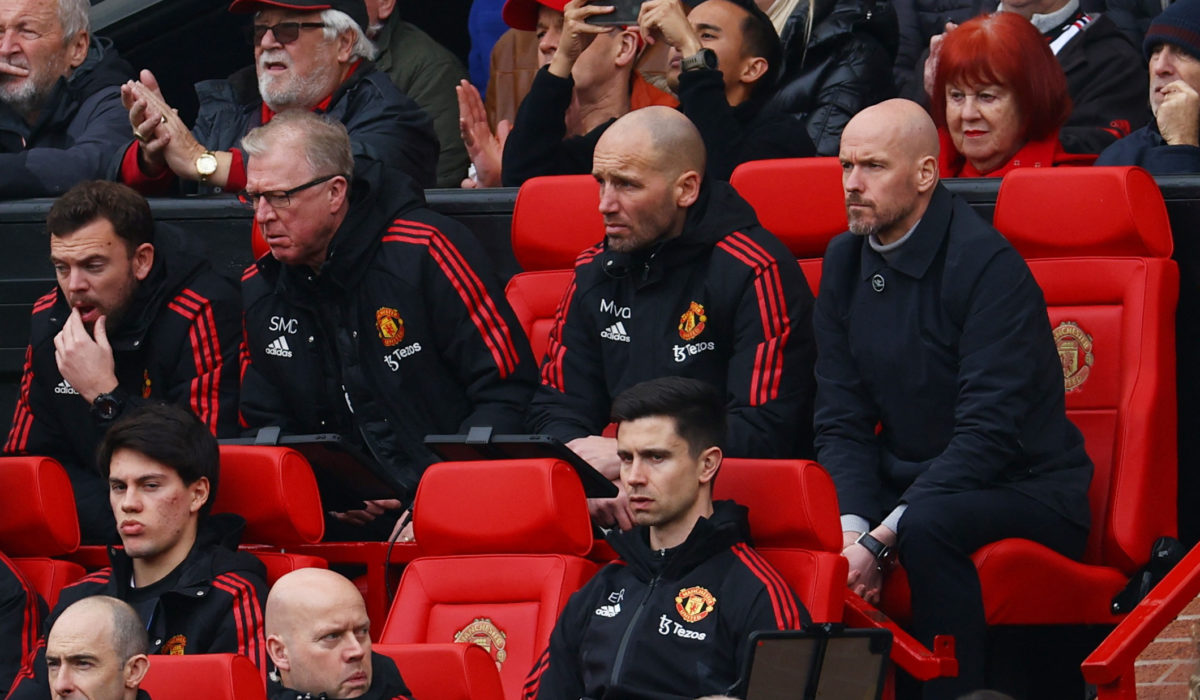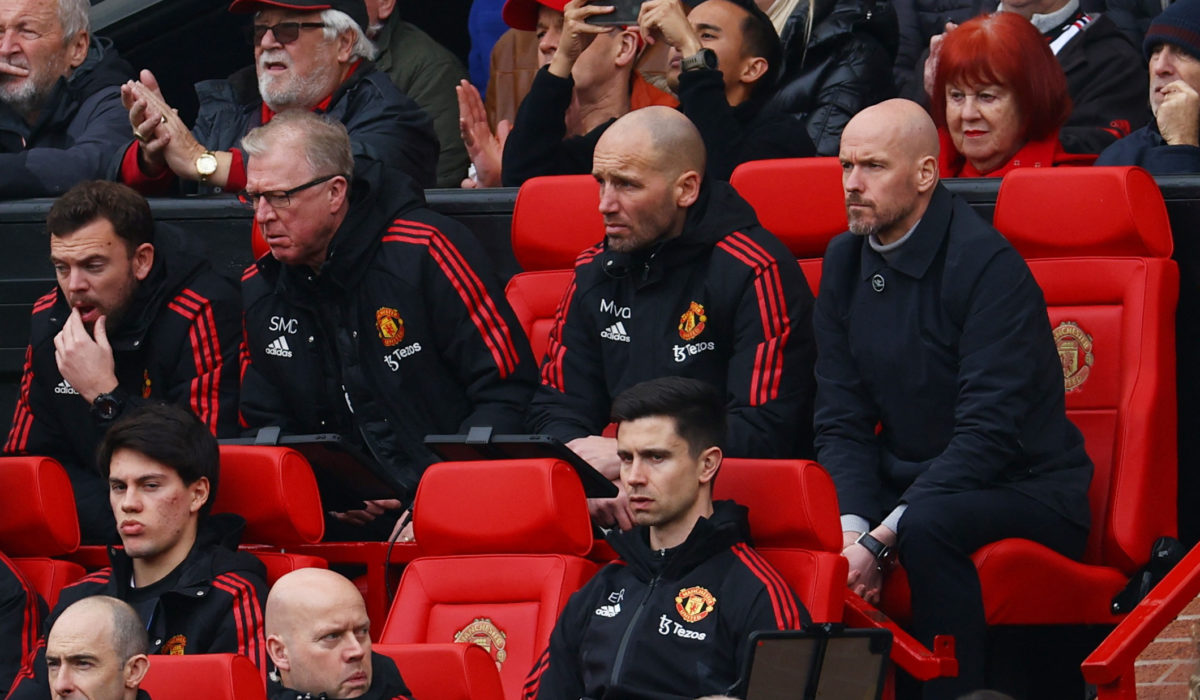 Manchester United – Newcastle United
In England, it's all about a first trophy this season at Wembley Stadium on Sunday. Manchester United and Newcastle United meet in the EFL Cup Final at 5:30pm as they try to end their long drought. The Reds Devils' last success dates back to 2017 (Europa League), while the Magpies have to go back to 1955 (FA Cup).
The Red Devils defeated Nottingham Forest 5-0 (in two games) to book their ticket to the final, while the Magpies beat Southampton 3-1 (in two games) in the semi-finals. Who we think will come out on top in the final is now revealed in our Man United – Newcastle betting tips.
Man United – Newcastle info:
– Date & Time: 26.02.2023, 17:30 Uhr
– Venue: Wembley Stadium, London
– Competition: EFL Cup, Final
– TV broadcast: DAZN
Man United Form & Balance Check
Erik ten Hag is on the verge of winning his first trophy in England, and what a trophy it could be! If the Red Devils manage to win the EFL Cup after knocking out Barça in the Europa League (2-2/2-1) on Thursday, they would have truly turned the corner after a turbulent last few months.
Despite a relatively easy tournament run with wins over Aston Villa (4-2), Burnley (2-0), Charlton (3-0) and Nottingham Forest (3-0/2-0), Manchester United still took each of their opponents seriously. Without much panic, they have come through each round with at least two goals and are now on four clear wins in a row.
Still on four weddings
The Red Devils are physically impressive and offensively potent. They are unbeaten in nine games and have scored at least two goals in each of those games. Currently, they are not only in the EFL Cup final, but are also in the FA Cup and Europa League. United can still dream after their strong performance improvement and even the championship is not written off yet, with a five-point gap to Arsenal.
When the Red Devils step onto the Wembley turf on Sunday, it will be to contest their tenth EFL Cup final. Manchester United fans are confident after their team's good results and can also take comfort in looking at the statistics: United have won four EFL Cup finals in 2017, 2010, 2009 and 2006. The last time Manchester missed out on the last step was in 2002 (0-2 against Liverpool).
Man United facts & analysis
– 3rd place in the Premier League
– Last knocked Barcelona out of the Europa League
– Best team in the second half of the Premier League
Newcastle form & balance check
Newcastle have overcome many obstacles this season to reach this EFL Cup final. Little by little, the Magpies made their way to Wembley, winning against Tranmere (2-1), Crystal Palace (1-0), Bournemouth (1-0), Leicester (2-0) and Southampton (1-0/2-1). Nevertheless, Eddie Howe's side are going through a difficult time in the Premier League, and at a very inopportune time.
They have gone four games without a win in the league, which has recently seen them slip to fifth place outside the qualifying places for next season's Champions League. Newcastle have been anything but consistent on the road for the past month and have struggled even against clubs far from playing first fiddle: Crystal Palace (0-0), West Ham (1-1), Bournemouth (1-1) and Liverpool (0-2). Against Manchester, who are in their best form of the season, the task will be more than difficult.
Karius in goal
In addition to recent mixed results, Newcastle will also have to play this final without their regular goalkeeper Nick Pope, who was suspended after being sent off against Liverpool last Sunday. An added problem is that Martin Dubravka, his replacement, was on loan to United for the first half of the season and kept the Manchester City goal in the first two rounds. However, the rules prohibit a player from playing in two different kits in the same competition.
Thus, Howe is forced to nominate Loris Karius, a goalkeeper who has not played a professional game for two years (March 2021). Also, unlike their opponents, the Magpies have less experience at this stage of the tournament and are playing in only their second EFL Cup final.
Newcastle facts & analysis
– Currently 5th in the Premier League.
– Last lost with 0:2 against Liverpool
– Best defence in the Premier League (15 goals conceded)
Predicted line-up – last update on 25 February 2023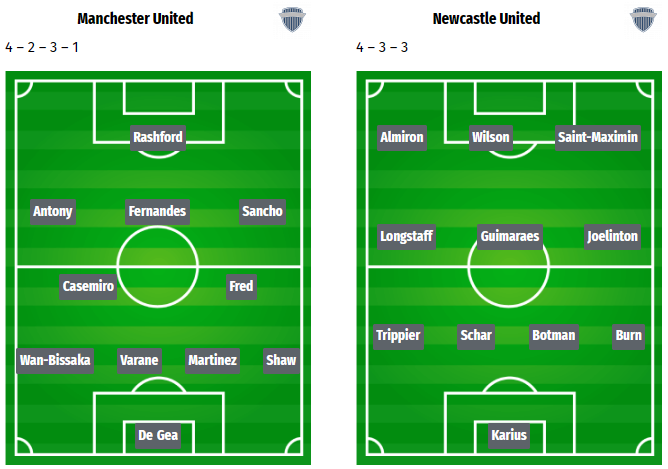 Man United – Newcastle direct comparison & stats
Both teams have faced each other 152 times in their history. Unsurprisingly, the comparison goes clearly to Manchester, who have won 75 times. Newcastle won 36 times and 40 games ended in a draw.
– The most frequent result between Manchester United and Newcastle United is 1-1. 8 games ended like this.
– Newcastle United's last away win at Manchester United was in 2013.
– Manchester United have scored in each of their last 18 matches.
– The average goals scored in a Manchester United vs Newcastle United clash is 3.2.