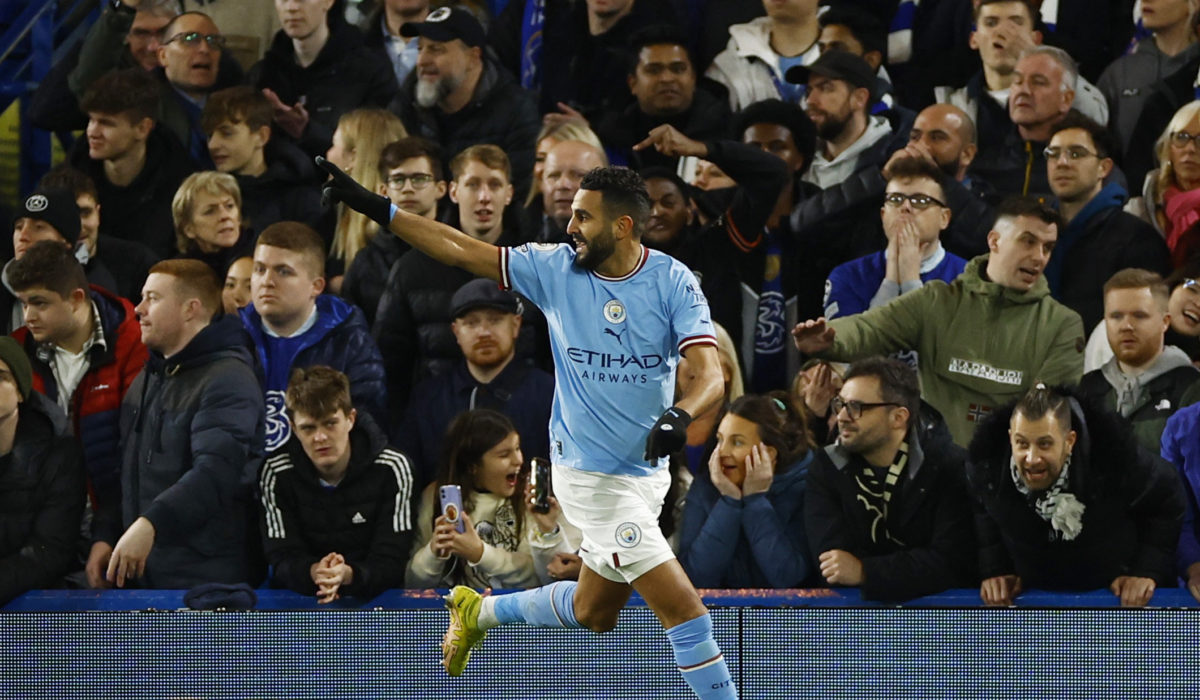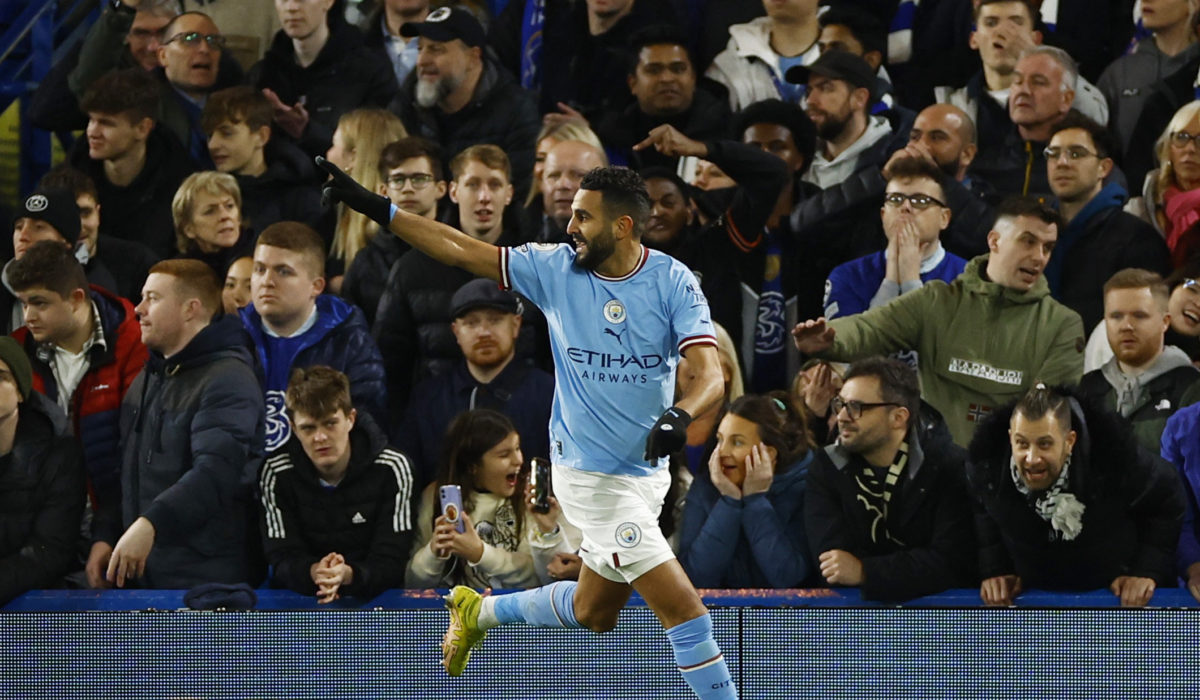 Manchester City – Wolverhampton Wanderers
Just a few days after the make-up game against Tottenham, reigning champions Manchester City continue in the Premier League with the next regular matchday. Opponents are Wolverhampton Wanderers, a team that has been on an upward trend for a couple of weeks now, at the Etihad Stadium on Sunday from 15:00.
Between 17 September and 12 November, Wolves have still lost seven of their nine league games, picking up just four points. However, the World Cup break has obviously done the team good. Wolverhampton won their first game after the tournament in Qatar 2-1 at Everton FC, and in the following three games they only failed to score against in-form Manchester United.
A point against Man City is still quite unlikely. In the 2019/20 season, Wolves won both duels with the Citizens, but since then they have suffered five defeats, some of them significant. The first leg was won 3-0 by the favourites and our Man City vs Wolverhampton betting tips will tell you whether we expect another clear-cut affair in the second leg.
Man City – Wolverhampton Info:
– Date & Time: 22.01.2023, 15:00 hrs.
– Venue: Etihad Stadium, Manchester
– Competition: Premier League, Matchday 21
– TV coverage: Sky
Man City Form & Balance Check
Defending champions Manchester City still haven't really arrived in the new calendar year. The Skyblues won the top match against Tottenham Hotspur 4-2 last Thursday, but after the first period it did not look as if Pep Guardiola's team would come away victorious on this day. City started in their usual dominant manner, but without any real scoring threat. Tottenham only became more active towards the end of the first period and went into half-time with a 2-0 lead thanks to a double strike just before the break.
Half-time talk shows effect
Pep Guardiola's half-time speech obviously had an effect. It took just seven minutes after the restart until everything was back to zero. The Citizens kept up the pressure, but Tottenham also played well in this phase and had one or two chances to take the lead. However, it was the other side who took the lead. Riyad Mahrez scored from an acute angle to make it 3-2, with Spurs keeper Hugo Lloris, who has been criticised a lot lately, once again not looking particularly good.
The Algerian also scored the decisive 4:2 with a duper (90th). After the 1:2 against Brentford and the 1:1 against Everton, Man City just barely avoided their third home game in a row without a win. The gap between them and league leaders Arsenal is now five points, with the Gunners having played one game less,
Man City facts & analysis
– 42 points from 19 games.
– Most recent win 4:2 against Tottenham
– Only 1 of last 7 games played to nil
Wolverhampton form & balance check
The visitors from Wolverhampton have the big problem this season that they just don't score enough goals. Even though this has improved in recent weeks and the points tally has increased as a result, there is still a lot of room for improvement. Until matchday 14 against Brighton, Wolves never scored more than once per game. When they finally did against Brighton, it wasn't even enough for anything countable due to three goals conceded.
Since then, however, Wolverhampton have scored in three of their five games, even scoring twice again against Everton. Only against the top teams Arsenal (0:2) and Man United (0:1) has it not been enough to score in this period. Julen Lopetegui's team has taken a solid seven points from the remaining three games.
Podence advances to MVP
The most striking man in recent weeks has undoubtedly been Portuguese winger Daniel Podence, who has scored three of Wolves' last four goals and been directly involved in each of the last seven points. He scored in the 2-1 defeat of Everton to make it 1-1 at the interval, in the 1-1 draw with Aston Villa to give Wolves a 1-0 lead and in the recent 1-0 win over West Ham he scored the only goal of the day. He was given a rest in the narrow FA Cup defeat to Liverpool (0-1) last Tuesday night.
Wolverhampton facts & analysis
– 17 points from 19 games
– Most recent 1-0 win over West Ham
– Still the worst offence in the league with 12 goals in 19 games
Predicted line-up – last updated 20 January 2023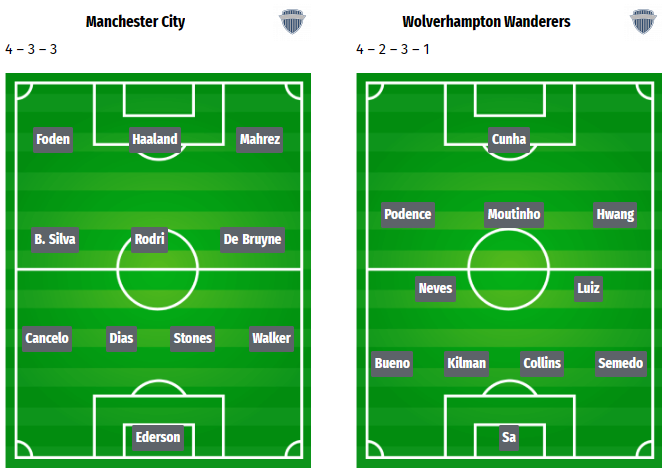 Pep Guardiola had made five changes from the 2-1 derby defeat at ManUnited. Lewis, Stones, Grealish, Gündogan and Argentine international Alvarez started for Joao Cancelo, Walker, Bernardo Silva, Foden and De Bruyne, who surprisingly took his place on the bench. Against Wolves, all the changes could be reversed. Ruben Dias could return to the starting eleven for the first time after coming on as a substitute against Tottenham.
Wolves made a lot of substitutions against Liverpool in the FA Cup, but are likely to be back with most of the squad from their last league game on Sunday. Kalajdzic and Chiquinho are still out with knee injuries.
Man City – Wolverhampton Direct comparison & Statistics
After 106 duels, the direct comparison is narrowly in favour of the Citizens with 44 wins to 38 and 24 draws. In recent years, the reigning champions have been clearly ahead. The last five duels have all gone to City with a goal difference of 16:3, most recently twice away with 5:1 and 3:0.
– The average of goals scored when Manchester City and Wolverhampton Wanderers meet is 3.8.
– When Manchester City lead 1-0 in home games, they win 90% of the games.
– A look at Manchester City: Erling Haaland is the top scorer with 21 goals. 5 times Daniel Podence scored for Wolverhampton Wanderers.
– With 3 red cards, Wolverhampton Wanderers lead the sin-bin in the Premier League.