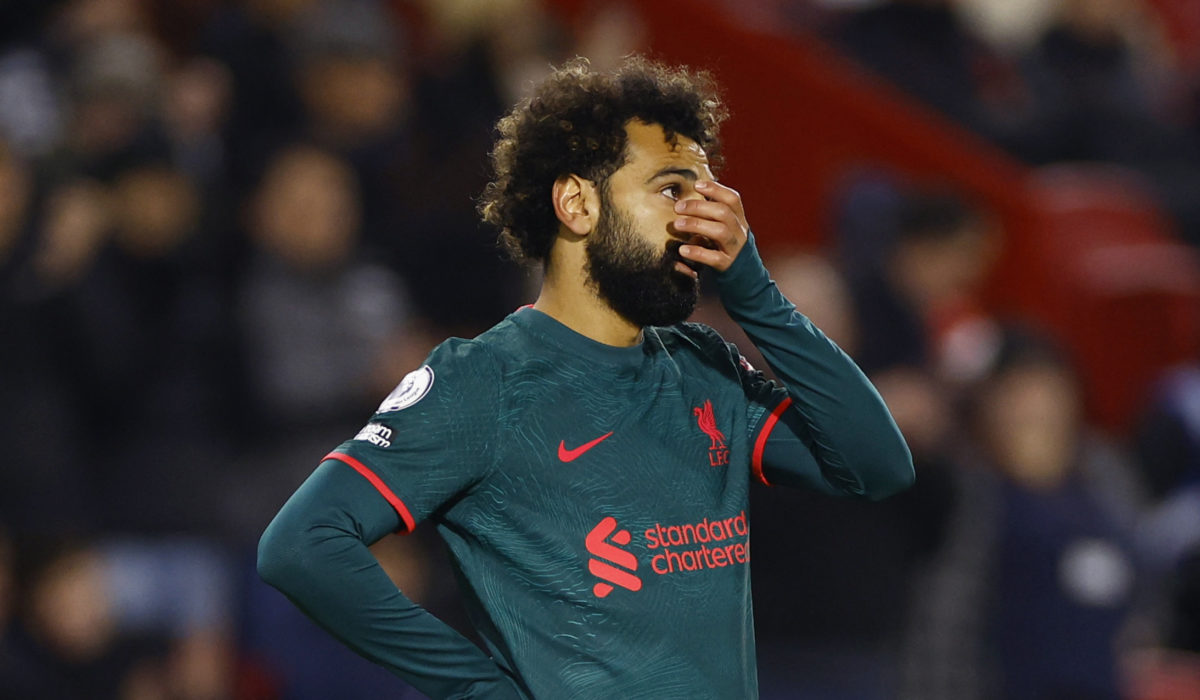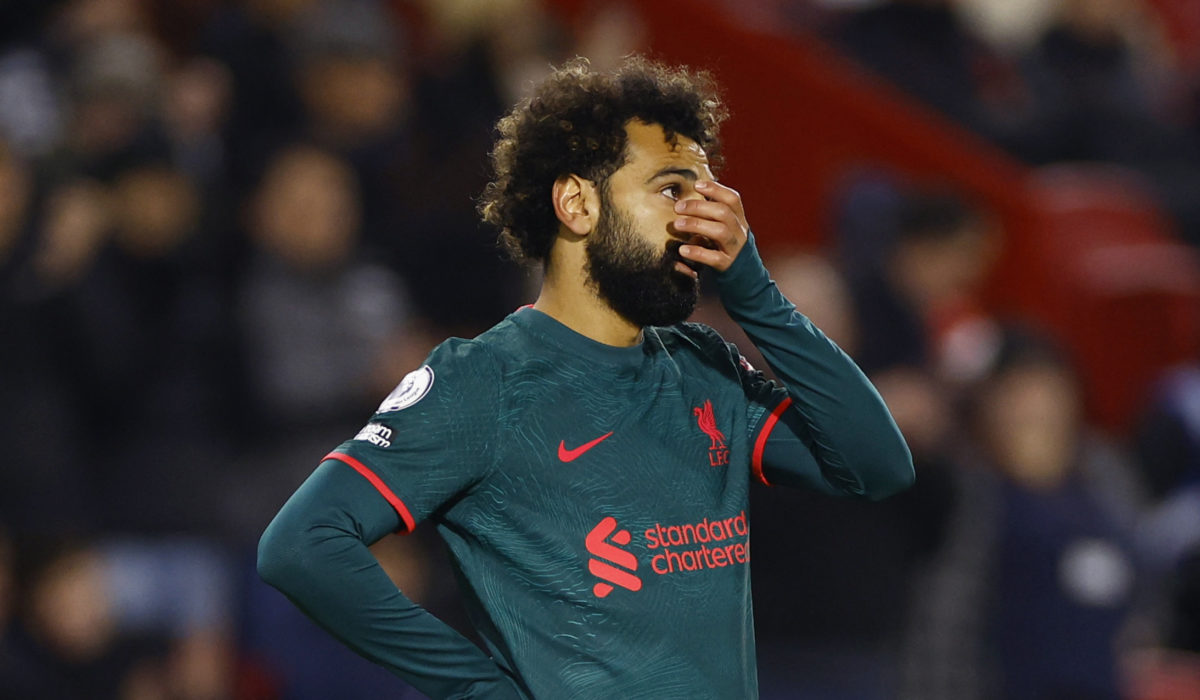 Liverpool FC – Wolverhampton Wanderers
Unlike last time, there is no Champions League football these days. Nevertheless, fans need not be sad, because in the Premier League the ball is rolling once again. Not only is the FA Cup on the agenda during the week, but there are also exciting games in the league. On Wednesday evening, for example, the Reds from Liverpool and the Wolves from Wolverhampton face each other at 21:00. Both are making up for the matchday seven fixture. Find out in our Liverpool – Wolverhampton tip whether LFC can shoot themselves out of the crisis.
The Reds from Liverpool are playing by far their weakest season in years and currently LFC can only be found in seventh place. With 36 points, Liverpool are five points behind fifth-placed Newcastle. Meanwhile, their next opponents Wolverhampton have been stuck in the bottom of the table for weeks. With 24 points, they are only in 15th place, so both teams are in need of a breakaway.
Liverpool – Wolverhampton Info
– Date & Time: 01/03/2023, 21:00.
– Venue: Anfield Stadium, Liverpool
– Competition: Premier League, Matchday 7 Catch-up match.
– TV coverage: Sky
Liverpool Form & Balance Check
Jürgen Klopp has been in charge at Anfield Road for just under eight years and the German coach is going through phases this season that have been unprecedented in the marriage between him and the Reds. Liverpool have already been knocked out of all cup competitions on the island, LFC are only seventh in the league and their elimination from the top flight is as good as sealed.
Last week, Liverpool clearly lost the rematch of the final against Real Madrid. Once again, the fans had to endure a rollercoaster of emotions. After a quick 2-0 lead, LFC conceded five goals – more than they had ever conceded at home at Anfield Road in the premier league.
Damage must be limited
Really, coach Jürgen Klopp cannot save much with his team this season. With a major upheaval in the offing next season and many players likely to leave the club, it would certainly not be wrong if Liverpool qualified for the Europa League anyway. At least the performances in the league have been good lately. They haven't lost in three games and after two wins in a row, they drew 0-0 with the Eagles at Crystal Palace last weekend.
Liverpool facts & analysis
– Since 3 games in the league without a defeat.
– 7th place in the Premier League table
– Last 0-0 draw against Palace
Wolverhampton form & balance check
Wolves will have to stretch themselves considerably in the upcoming game if they want to claim three points against the Reds for the second time this season. A few weeks ago they won 3-0 in front of their own fans. However, things are anything but going well for coach Julen Lopetegui's team this season. In the league, Wolverhampton are on 24 points and thus still in acute relegation trouble. The lead over a relegation place is currently only three points. At least the record of the last five games is respectable. Two victories were offset by two draws. There has only been one defeat during this period.
Much too few goals
Why are Wolves so far down the table this season? The question can be answered quite easily when looking at the bare figures. Wolverhampton have scored just 18 goals in their 24 games so far, giving them the third weakest attack in the entire Premier League. Left winger Daniel Podence is Wolves' top scorer with his five goals.
The goal in the coming weeks should be to put space between themselves and the dangerous ranks as quickly as possible. To do that, however, they have to win the games against the supposedly smaller teams in the league. Most recently, there was a 0:1 against Bournemouth and a 1:1 against Fulham.
Wolverhampton facts & analysis
– Only one defeat from the last 5 games.
– Last played 1:1 against Fulham
– Last meeting won 3-0 against Liverpool
Predicted line-up – last update on 27 February 2023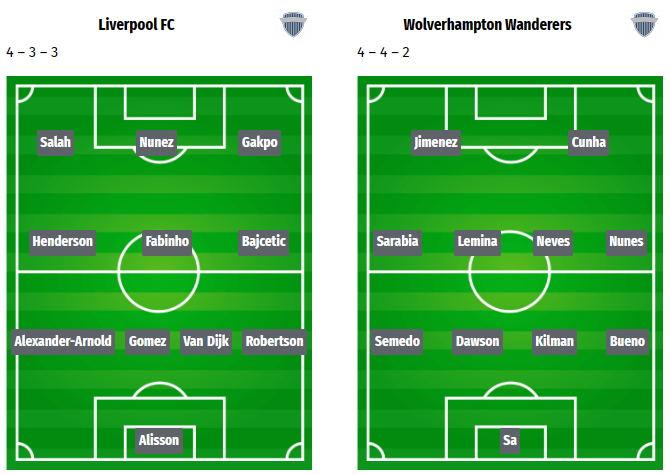 The Reds will again go into the match in their usual 4-3-3. Coach Jürgen Klopp knows the importance of this game and therefore big experiments are not necessarily to be expected. Gakpo, Nunez and Salah will lead the attack, which has not exactly been scoring goals this season.
The visitors from Wolverhampton will try a 4-4-2. Coach Lopetegui wants to achieve success through a compact defence. Cunha and Jimenez will start in attack. Otherwise, we don't expect any big changes compared to the 1:1 against Fulham.
Liverpool – Wolverhampton direct comparison & Statistics
Both teams have faced each other in 110 games so far and Liverpool clearly lead the direct comparison. 58 times the Reds won, 37 times the Wolves and in addition there are 18 draws. The last duel was won by Wolves with 3:0.
– Wolverhampton Wanderers' performance in the last 5 matches is better than Liverpool FC's performance.
– Average goals scored in a Liverpool FC vs Wolverhampton Wanderers clash is 2.6
– The winner of the last meeting was Wolverhampton Wanderers
– Wolverhampton Wanderers top the Premier League sin-bin with 4 red cards