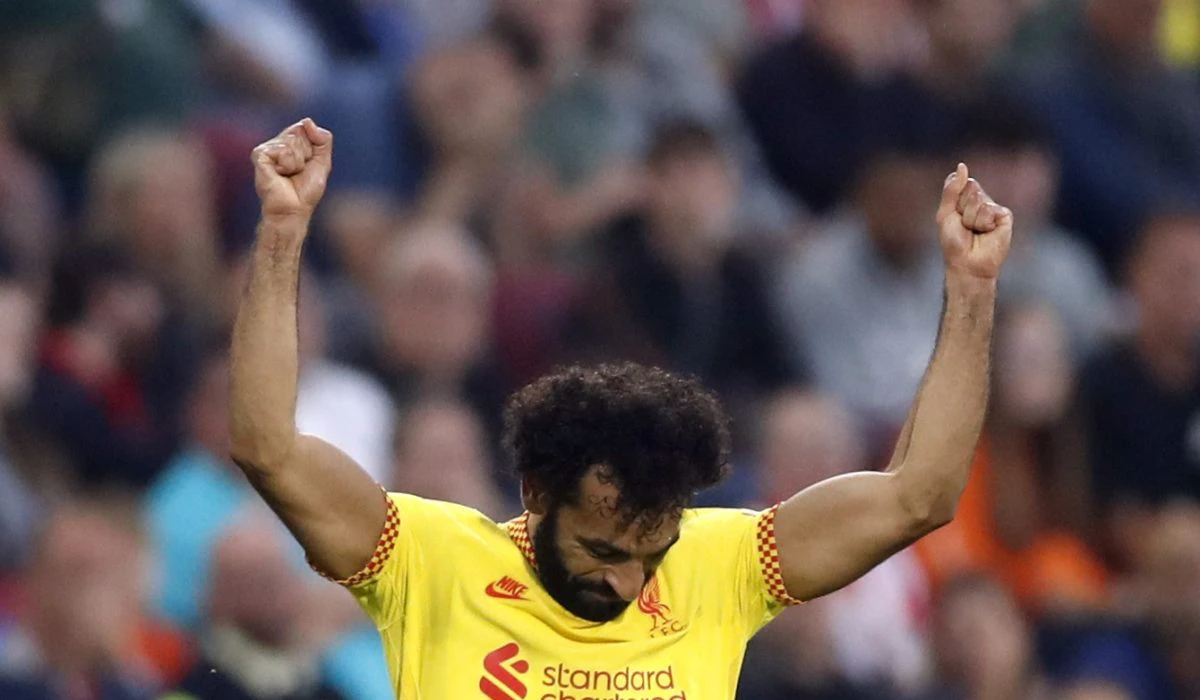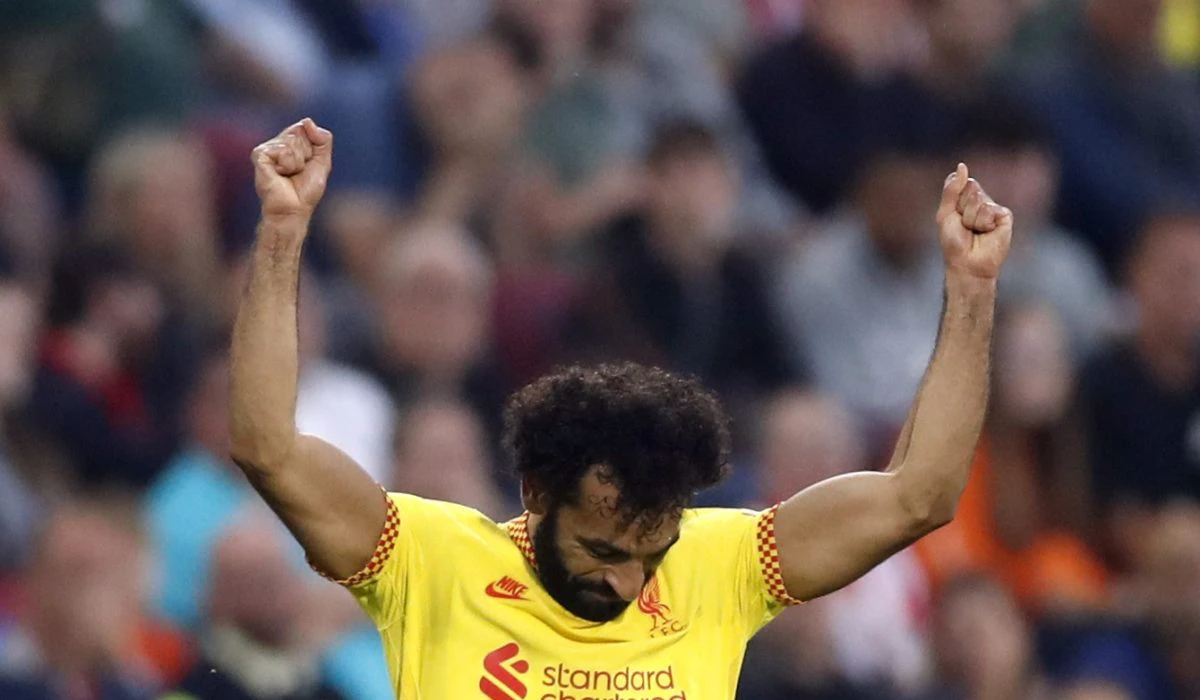 Liverpool FC vs. Manchester City
On Matchday 7 of the Premier League, one of the best games that world football has to offer awaits us. Liverpool and Manchester City are two clubs that will be looking to stay at the top of the table this season when matchday 38 is completed. Jürgen Klopp and his Reds are the current league leaders and still unbeaten. Liverpool are once again the measure of all things in English football at the moment.
Pep Guardiola will arrive with his team as the direct pursuers of the Reds and will want to challenge them for the top spot in the table. To knock Liverpool off the top, the Skyblues need a win. But Guardiola's side are not unbeaten like Liverpool, losing 1-0 at Tottenham Hotspur at the start of the season. Since then, City have made it four wins from five games, including beating Chelsea on the last matchday.
It is the duel between the current number one and number two in the best league in the world – nothing more is possible! We expect a game full of great scenes and peppered with world-class actions from Salah, Mane, Grealish, De Bruyne and Co. When the game kicks off at Anfield Road on Sunday evening, hundreds of millions of viewers will be watching. We provide you with all the important information on this top match in our Liverpool – Man City betting tip.
Liverpool – Man City Info
– Date & Time: 03/10/2021, at 17:30.
– Venue: Liverpool, Anfield Road
– Competition: Premier League, Matchday 7
– TV coverage: Sky
Liverpool Form & Balance Check
Jürgen Klopp and his Reds are back! After Liverpool FC had to endure very big and painful injury worries in pre-season and failed to achieve the desired goals, all important regulars are fully fit again. Joe Gomez and Virgil van Dijk enrich the red defence and bring incredible stability and support back to Anfield Road. Although both defenders have not yet reached their former level of performance, which is why Liverpool have one or two gaps at times, Van Dijk in particular brings much more stability back into the defence. Liverpool have not yet lost a game in the new season and have picked up 14 points from a possible 8. In addition, the Reds score an average of over two goals per game. They seem unstoppable at the moment.
Mo Salah is scoring as he pleases
One in particular is unstoppable once again. Mo Salah is scoring and scoring. The Egyptian is once again enriching the Reds' attack and is the most important factor when it comes to scoring goals. Salah has already scored five times in the league and three times in the Champions League. The North African also scored in last Sunday's 3-3 spectacle at Brentford. During the week, Salah scored a brace in Porto's 5-1 win in the top flight clash. In total, Salah already has 10 points after 8 competitive games. Salah also wants to score against Man City.
Liverpool facts & analysis
– Top of the table
– Unbeaten
– Last league game 3-3 against Brentford
Man City form & balance check
Man City's Premier League season so far has only two minor blemishes. The first, however, weighs a little heavier as City lost their opening game of the season 1-0 at Tottenham Hotspur. But the Skybules didn't let the defeat go for long, sweeping aside Norwich City and Arsenal London 5-0 respectively. This was followed by a 1-0 away win at Leicester City. However, Guardiola's side suffered their first draw of the season against Southampton as City failed to score a valid goal. The 0-0 draw a fortnight ago was followed by another 1-0 away win in the revenge of the Champions League final against Chelsea. This means City have already beaten two opponents from the Premier League's "Big Six".
Bitter defeat in Paris
Manchester City's very big goal is clearly defined. City's sheikh wants Guardiola to succeed in putting the handle pot in the Etihad Stadium's showcase for the first time. City impressively beat RB Leipzig 6-3 in their first group game, but that high-scoring victory also revealed that City are vulnerable to conceding goals. They felt this on Tuesday when they had to face PSG. In Paris, the Skyblues lost 2-0, and once again it was the lack of a number 9, who City did not sign in the summer, which is why they cannot win against Europe's elite. This defeat raises questions. Liverpool are definitely at the very highest level and will more than trouble City defensively.
Man City facts & analysis
– Second in the table
– Already lost once in the league
– Won last league game 1-0 against Chelsea
Predicted line-up – last update on 1 October 2021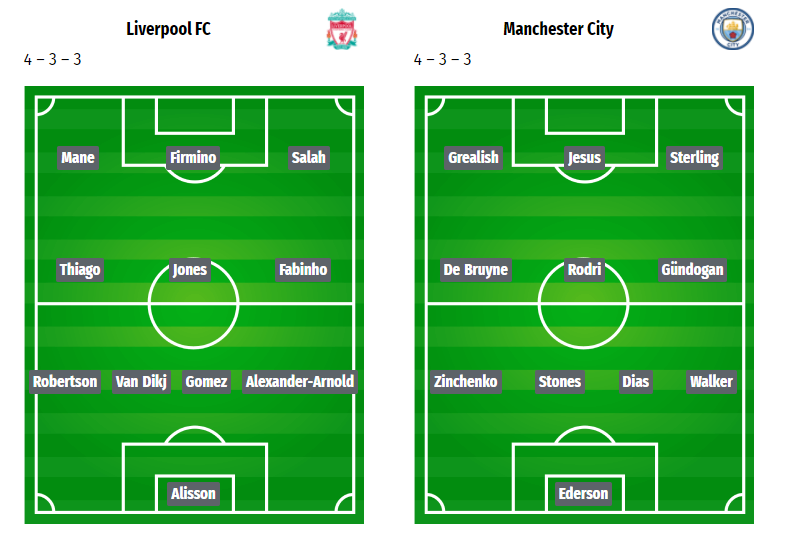 Both Jürgen Klopp and Pep Guardiola can draw from the full. Both coaches prefer the 4-3-3 system, which gives them tremendous goal threat due to the quality of their players. In addition, both teams are possession-oriented, which means that we will not see one-sided possession. Liverpool, as always, will go straight into pressing after losing the ball and put pressure on City. We will see an open exchange between two elite teams, which will be hard to beat in terms of excitement.
Liverpool – Man City direct comparison & Statistics
The encounter between Liverpool and Manchester City has already taken place 170 times. However, it was only after City saw the entry of Qatar that the fixture increased in importance. Historically, Liverpool clearly have the better record, compared to City. The Reds have won this duel 81 times, whereas City have only won 41 times. However, the games in the recent past show that City have been in the lead. The Skyblues have won two of their last three games against Liverpool. The Reds last managed to win at home against City in 2019.
– City won the last encounter 4-1 (07/02/2021 at Liverpool).
– Liverpool are without a win in three games against City.
– The last win for the Reds dates back to 2019. (10/11/2019 home 3-1).
– City are without defeat in 3 meetings with Liverpool.