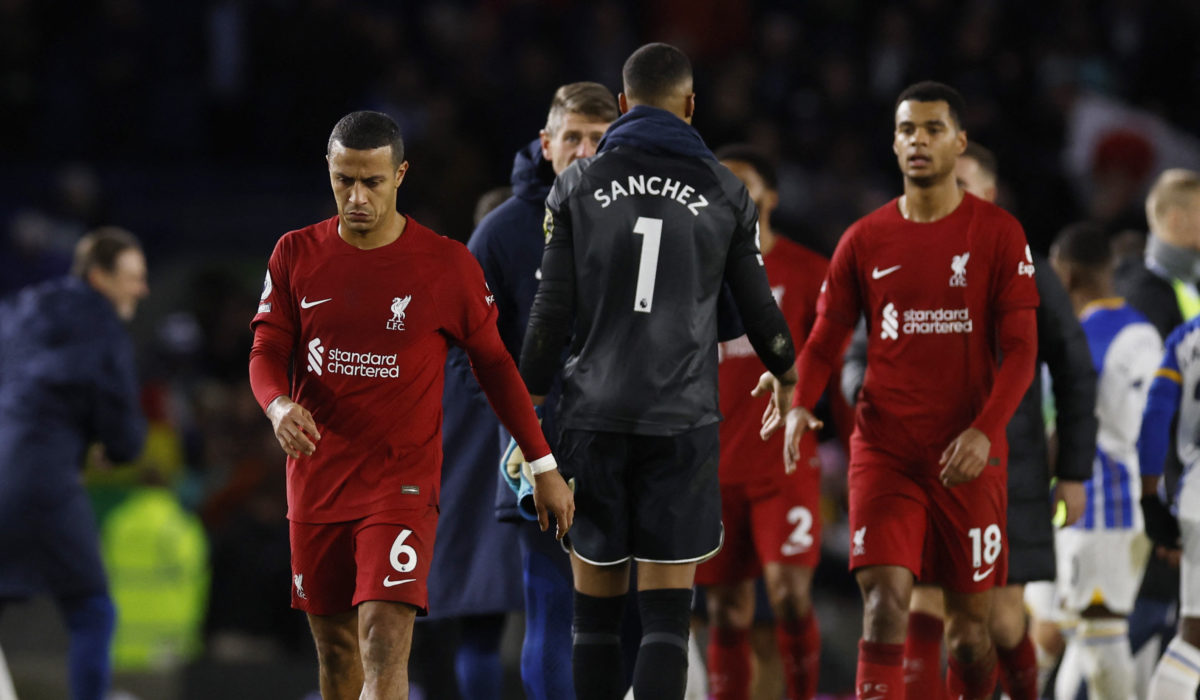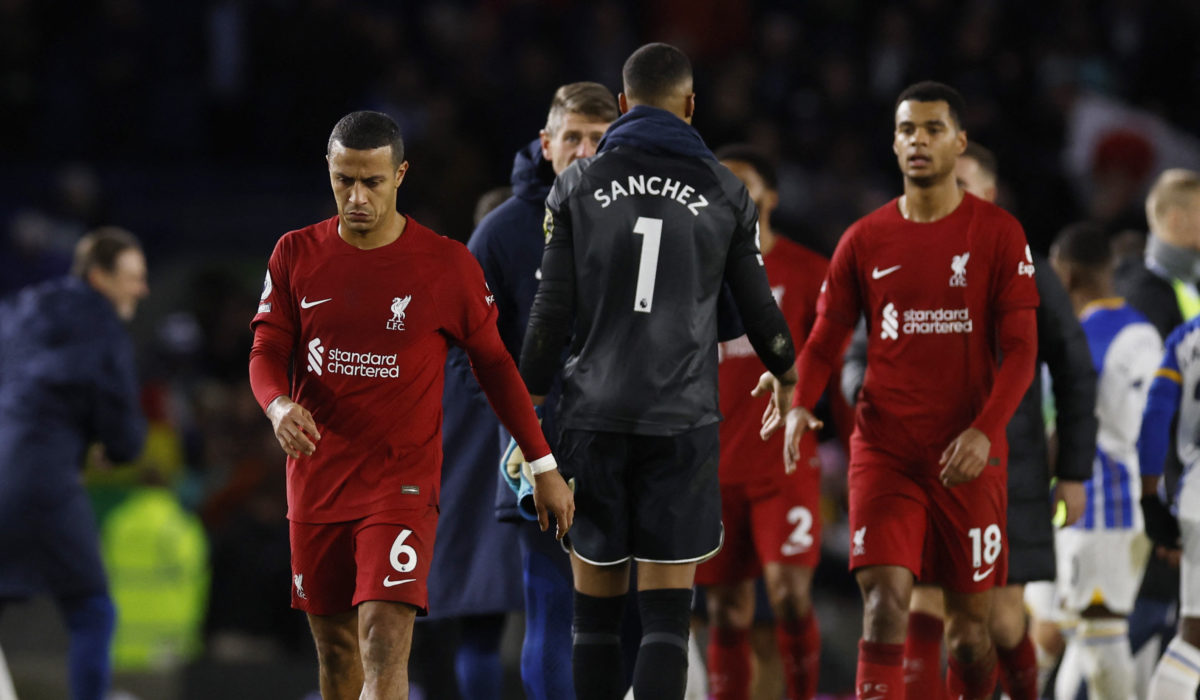 Liverpool FC – Everton FC
It's not only in German football that the ball is rolling again this weekend. There is also a lot of action in the Premier League. In the coming days, the 20 teams will duel it out in what is now the 23rd matchday, and a very special match is on the agenda to conclude this round. The 212th Merseyside derby between Liverpool FC and Everton FC will take place on Monday evening at 21:00. Rarely in the history of this fixture have both teams been in such deep crisis. Find out who can gain some breathing space with a derby win in our Liverpool – Everton tip.
A look at the table will be anything but pleasant for both teams. LFC are only in tenth place with 29 points and Jürgen Klopp's team have lost three of their last four games. This was also the case on the last matchday, when they lost 3-0 at Wolves. Eternal rivals Everton, on the other hand, gained a little breathing space in the bottom of the table with a 1-0 win. The Toffies were a little surprised to beat Arsenal. Nevertheless, Everton are in 18th place with their 18 points.
Liverpool – Everton info:
– Date & Time: 13/02/2023, 21:00.
– Venue: Liverpool, Anfield Road
– Competition: Premier League, Matchday 23
– TV coverage: Sky
Liverpool Form & Balance Check
What was unimaginable for many fans could, in the event of defeat next Monday against Everton FC, take on ever more concrete form. The former dream marriage between Liverpool FC and Jürgen Klopp seems to be getting bigger and bigger cracks. It's hard to believe, but the Reds have gone four games without a win in the league and have lost three in that period.
The defeats were not even close, but in some cases quite clear. This was also the case with last weekend's 3-0 defeat at Wolves. Liverpool showed incredible weaknesses, especially in defence, and the English champions of 2020 invited Wolves to score goals. Even though defender Virgil van Dijk is still missing, the defence needs to be more stable.
Klopp now looks at a loss
Jürgen Klopp is and remains one of the best coaches in the world. Nevertheless, in recent weeks and months we have the impression that the German coach is lacking a bit of spirit. He and his coaching team have tried everything, but somehow this year has gone awry. Above all, the otherwise so accurate offence is only a shadow of its former self. If we take a closer look at the number of goals in the Premier League in the new year, Wout Faes is the Reds' top scorer with two goals. However, the Belgian plays in a Leicester City shirt and his two own goals came against LFC earlier this year.
Liverpool facts & analysis
– 29 points from 20 games.
– Last lost 0:3 at Wolverhampton
– 3 defeats from last 4 league games
Everton form & balance check
Everton FC's Toffies go into the game against eternal rivals Liverpool as heavy underdogs. But even against Arsenal FC, the Premier League leaders, nobody thought Everton FC had a chance. In the end, the club from Goodison Park narrowly won 1-0.
New coach Sean Dyche, who succeeded Frank Lampard, had a perfect start. A look at the table shows how important the three points really were. With 18 points, Everton are in 18th place, but still in a relegation spot. A win against LFC could see the Toffies make a big leap up the table and possibly even climb out of the relegation zone.
Second win in a row?
Although the chances of a win at Anfield Road are not great and Liverpool FC have only lost one home game in the league this season, Everton can beat the Reds with a compact defence. It would be the second win in succession and Everton have only managed this little run once this season. The Toffies won the games on matchday eight and nine. If we look at Everton FC's performances in foreign stadiums, they look rather poor. Everton have won only one match away from home.
Everton facts & analysis
– 18 points from 21 games.
– Last win 1:0 against Arsenal
– Only 1 away win
Predicted lineup – last update on 12 Feb 2023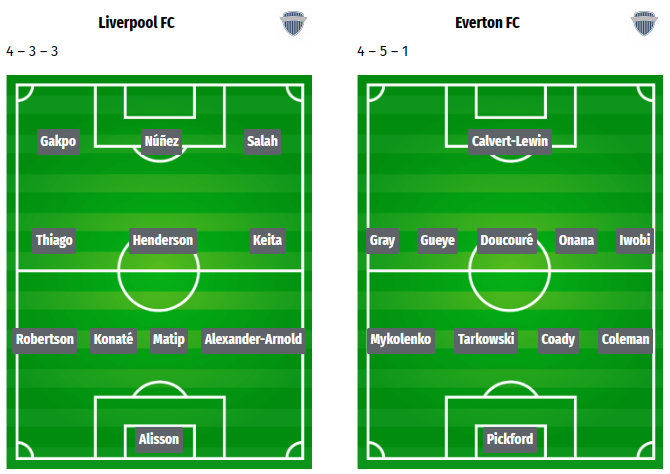 The Anfield Road hosts will still have to do without defensive boss Virgil van Dijk. The Dutchman is likely to be missing for quite some time. In defence, Matip and Konate will play again. Salah, Nunez and Gakpo will play up front. In attack, Jota and Diaz will continue to be out.
Everton FC will play in a 4-5-1 on Monday. Coach Sean Dyche will again rely on a compact defence. Calvert-Lewin will play up front as the only forward. Gray and Iwobi will play on the flanks as usual.
Liverpool – Everton direct comparison & stats
Both teams have faced each other in 212 games so far and the direct comparison goes to the Reds. Liverpool won 83 games, plus 70 draws and 59 wins for Everton. In the first leg there was a goalless 0:0.
– The average number of goals scored in a Liverpool FC vs Everton FC clash is 2.6.
– The last match ended in a draw. (0-0)
– Liverpool FC have not lost any of their last 6 home matches.
– The most common result between Liverpool FC and Everton FC is 0-0. 13 matches have ended like this