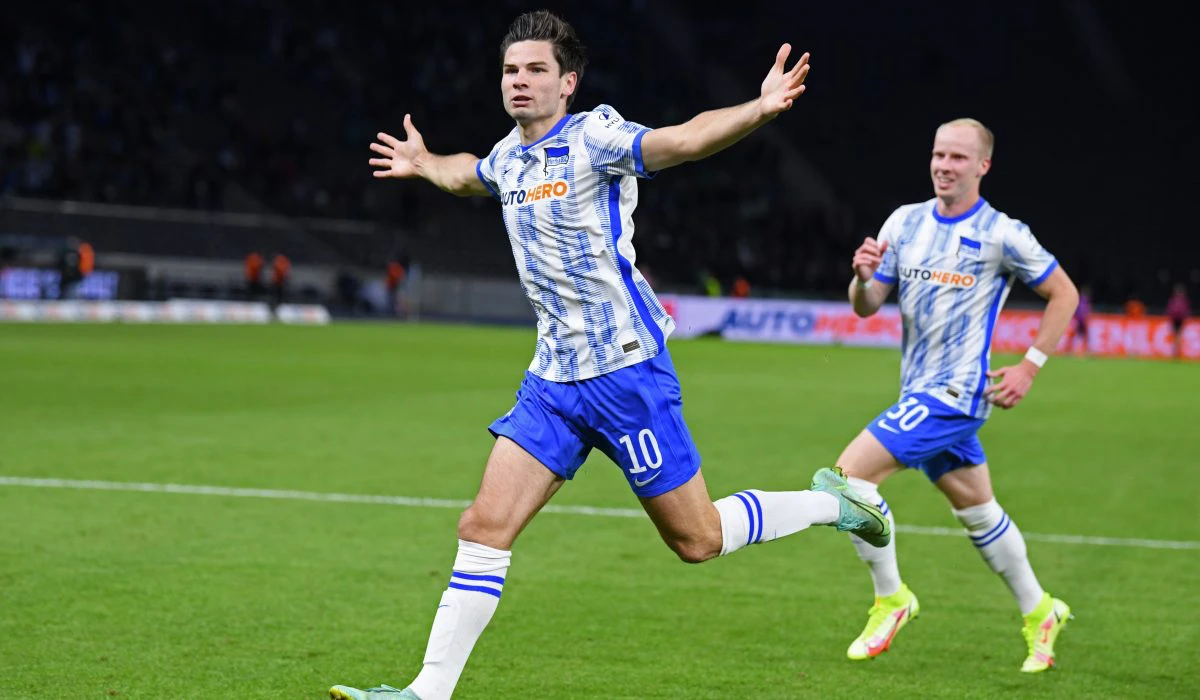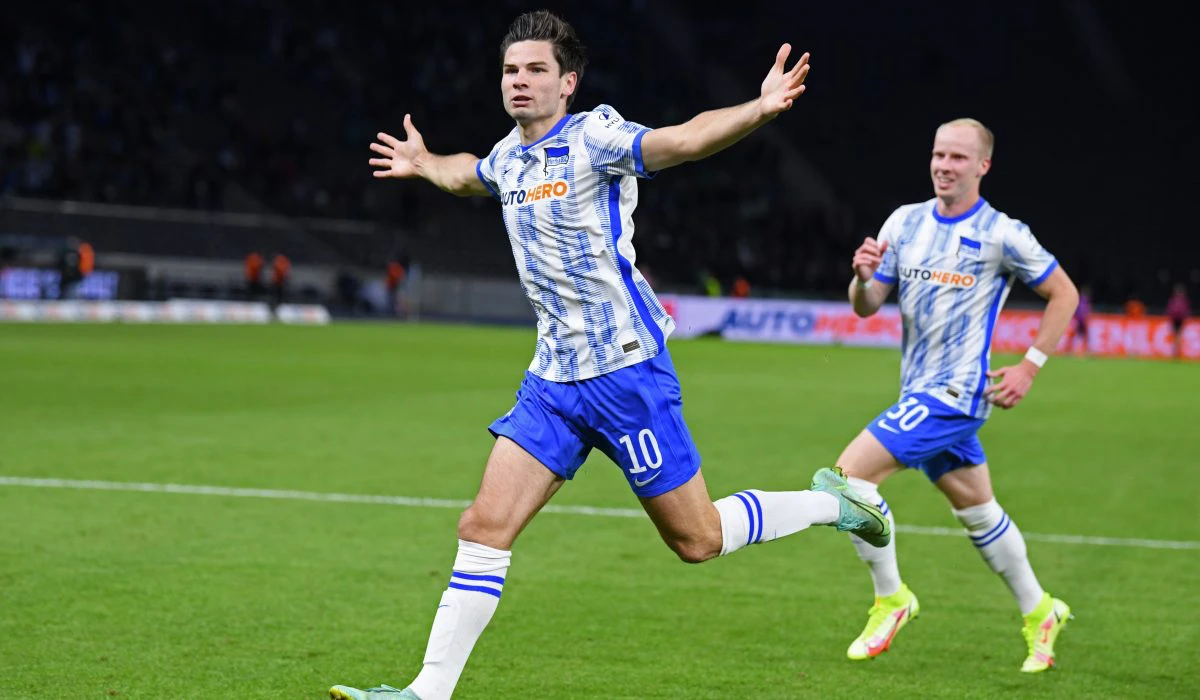 RB Leipzig vs. Hertha BSC
On Matchday 6 of the Bundesliga, RB Leipzig and Hertha BSC meet two clubs that are still finding their feet in the current season. Both teams do not really know where they stand and where the journey is going. RB is not really getting going under new coach Jesse Marsh, while Pal Dardai's Hertha is slowly getting back on its feet after a disastrous start. Find out who we think has the edge in this clash on Saturday at 15:30 in the following Leipzig vs Hertha tip.
Leipzig are in a disappointing twelfth place after only four points from their first five games. The Champions League contender naturally has much higher expectations, but must also finally clinch its second win of the season on Saturday. Hertha, meanwhile, have fought their way out of the cellar with two wins in a row and are now suddenly ahead of RB in ninth place. Nobody would have guessed this before the season or even a fortnight ago. Against the Saxons, the capitals now want to confirm the upward trend.
Leipzig vs Hertha Info
– Date & Time: 25.09.2021, at 15:30 hrs.
– Venue: Leipzig, Red Bull Arena (24,000 spectators)
– Competition: Bundesliga, Matchday 6
– TV broadcast: Sky
Leipzig Form & Balance Check
In Leipzig, one can already speak of a false start. After the two 4-0 wins against Sandhausen in the cup and against Stuttgart at the start of the season were only marred by the lost league opener against Mainz, RB has not been able to land a win since the game against VfB. Leipzig lost against the top teams Wolfsburg, Bayern and Man City, and last weekend the Saxons could not get more than a draw against strong Cologne. Coach Jesse Marsh still has some work to do if he wants to turn things around.
The defence presents unaccustomed holes
The defence in particular has turned out to be a problem area recently. The Leipzig side conceded a total of eleven goals in their last three competitive matches, with goalkeeper Peter Gulacsi making six saves against City alone. At the start of the season so far, the Saxons have only conceded against Sandhausen and Stuttgart in seven competitive matches. Last season, the RB defence under Julian Nagelsmann was still the best in the league. By way of comparison, Leipzig only reached the current figure of seven goals conceded after five league games after ten matchdays in the previous season.
Leipzig Facts & Analysis
– Ranked twelfth in the Bundesliga.
– Without a win in four competitive matches
– Eleven goals conceded from last three games
Hertha form & balance check
In Berlin there is a momentary sigh of relief at the moment. After a strong preparation and a narrow 1:0 victory over Meppen in the cup, things went steeply downhill at the start of the league. The first three games against Cologne, Wolfsburg and Bayern were all lost, with Hertha conceding a total of ten goals. Things started to bubble up again in the capital, but the two subsequent victories against the promoted teams from Bochum and Fürth calmed things down for the time being. Now, however, the Berliners face a different calibre of opponent in Leipzig.
Injury worries increase
The many injuries are not very helpful in the current situation of the Berliners. In the last game against Fürth, Klünter, Torunarigha and Jovetic were joined by captain Boyata and new signing Maolida. This means that there are several problem areas in the offensive and defensive areas, which are already understaffed in the squad. While the central midfield is absolutely oversupplied, the Berliners lack central defenders and wingers.
A Berlin native has recently benefited from this. Dardai was hoping for more stability from a three-man backline after the messed-up start to the season, and young Linus Gechter helped out as an emergency substitute in each of the last two games. With Boyata and Torunarigha absent, he can now justifiably hope for a starting appearance against Leipzig.
Hertha facts & analysis
– Ninth place in the league
– After three winless games to start with, most recently with two trebles in a row
– Already twelve goals conceded after five games
Predicted line-up – last update on 23 September 2021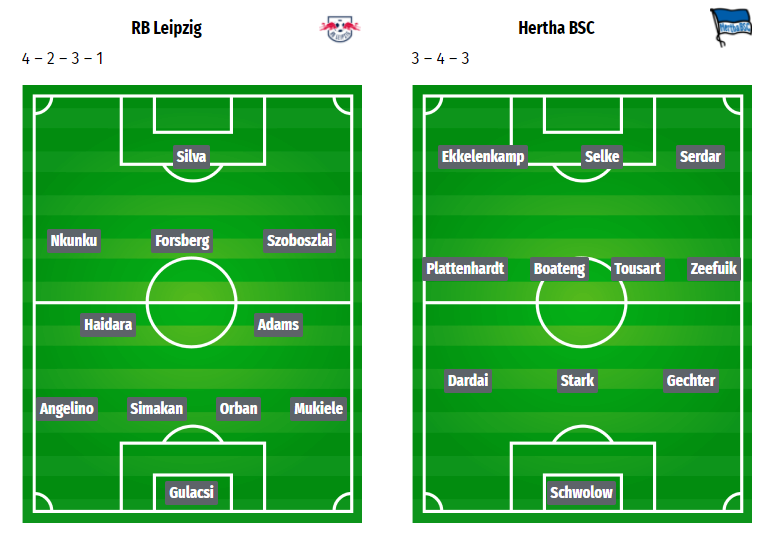 Marsh has plenty of options at Leipzig. Gvardiol and Klostermann are stricken, Mukiele and Angelino are available. There is a four-way battle for two positions on the six, Kampl and Laimer are the alternatives. The offensive positions are also hotly contested, and Olmo could get a break here. It is also possible that Poulsen will play together with or instead of the recently unlucky Silva.
Should Dardai stick to the three-man backline, Gechter will probably make his starting debut. In the attack, Selke could come in for Belfodil against his former club, Ekkelenkamp should replace Richter after his strong debut including a goal against Fürth.
Leipzig – Hertha direct comparison & Statistics
Thanks to Leipzig's recent Bundesliga past, the two teams have only met ten times so far. The statistics speak clearly for RB with eight wins and one draw, Hertha could only win once against the Saxons. Both games last season also went to Leipzig, so the Berliners should be warned. Especially in the second leg, Hertha had no chance, Sabitzer, Mukiele and Orban scored in Leipzig's 3-0 win in the capital.
– On average, RB Leipzig score 3.2 goals against Hertha BSC and Hertha BSC score 1 goal against RB Leipzig.
– A look at RB Leipzig: Dominik Szoboszlai is the top scorer with 2 goals. Suat Serdar scored just as often for Hertha BSC.
– The average number of goals scored in a clash between RB Leipzig and Hertha BSC is 4.2.
– The average number of goals scored in the first half in matches between RB Leipzig and Hertha BSC is 2.
– Last season RB Leipzig won both matches against Hertha BSC (2-1 at home and 3-0 away).