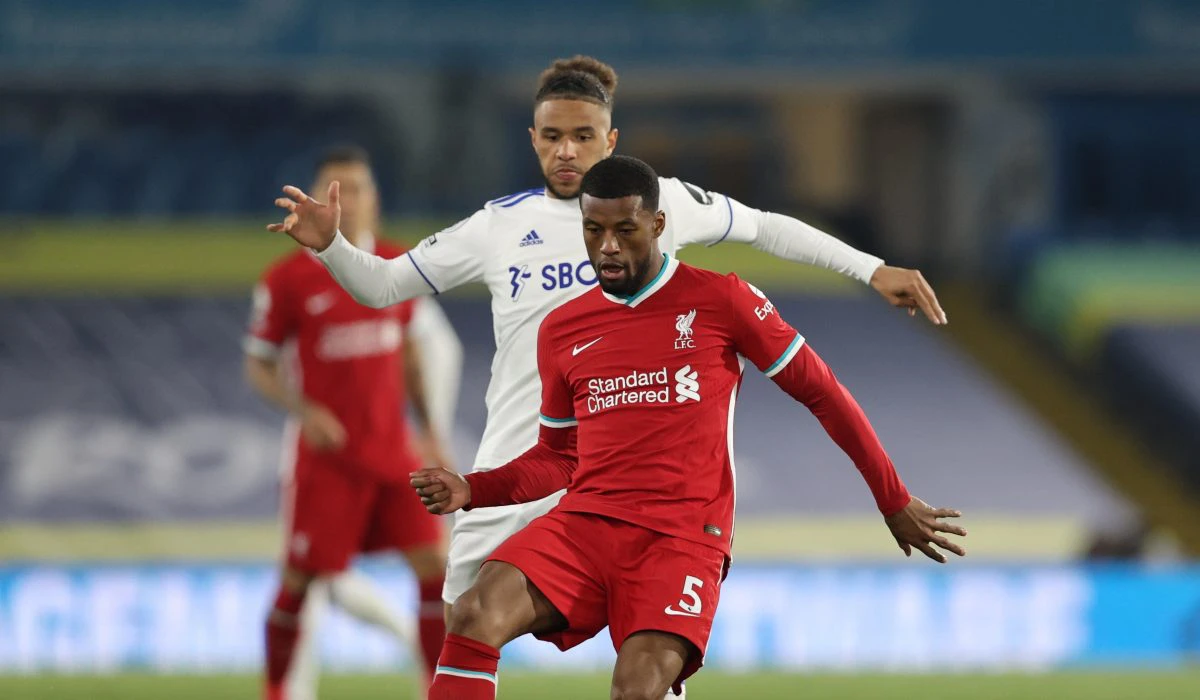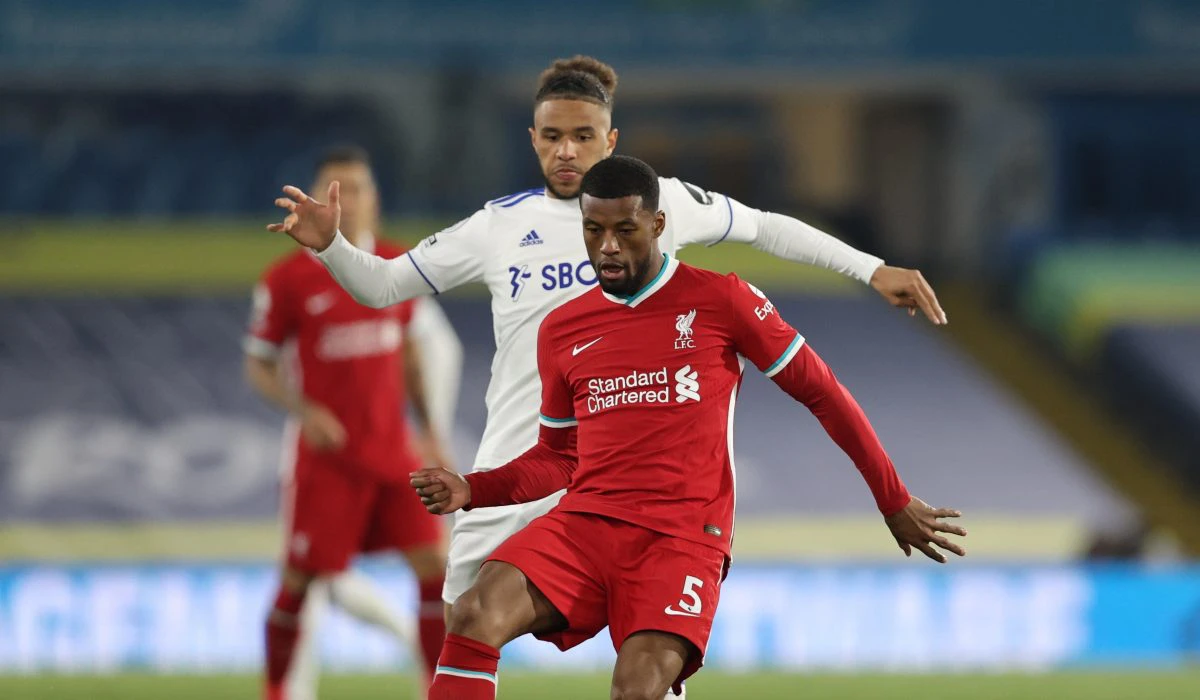 Leeds United vs. Liverpool FC

The Premier League, arguably the best league in the world, kicks off its 4th matchday this weekend. Within the first 3 matchdays there have already been some cracker encounters. For example, on the last matchday Liverpool and Chelsea met. The next task for the Reds is already waiting. Our Leeds – Liverpool tip will tell you everything you need to know about this clash. While Liverpool remain unbeaten in 5th place, Leeds are still without a win in 15th place.
The Premier League is known for being extremely tight in both the championship race and the relegation battle. There are no clear pre-season favourites like in the Bundesliga or Ligue 1, for example, and this season again shows that very well. There are only 3 points between 1st and 9th place. Admittedly, there are only 3 games played, yet there are many very ambitious teams. Leeds United could also jump up to 5 ranks with 3 points.
Leeds – Liverpool Info
– Date & Time: 12/09/2021, at 17:30.
– Venue: Leeds, Elland Road (37,890 spectators)
– Competition: Premier League, Matchday 4
– TV coverage: Sky
Leeds Form & Balance Check
Leeds United have been rather below expectations so far after a very strong last season. In their defence, it must be said that the opening programme is also very demanding. In the opening match against Manchester United the Peacocks did not see any land (5:1). After that, Leeds managed two draws against Everton and Burnley. While they were very happy with the point against Everton, they had certainly hoped for more against Burnley. It won't be any easier in the upcoming clash against Liverpool, even though LFC will be very short-staffed.
Brutal Offense
The fact that Leeds came on so strong last year was the surprise of the season for many. However, when you look at the Peacocks' offensive line, no one is really surprised anymore. Patrick Bamford developed into a top Premier League striker last season. Add to that Rodrigo Moreno and Raphinha, who also have enormous quality. In the summer, the already strong attack was further strengthened with Daniel James from Manchester United. So you can look forward to the Peacocks' offensive fireworks this season, even if Raphinha is currently suspended, like many other Brazilians in the Premier League.
Leeds facts & analysis
– Currently still without a league win
– Braggish offence
– Raphinha suspended
– Still below expectations
Liverpool form & balance
LFC have made an almost perfect start to this season. They have mastered the first two compulsory tasks at Norwich and Burnley confidently and to zero. In the last duel with Chelsea FC they stumbled a bit. After falling behind 1-0, the red card of Reece James played into the Reds' hands. Until that turning point, it didn't look like Jürgen Klopp's LFC would get anything countable against CFC. Now it's on to Leeds, against whom Liverpool will certainly be looking for 3 points. However, the Reds are very short of replacements.
Banned by FIFA
Liverpool's Brazilian trio have been suspended by FIFA for the game against Leeds. The reason for this suspension is that LFC did not want to release the players for the international break. This has now been sanctioned with a ban. Affected by this are regular goalkeeper Alisson, clearer Fabinho and noble technician Firmino. The opponents Leeds are also weakened with Raphinha, but the suspension is much more important for Liverpool.
Liverpool facts & analysis
– Have only conceded one goal
– Still unbeaten this season
– Brazilian trio suspended
Predicted line-up – last update on 12 September 2021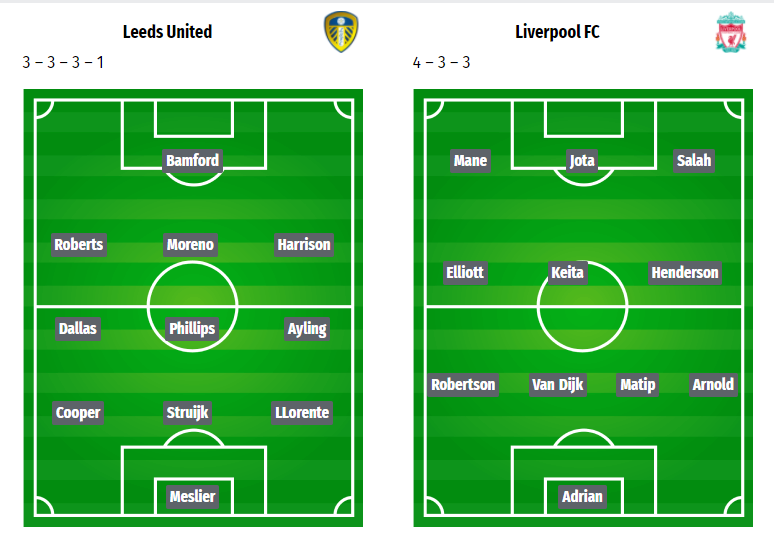 Both teams will have to do without their Brazilians. For Liverpool, the gaps of Alisson, Fabinho and Firmino will be filled with Adrian, Keita and Jota. For Leeds, Tyler Roberts will take over at wing-back for Raphinha. In addition, both teams will stick to their usual system. They have brought a lot of success for the clubs so far, even if there is some sand in the gears at Leeds at the moment.
Leeds – Liverpool direct comparison & stats
The direct comparison between these two teams clearly favours Liverpool. So far, the two clubs have met 97 times. In the process, 50 victories have come for LFC. There have also been 24 draws and 23 wins for the Leeds Peacocks. Leeds' last success over Liverpool was more than 20 years ago. This took place in April 2001. Since then, the Reds have not lost a game. They will of course do everything they can to keep this streak alive.
– A total of 4 Brazilian players suspended.
– Liverpool are undefeated against Leeds for 20 years.
– LFC have yet to concede a goal from the game
– Liverpool have always scored against Leeds since 1999
– The comparisons between the two clubs last season: 1-1 (home to Leeds) and 4-3 (home to Liverpool)