Juventus Turin – Atalanta BC
Serie A enters the 19th matchday this weekend and has several interesting games on offer. Sunday sees Juventus Turin take on Atalanta Bergamo from 20:45, before Lazio Roma take on Inter Milan on Tuesday night in another top-flight encounter. Our Juventus vs Atalanta betting tips tell you what we think about the first match on Sunday evening.
The hosts face the difficult task of getting back on track as quickly as possible after the bitter 1:5 defeat against Napoli. Juventus have responded impressively to their disappointing start to the season, winning eight matches in a row without conceding a single goal. For Atalanta, the feeling is the other way round. The team from Bergamo lost three games in a row before the World Cup break, but has yet to suffer a defeat in the new year. Will that still be the case after the guest game in Turin?
Juventus – Atalanta info:
– Date & Time: 22.01.2023, 20:45 hrs.
– Venue: Allianz Stadium, Turin
– Competition: Serie A, Matchday 19
– TV broadcast: DAZN
Juventus Form & Balance Check
After a more than disappointing start to the season and only three wins from the first nine games, it looked for a long time strongly as if the Italian record champions would have nothing to do with the fight for the championship again this season. At that point, there was no way of knowing that the Old Lady would go on one of the best winning streaks in Italian history between Matchday 10 and Matchday 17. During that period, Juventus won all eight of their league games without conceding a single goal.
Bitter defeat at league leaders
Although it was expected before the recent away game at league leaders SSC Napoli that this impressive streak might come to an end, the manner of the defeat was very sobering. The Old Lady went into the break trailing 2-1 and completely fell apart after the break. After eight games without conceding a goal, the result was a clear 1:5 defeat, and the gap to the top of the table is again ten points.
The main thing now is to put this defeat out of their minds as quickly as possible and, ideally, to build on the impressive winning streak of the previous weeks against Atalanta. The cup match during the week was already successful again. The Old Lady's B team defeated AC Monza 2-1 in the Coppa Italia round of 16. The goals were scored by Moise Kean (8th) and Federico Chiesa (78th), who scored his first goal after his serious knee injury and will be looking to play an important role again in the near future.
Juventus facts & analysis
– 37 points from 18 games
– Last lost 1:5 against Napoli
– Before the latest defeat, 8 wins in a row
Atalanta form & balance check
The visitors from Bergamo seem to have overcome their weakest phase of the season by far and claimed their second win in a row in impressive fashion against Salernitana last Sunday. The current sixth-placed team already led 5:1 at the break, and Atalanta won 8:2 in the end. After the 2:2 against Spezia and the 2:1 win at Bologna, Gian Piero Gasperini's team has now been unbeaten for three games. Before the World Cup break, they had lost three in a row against Napoli, Lecce and Inter Milan.
Second lightning start in a row
In the round of 16 of the Coppa Italia, Lecce even managed to win their third competitive match in a row last Thursday. As in the 8-2 win over Salernitana, Atalanta got off to a flying start. After twelve minutes it was already 2:0, after 38 minutes already 3:2. In the final phase Hojlund (72.) and an own goal by ex-Leipzig Ampadu (90.) ensured the decision. In the quarter-finals Atalanta have to play Inter Milan away.
Statistically, it is not unlikely that the next success will come on Sunday at Juventus. Atalanta have not lost any of their last four matches in Turin and won the last away match at the Old Lady 1-0. Juve's last success in this pairing was quite a while ago. November 2019 was the last time the Italian record champions scored three against Atalanta. However, Juventus can no longer rely on the goalscorers Gonzalo Higuain (2x) and Paulo Dybala at that time on Sunday.
Atalanta facts & analysis
– 34 points from 18 games
– Last win 8:2 against Salernitana
– Unbeaten for 3 games – previously 3 defeats in a row
Predicted line-up – last updated 20 January 2023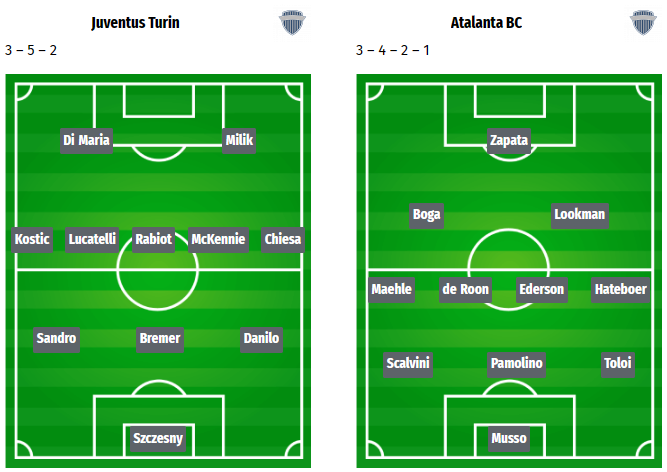 Pogba, Bonucci, De Sciglio and Cuadrado are still missing through injury but are expected back promptly. Otherwise, there is not much room for personnel changes, so we send the starting eleven from the clear 1:5 against Napoli into the race.
Atalanta have rotated a lot in the last two games, against Juventus the current top eleven will be on the pitch. It will probably come down to a mixture of the two teams. Koopmeiners is missing due to suspension, Ederson could play in his place. The system keeps varying between 3-4-2-1, a 3-4-1-2 and most recently a 3-4-3.
Juventus – Atalanta Direct comparison & Statistics
Juventus and Atalanta have played each other 130 times in their history so far. Juventus have emerged victorious 71 times, while Atalanta have won 16 times. 43 duels did not find a winner. In recent years, however, the tide has turned. Atalanta did not lose any of the last five duels and remained unbeaten even in Turin four times in a row.
– The average of goals scored in a Juventus Turin and Atalanta BC clash is 2.2.
– A look at Juventus Turin: Dusan Vlahovic is the top scorer with 6 goals. Ademola Lookman scored 9 times for Atalanta BC.
– When Juventus Turin lead 1-0 in home games, they win 80% of the games.
– Filip Kostic has the most assists on goal for Juventus Turin with 5 assists. Teun Koopmeiners (4) leads the way for Atalanta BC