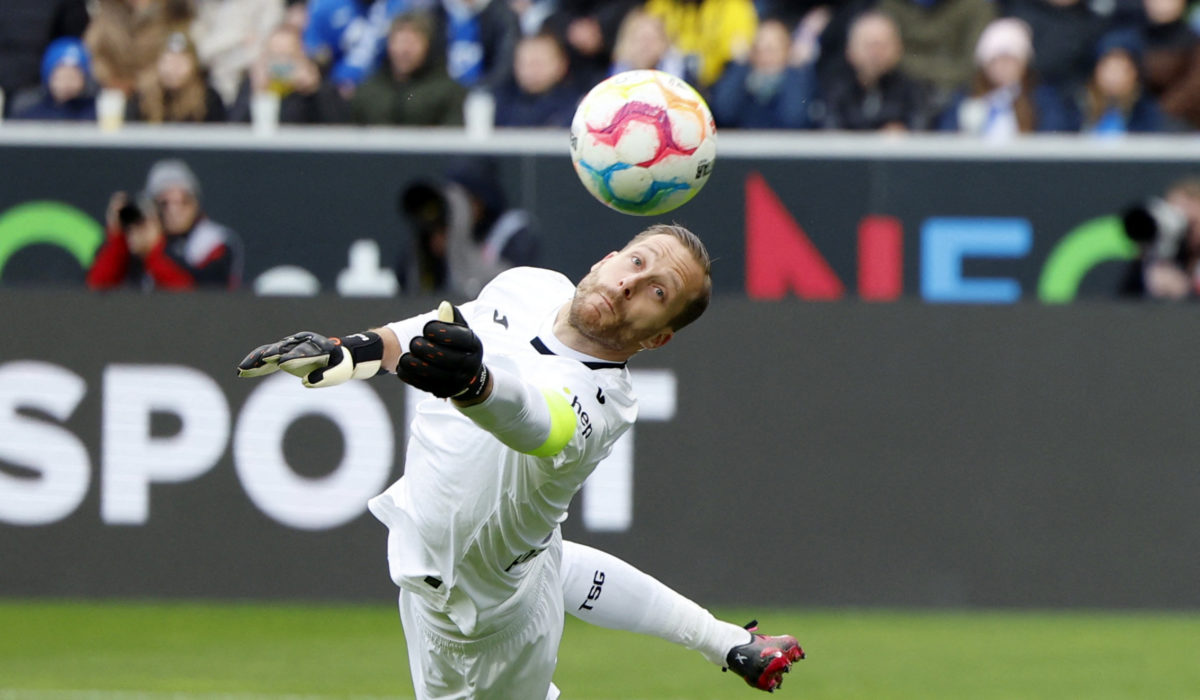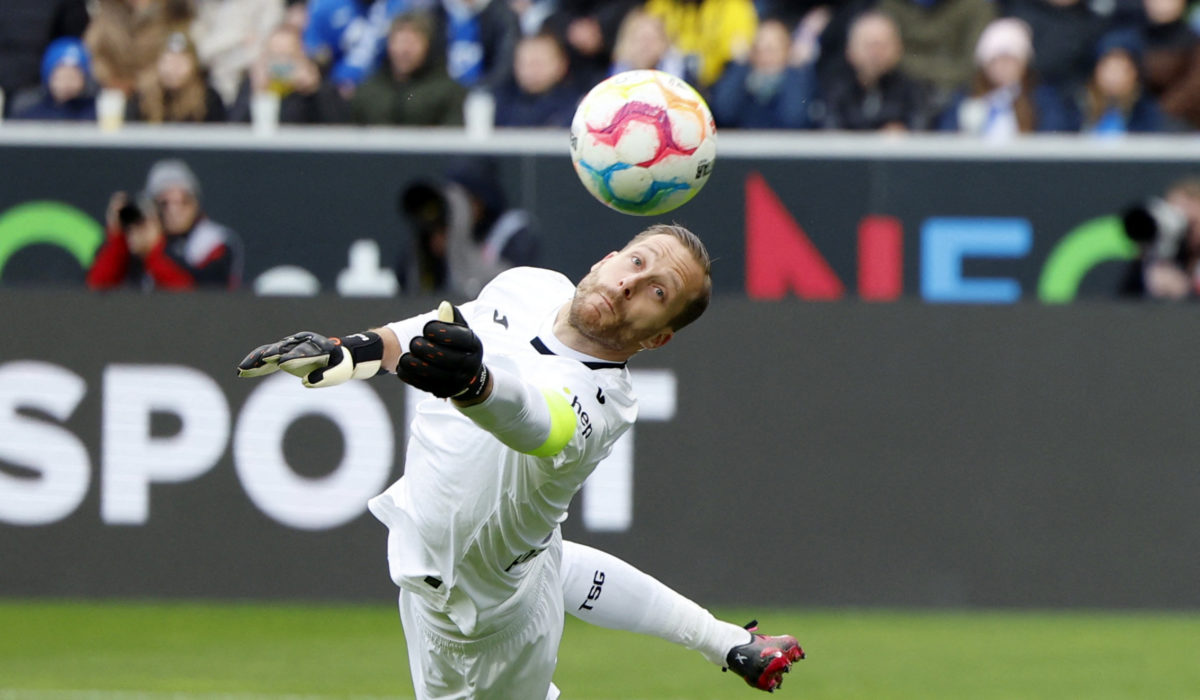 TSG Hoffenheim – Hertha BSC
There are a number of thrilling fixtures in the Bundesliga this coming weekend, including the upcoming clash between TSG 1899 Hoffenheim and Hertha BSC. The match will take place in the home PreZero Arena and is a trend-setting basement duel.
For TSG, the match is of enormous importance as they look to break free from their long-lasting negative streak. Hoffenheim are already winless in the league for 14 games and so far this year the Kraichgauer have only collected a single point. Last week, they were beaten 2-1 by SC Freiburg, dropping them to last place in the table.
Their upcoming opponents Hertha BSC are also in a relegation battle. The Berliners are currently in 15th place in the league and are only two points ahead of last-place Hoffenheim. In the previous week, the Old Lady earned a 1-1 draw against strong Mainz. Find out whether Sandro Schwarz's team will also score in the Kraichgau in our Hoffenheim vs Hertha tip.
Hoffenheim – Hertha Info:
– Date & Time: 18.03.2023, 15:30 hrs.
– Venue: PreZero Arena, Sinsheim
– Competition: Bundesliga, Matchday 25
– TV broadcast: Sky
Hoffenheim Form & Balance Check
Under coach André Breitenreiter, TSG 1899 Hoffenheim made a promising start to the season. After eight matchdays, the Kraichgauer were in fourth place in the table and only took two defeats. Since then, however, the team has only managed one win in the Bundesliga and has now waited 14 games for a success in the league.
Breitenreiter has since been sacked and Pellegrino Matarazzo took over as coach at the beginning of February. However, the hoped-for turnaround has so far failed to materialise and TSG have slipped to 18th place in the table. Last week, they lost 1:2 to SC Freiburg after conceding a late goal. Meanwhile, the move to the 2nd Bundesliga seems more and more likely.
Collective failure
The defensive performance of 1899 Hoffenheim is currently causing great concern. In the current season, the team has already taken the ball out of their own goal 44 times, which is only surpassed by three other teams in the Bundesliga. Defensively, things have gone particularly badly for TSG so far in 2023: in nine games, the Kraichgauer have already conceded 22 goals.
The TSG's offence is also absolutely unsettled at the moment. In the last four Bundesliga games, the players from Kraichgau have only scored once. In the pre-season, Hoffenheim scored 17 times more at the same time.
Hoffenheim facts & analysis
– Only two points from the last 14 games.
– Already seven home defeats
– Only two points behind the saving shore
Hertha form & balance check
But Hertha BSC's situation this season is also extremely critical. After 24 games, the team from the west of Berlin is only in 15th place in the Bundesliga table and has collected just 21 points so far. The first four games after the winter break were particularly disappointing, with Hertha scoring only one goal and conceding 13.
Nevertheless, there is a glimmer of hope: Hertha has been convincing at home in recent weeks. In the last three home games, coach Sandro Schwarz's team picked up seven points. After wins against Gladbach and Augsburg, Hertha at least managed a 1-1 draw against FSV Mainz 05 last weekend.
Berlin's away weakness
There is an urgent need for improvement in Hertha BSC's attack this season. The Berliners' current top scorer, Dodi Lukébakio, has scored ten goals in the Bundesliga so far, but the Herthaners have only managed a total of 29 goals. This makes the Alte Dame one of the weakest teams in the league. Only Bochum and Schalke scored less often.
Especially in away games, Hertha's attack lags behind, as they contributed only ten goals in the first eleven away games of the season. This poor record is also reflected in the Old Lady's disastrous points tally in foreign stadiums. Hertha BSC have only collected a measly four points away from home this Bundesliga season and have been without a point away from home since mid-September.
Hertha facts & analysis
– Lost the last seven away games in the league.
– Currently in 14th place in the league
– Third weakest offense in league
Predicted lineup – last updated March 16, 2023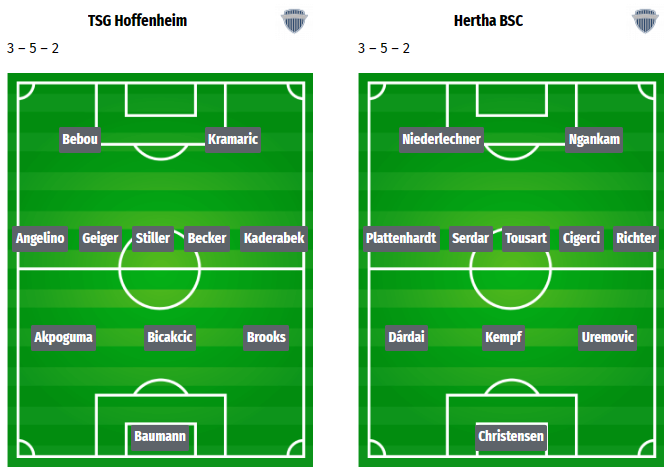 Hoffenheim will line up in a 3-5-2 as they did last time against Freiburg. Angelo Stiller did his job well in central midfield and recommended himself for another starting eleven nomination with his goal. We also expect Andrej Kramarić to start again. Ozan Kabak, on the other hand, will only watch from the stands after his sending-off against Hertha.
Hertha's team is now quite well-rehearsed. Coach Sandro Schwarz has not rotated much lately. Ngankam and Niederlechner complement each other well in the attack. Richter and Plattenhardt are also set on the two tracks. Boëtius, Ejuke, Nsona and Kanga are missing for the Berliners due to injury.
Hoffenheim – Hertha direct comparison & Statistics
The historical record speaks more in favour of Hoffenheim, who have already won twelve direct duels against Hertha BSC in the past. In contrast, the Old Lady has only managed to defeat the Kraichgauer seven times. With regard to the direct encounter this season, the match on matchday eight ended in a 1-1 draw.
– Hertha have won only one of their last five duels with Hoffenheim
– Andrej Kramarić has scored ten times against Hertha.
– When Hoffenheim lead 1-0 in home games, they win only 60% of the matches
– Did you know that Hertha score 24% of their goals between the 61-75 minute?