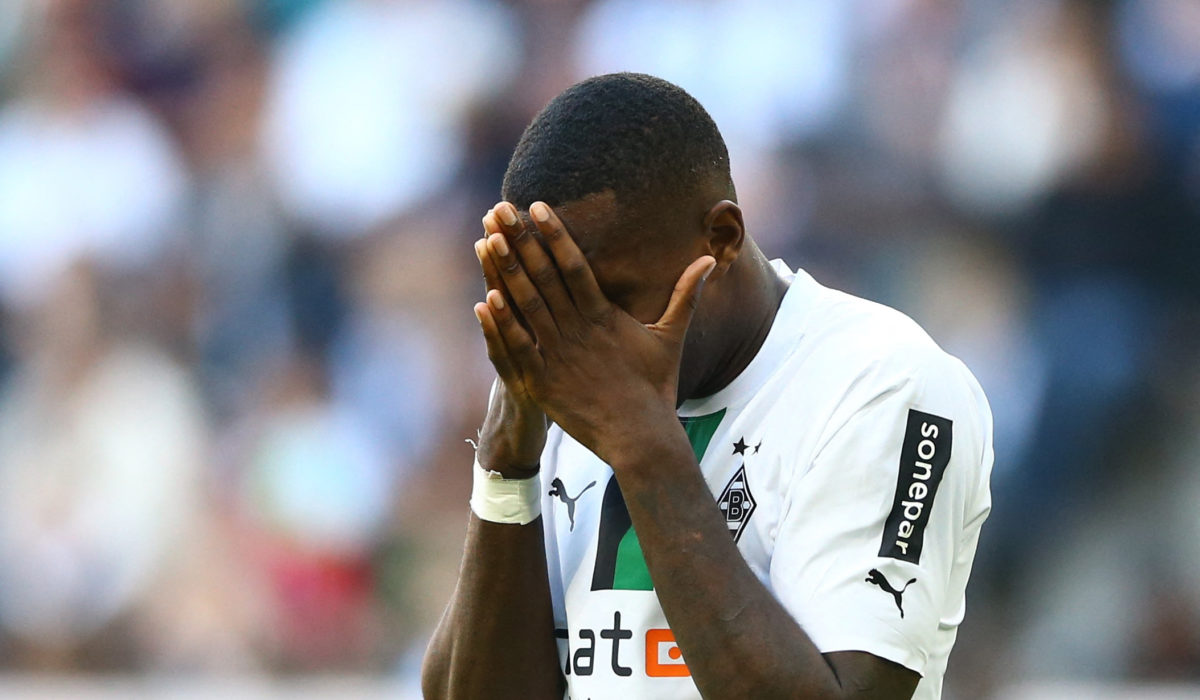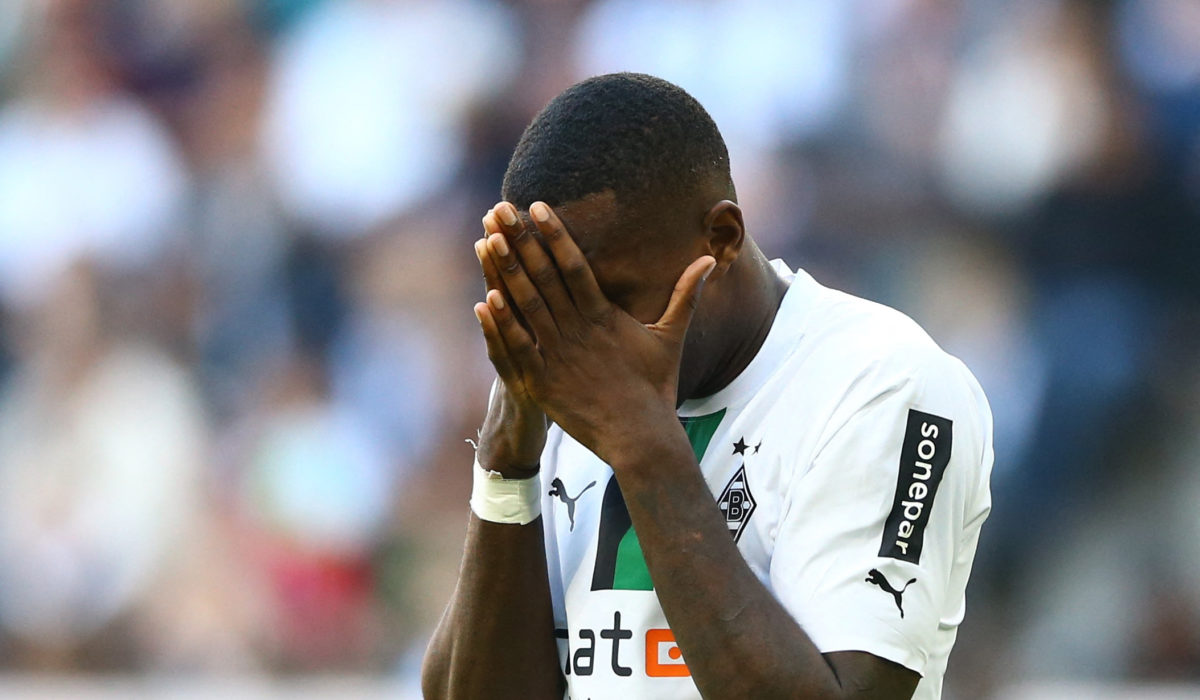 TSG Hoffenheim – Borussia Mönchengladbach
In the Bundesliga, the English week ended at the weekend. The 18th matchday kicks off the second half of the Bundesliga. On Saturday afternoon, TSG 1899 Hoffenheim will face Borussia Mönchengladbach at their home PreZero Arena. Borussia are in ninth place in the table with 22 points earned, while Hoffenheim remain in 13th place with just 19 points. Both teams have not yet found their form in the new year and want to finally get back on track.
For Hoffenheim, it is the second home game in a row. On Tuesday, TSG drew 2-2 with VfB Stuttgart at home. Borussia Mönchengladbach, on the other hand, suffered a defeat on the last matchday. The Foals lost 1-0 away to FC Augsburg, and our Hoffenheim vs Gladbach betting tips tell you whether Borussia will come out on top in Sinsheim.
Hoffenheim – Gladbach info:
– Date & Time: 28.01.2023, 15:30 hrs.
– Venue: PreZero Arena, Sinsheim
– Competition: Bundesliga, Matchday 18
– TV broadcast: Sky
Hoffenheim Form & Balance Check
With coach André Breitenreiter, TSG started the season strongly. After eight matchdays, Hoffenheim were in fourth place and had only conceded two defeats up to that point. Since then, however, TSG has only managed one win in the Bundesliga. Hoffenheim have been winless in the league for seven games. The Kraichgau side also lost 3-1 to Union Berlin to start the new year, but a stoppage-time goal from Andrej Kramarić secured a point against relegation candidates VfB Stuttgart on Tuesday.
Missing goal threat
Striker Andrej Kramarić is absolutely not in his top form this season. The Croatian has already scored in double figures five times in Bundesliga seasons. In this Bundesliga season, however, Kramarić has only five goals to his name. Nevertheless, the 31-year-old is TSG Hoffenheim's top scorer. This fact probably says a lot about the Kraichgauer's penetrating power.
For this reason, TSG made another move on the transfer market in the winter. Kasper Dolberg was loaned from Nice and is supposed to revitalise the forward line. Dolberg has a lot of international experience. For the defence, John Anthony Brooks was brought back to the Bundesliga during the week. Thomas Delaney is also expected to follow as a new winter arrival, in the next few days.
Hoffenheim facts & analysis
– Only two points from the last seven games.
– Already four home defeats
– Three points off relegation place
Gladbach Form & Balance Check
Borussia Mönchengladbach had a really good start to the season. Daniel Farke's team lost only one match in the first seven matchdays. However, Borussia did not confirm this form at all afterwards. The Foals won only two of their last eight competitive matches. In the cup, Borussia even lost to the second-division team SV Darmstadt at the end of October. At the beginning of the new year, Gladbach lost first against Leverkusen and then on Wednesday with a 0:1 defeat at FC Augsburg.
At least the offensive is right
Mönchengladbach's offence, however, has been less of a problem so far. Daniel Farke has managed to revive Borussia's attack. Compared to the previous season, the Borussians have eight more goals on their account. With 30 goals scored, Gladbach belongs to the top group of the league and even has more goals on its account than, for example, Freiburg in sixth place or Union Berlin in second place.
Especially the two Frenchmen Marcus Thuram and Alassane Pléa deliver sometimes outstanding performances. While Thuram is Borussia's top scorer with ten goals, Alassane Pléa even has the third most assists in the entire Bundesliga with seven. In addition, Thuram even has the most shots on goal in the entire Bundesliga. Accordingly, the fans of the Foals would like to see a bit more effectiveness from the 25-year-old.
Gladbach facts & analysis
– Gladbach have yet to win a game away from home this season.
– Haven't won by nil in ten games
– Still without a point in 2023
Predicted line-up – last update on 27 January 2023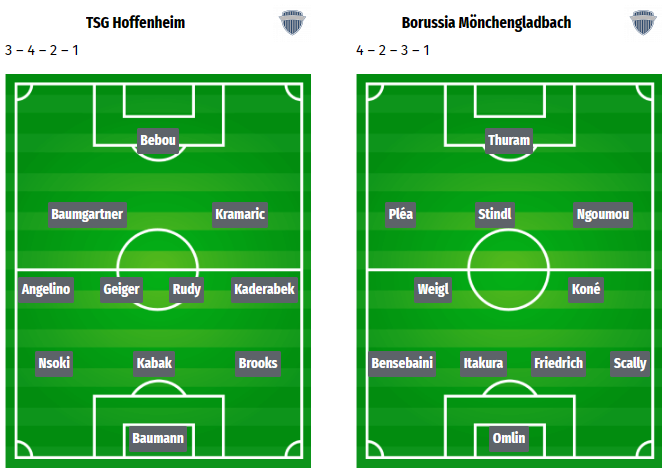 The TSG from Hoffenheim will again line up in a 3-4-2-1 in the upcoming match. Coach André Breitenreiter will have to do without Akpoguma for the home game against the Foals. The centre-back received his fifth yellow card against Stuttgart. Newcomer Brooks could move straight into the starting eleven in his place. In attack, Kramarić, Bebou and Baumgartner will start again. Bruun Larsen, Prömel Vogt and Stiller are out injured. Skov had to be substituted against Stuttgart and is still injured.
Borussia from Gladbach will start the match with a 4-2-3-1. Ngoumou and Pléa are expected to support Thuram up front. Jonas Hofmann, Yvandro Borges Sanches and Christoph Kramer will probably be out injured. Stindl could move into the starting eleven for Kramer.
Hoffenheim – Gladbach direct comparison & Statistics
The record of the two teams is slightly tilted in favour of TSG. Hoffenheim won eleven direct duels against Gladbach. Borussia, on the other hand, have only won nine times against the Kraichgauer. However, Mönchengladbach won the duel on the first matchday of this season 3:1.
– Hoffenheim have not won any of their last three encounters with Gladbach.
– When Hoffenheim lead 1-0 in home matches, they win only 58% of the games.
– Did you know that Gladbach score 23% of their goals between the 76-90 minute?