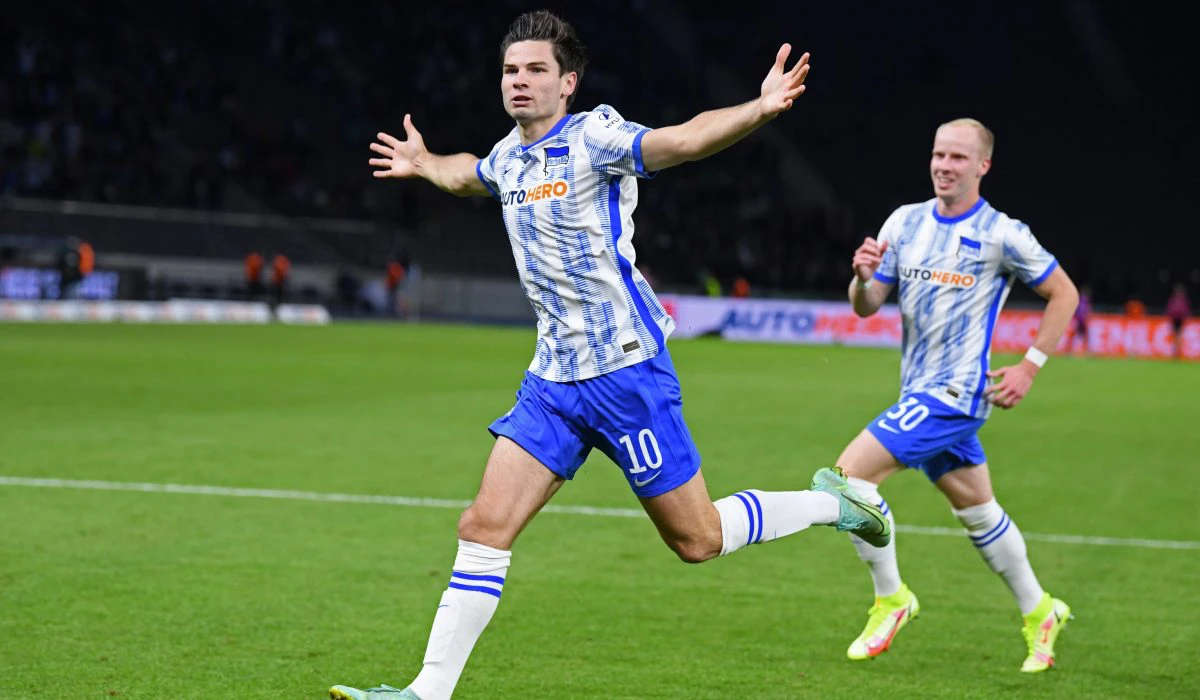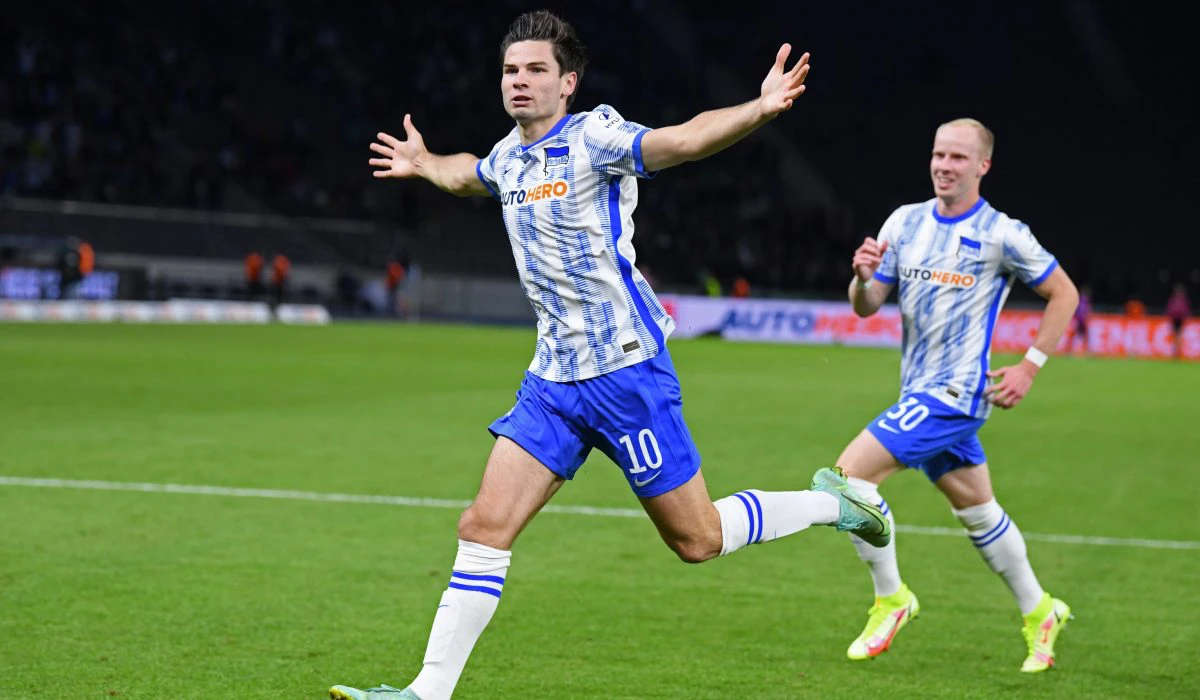 Hertha BSC vs. SC Freiburg
Matchday 6 of the Bundesliga awaits us this weekend and it may bring with it a final match. It could be the last game of Hertha coach Pal Dardai, who has come under criticism recently. When Hertha take on still unbeaten SC Freiburg at 3:30pm on Saturday at Berlin's Olympiastadion, the capital club must not lose to avoid making their poor season so far even worse. Hertha deservedly lost 6-0 in Leipzig with an appalling performance and are now in debt to their fans. Dardai's team will have to put up a real fight against SC Freiburg. But Freiburg have once again flown under the radar and are just one point away from the Champions League places.
For Hertha, the club from the Black Forest will be a very unpleasant opponent, as Freiburg is still undefeated and convinced again in the last match. In the last match at the venerable Dreisamstadion, SC Freiburg bid farewell to their home venue with a 3-0 victory over Augsburg. Before the Black Forest side can play in the new Europa Park Stadium for the first time, they have to travel to the capital. You can find all information on this match in our Hertha – Freiburg betting tip.
Hertha vs Freiburg Info
– Date & Time: 02.10.2021, at 15:30 hrs.
– Venue: Berlin, Olympiastadion
– Competition: Bundesliga, Matchday 7
– TV broadcast: Sky
Hertha Form & Balance Check
Hertha's season so far has been unsatisfactory. The Alte Dame could only win against the two promoted teams Bochum and Fürth and lost all other four matches. In addition, Hertha has already suffered two hefty defeats at the hands of Bayern Munich and RB Leipzig. When Hertha went down 5-0 to the German record champions at the end of August, sporting director Arne Friedrich promised that such heavy defeats would not happen again. But after the two victories over Bochum and Fürth, in which Hertha were not bursting with playing class either, the Alte Dame were beaten 6-0 last week Sunday in Leipzig. The frightening thing about this defeat was that Hertha didn't fight and once again no game idea was visible. Normally, Hertha must now show a real reaction against Freiburg to turn the tide.
Final game for Dardai?
After the defeat in Leipzig, Fredi Bobic spoke out and said: "It's up to Pal himself how long he'll be coach". The sporting director's support for the coach sounds different. At the moment, people are particularly dissatisfied with the Berliners' play, as Hertha have a system, but hardly show one on the pitch. The coach is also responsible for this. If Hertha plays badly and loses, it is likely to be hotly debated in the next few days whether Dardai is still the right coach. However, the last home game against Freiburg gives Hertha hope, as they won it 3-0.
Hertha facts & analysis
– Last match lost 6:0
– Won only against both promoted teams
– 6 points after 6 games
Freiburg Form & Balance Check
SC Freiburg are once again one of the surprises of a positive nature in the Bundesliga. After six games, the small club from the Black Forest is still unbeaten and is once again shaking up the top flight. The Freiburg team showed that Christian Streich's team must also be on the map this season when they defeated BVB 2-1. This was immediately followed by the next victory against Stuttgart. In Cologne and Mainz, however, it was only enough for a draw. When SC Freiburg played at the Dreisamstadion for the last time last weekend, they bid farewell with a convincing 3-0 win over FC Augsburg.
Berlin not a good place for Freiburg?
What stands out in the encounters between Hertha BSC and SC Freiburg is that both teams are extremely strong at home against each other. Hertha last lost a home game against Freiburg in 2015, whereas Freiburg have not lost to Hertha at home since. SC Freiburg have now waited 5 games for an away win in the German capital. This statistic is quite strange, as Hertha have not won in Freiburg since 2010. On Saturday, Freiburg have the next chance to get something in Berlin.
Freiburg facts & analysis
– Unbeaten
– 3 wins from last 5 games
– 3 draws from 6 games
Predicted line-up – last update on 30 September 2021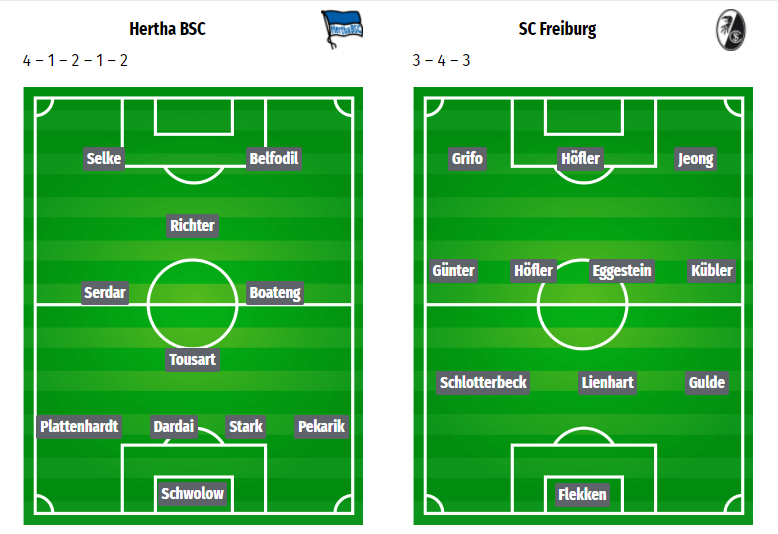 Hertha BSC beat Bochum and Fürth when Dardai had his side play with a five-man backline. In the last appearance in Leipzig, there were again five defenders on the field and yet there were conceded goals without end. In the home match against Freiburg, Hertha must be more offensive and show that they are the home side. Therefore, we expect the Alte Dame to play in a compact 4-1-2-1-2 system.
SC Freiburg also played their last game with a five-man backline. But coach Streich interprets this differently than Dardai does. The Freiburg coach has his team play in a 3-3-3 formation, in which the five-man backline only appears when the ball is lost. When the ball is in their own possession, the wing-backs move into midfield. It is an offensive system that the men from the Black Forest bring to the pitch.
Hertha – Freiburg direct comparison & statistics
The clash between Hertha BSC and SC Freiburg has taken place 45 times so far. Hertha have the better record with 16 wins compared to SC Freiburg's 12. The 17 other encounters ended in a draw. Hertha won the last match 3:0 at the Olympiastadion.
– Hertha won the last match
– Freiburg have not won in Berlin since 2015.
– Hertha have not won in Freiburg since 2010