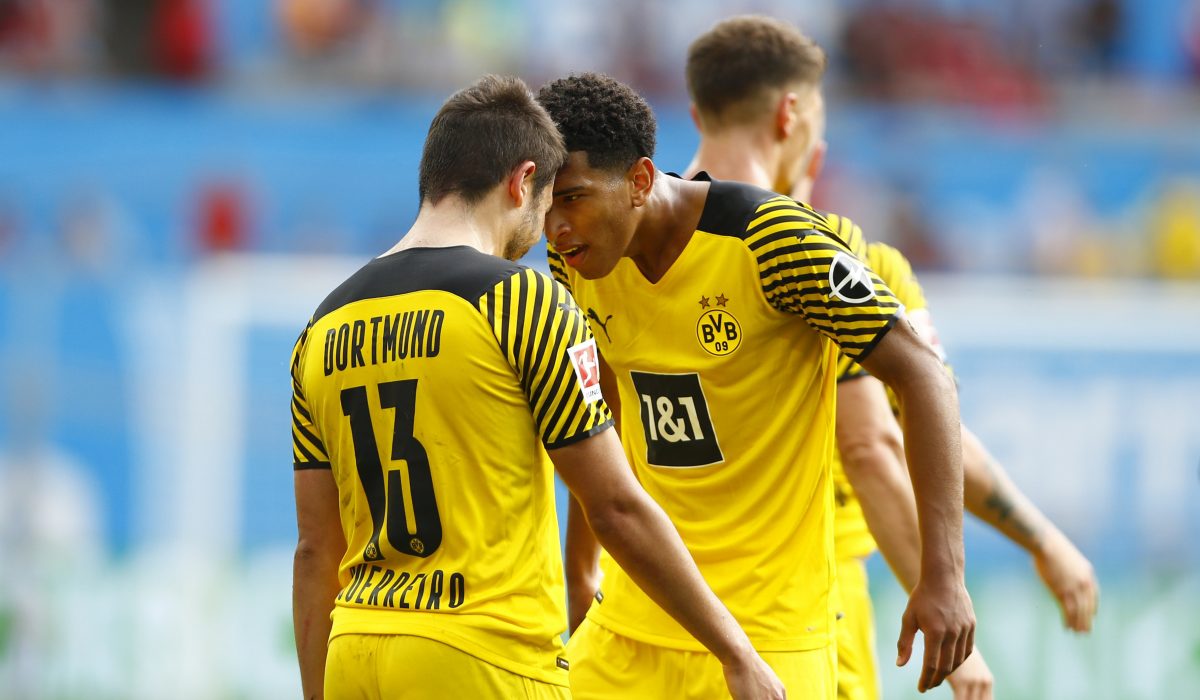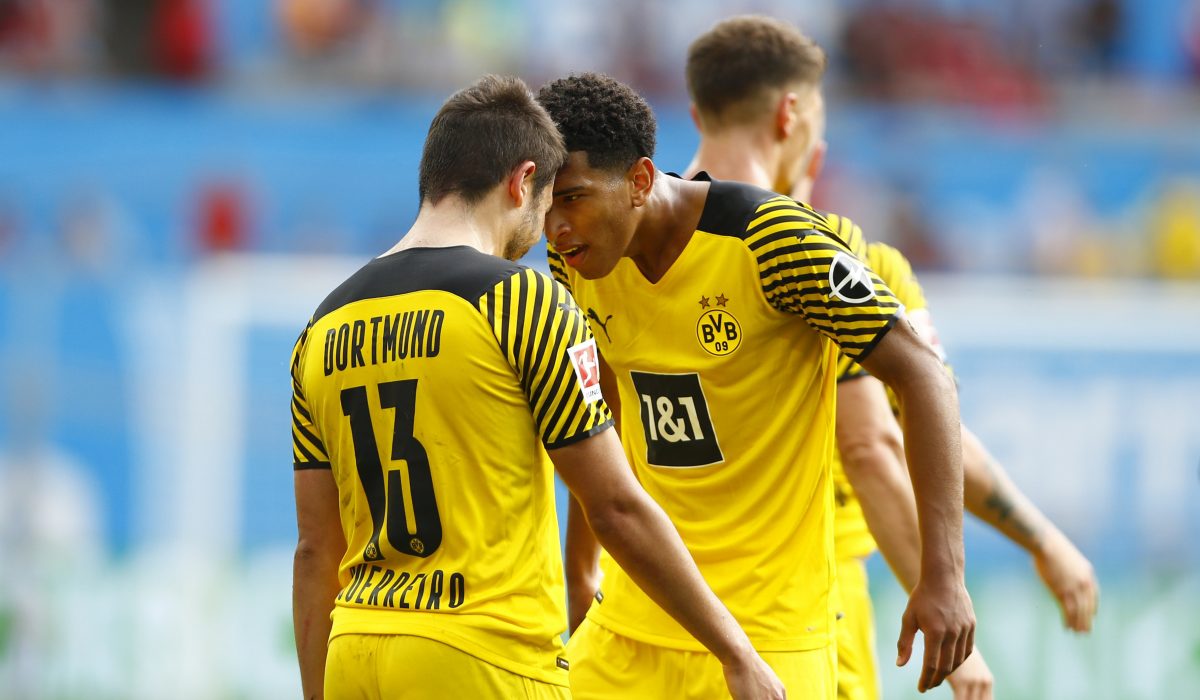 Borussia Mönchengladbach vs. Borussia Dortmund
On Saturday evening at 6:30 pm, it comes to the duel of the Borussians in the top match of the Bundesliga on this 6th matchday. Borussia from Gladbach welcomes Borussia from Dortmund and in recent years this match has provided plenty of entertainment and spectacle. While Dortmund's start to the season has been quite promising so far, with the exception of the defeat in Freiburg, Gladbach's start has been a false one. The Foals are currently in the 16th relegation spot, while BVB are in 3rd place in the table and have 12 points to their name. Whether we believe in another spectacle at Borussia Park, you can find out in this Gladbach – Dortmund tip.
This match should be particularly special for Dortmund coach Marco Rose, as he has coached the Foals for the last two years and, among other things, reached the Champions League with them. There was a lot of fuss about his change this summer and the early announcement was one reason for Gladbach's fall in the second half of the season. Now he returns to his old place of work and will certainly be highly motivated to get the next 3 points. We are looking forward to an entertaining and hopefully high-scoring match.
Gladbach – Dortmund Info
– Date & Time: 25.09.2021, 18:30 hrs.
– Venue: Borussia-Park (Mönchengladbach)
– Competition: Bundesliga, Matchday 6
– TV broadcast: Live on pay-TV channel Sky
Gladbach Form & Balance Check
Next to Leipzig, Gladbach are probably the surprise team of the season – in the negative sense. After 5 matchdays they are in third last place and have lost 3 of their first 5 matches. The bitter part is that these defeats happened against supposedly weaker opponents. Most recently, they lost 0:1 in Augsburg, 2 weeks earlier there was a bitter 1:2 defeat against Union and on the 2nd matchday they went down 0:4 in Leverkusen. Above all, the 0:1 in Augsburg last weekend was bitter, as the team had managed to win its first three points of the season shortly beforehand and the brief flare-up of euphoria was thus curbed again.
What's going wrong at Gladbach?
You mustn't forget that Gladbach have to do without important regulars time and again and that Stefan Lainer and Marcus Thuram, for example, will be out for even longer. But it seems as if the cogs are not yet meshing and the Foals have problems with coach Adi Hütter's style of play, or have not yet internalised it 100%. There is a lack of creativity and against Augsburg, the team was unable to create a single real goal-scoring chance. It was already the 3rd away defeat in the 3rd game and the offensive needs to get into gear quickly so that Europe doesn't slip out of sight.
Gladbach facts & analysis
Gladbach have lost all 3 away games with a goal difference of 1:7.
– The Foals are still unbeaten at Borussia-Park so far
– At the moment they rank 16th with a goal difference of 5:9
– Lars Stindl has scored the most goals for Gladbach (2)
Dortmund form & balance check
After the unnecessary 1-2 defeat in Freiburg on matchday 2, many BVB fans were probably thinking: is it starting again? Last season, Dortmund was so incredibly inconsistent and allowed themselves to make such mistakes with regularity. But it seems as if Marco Rose's team is getting into better and better shape, and above all the offensive has been incredibly good this season. First and foremost, of course, Erling Haaland, who is probably in the form of his life. With 7 goals and 4 assists, he leads the scorers' list by a wide margin and is on a par with Lewandowski. He is currently the team's life insurance, but the other offensive players like Reus or newcomer Donyell Malen are also positive phenomena so far.
Can BVB compete with Bayern this year?
Dortmund fans and officials have been waiting in vain for Dortmund's next championship title for several years. So far this season, they are hot on the heels of the record champions, but unfortunately – from BVB's point of view – Bayern are also doing extremely well. Nevertheless, it seems that Dortmund is currently the only team that can pose a threat to the Munich team. Nevertheless, the Borussians' defence is problematic. On average, Dortmund concedes over 2 goals per game and thus has the fifth-worst defence in the league. They also score an average of 3.4 goals, but it will be extremely difficult to keep up with Bayern with such an average.
Dortmund facts & analysis
– On average, Dortmund have scored 5.6 goals per match so far.
– Dortmund have not yet conceded a single goal this season
– Erling Haaland has already been directly involved in 11 goals – a league best!
– Borussia Dortmund's current performance in the Bundesliga is better than Borussia Mönchengladbach's
Predicted line-up – last update on 23 September 2021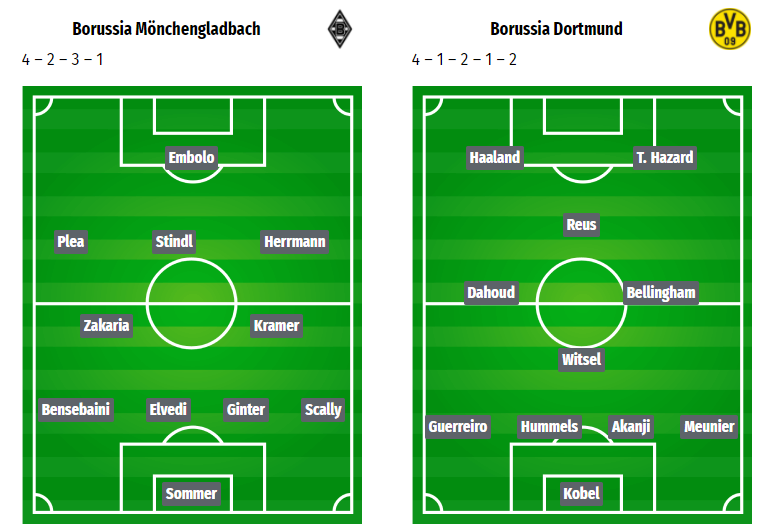 Personnel wise, we expect 3 changes for the home side. Bensebaini is fit again and will start at left back. On the six, Kramer could replace Neuhaus, who has been in poor form lately, and in the centre of attack, the brawny Breel Embolo is an option. Tactically, we assume a 4-2-3-1. Dortmund actually has no reason to change and, apart from Brandt, all key players are fit and ready for action. Either BVB will start in a diamond formation with Haaland and Hazard at the top, or in a 4-3-3 with Malen and Hazard on the wings. For that, Dahoud would probably have to make way.
Gladbach – Dortmund direct comparison & statistics
Last season Gladbach won their home match furiously with 4:2 against BVB. At that time, Nico Elvedi scored a brace and Thuram made it 4:2. That was a bitter blow for BVB at the time, but they should recover from it. Before that, the direct comparison clearly goes to Dortmund. They won all 11 games in the Bundesliga before the defeat, whether at home or away. Accordingly, BVB feels comfortable at Borussia-Park. Nevertheless, every game should be re-evaluated, even if the Black-Yellows are the favourites due to their current form.
– In the last 58 duels, Borussia Mönchengladbach has left the pitch as winner 15 times. 10 games ended in a draw, Borussia Dortmund won 33 times.
– Borussia Mönchengladbach score an average of 1.89 goals in home matches and Borussia Dortmund score an average of 2.13 goals in away matches
– Borussia Mönchengladbach has won only 1 match out of their last 10 in Bundesliga against Borussia Dortmund
– The average goals scored in a Borussia Mönchengladbach vs Borussia Dortmund clash is 3.2