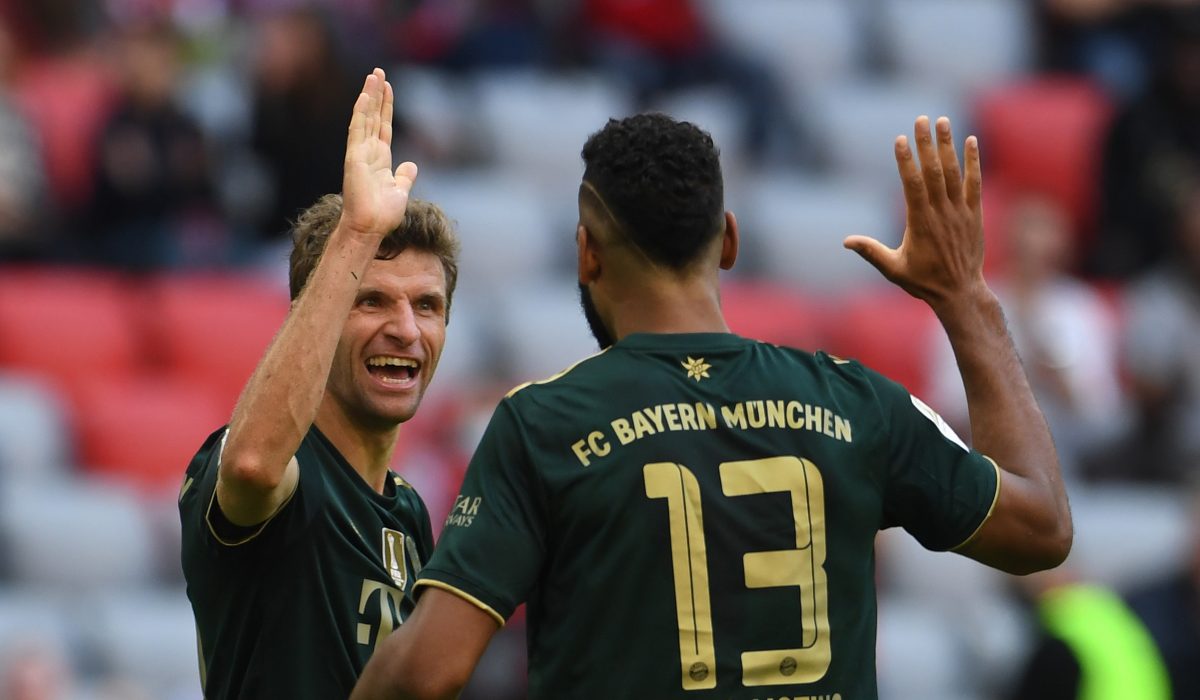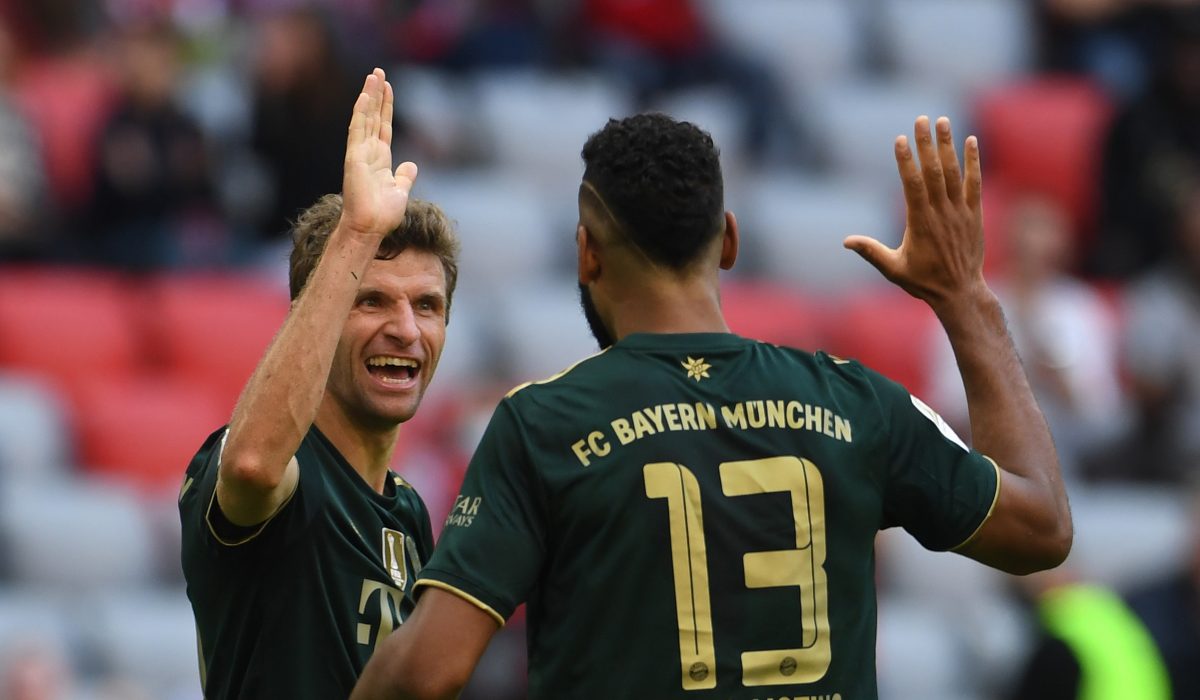 SpVgg Greuther Fürth vs. Bayern Munich
The 6th matchday of the Bundesliga is in the starting blocks and the teams of SpVgg Greuther Fürth and FC Bayern München will kick off on Friday evening. The match will be played at the Sportpark Ronhof in Fürth from 20:30.
This will be the first time this season that the top team in the Bundesliga has faced the bottom team. If you had to make predictions before the season about who these two clubs would be before matchday 6, most people would probably have chosen exactly these two clubs. In our Fürth vs Bayern tip, we now tell you whether we think the result will be just as clear-cut and what other predictions we would make for the opening match of Matchday 6.
Fürth -Bayern Info
– Date & Time: 24.09.2021, at 20:30 hrs.
– Venue: Fürth, Sportpark Ronhof (up to 16,000 spectators).
– Competition: Bundesliga, Matchday 6
– TV broadcast: DAZN
Fürth -Bayern Tip
The starting situation is clear. FC Bayern lead the table with 13 out of a possible 15 points and will be looking to extend their lead at the top with an unchallenged away win in Fürth. SpVgg, on the other hand, must hope for a miracle. After five games, the Franconians are still waiting for their first win and as they host the best team in the league on the coming matchday, the prospects for something countable are not exactly rosy. After all, the Kleeblätter will also have followed how the second promoted team from Bochum fared against the record champions last weekend.
Fürth Form & Balance Check
SpVgg Greuther Fürth almost got their second point of the season last Friday in Berlin. In the 57th minute, the Franconians even took a 1:0 lead against Hertha BSC, but had to accept the equaliser just four minutes later. An own goal by Maximilian Bauer in the 79th minute left the visitors empty-handed again. It was the fourth defeat in five games and at the moment there is little to suggest that Greuther Fürth will be more successful in the coming weeks.
Only 19 Bundesliga home games without a win
This should bring back memories of the 2012/13 season for SpVgg. Even then, the cloverleaf started as a clear underdog in the Bundesliga and even then, they were simply overwhelmed by the level of the highest German division. 21 defeats in 34 games speak for themselves. In the present, the season seems to be going in a similar direction. The only encouragement for the upcoming match is the fact that it is being played again on Friday evening. There, the Fürth team scored an average of one point per game in the Bundesliga – on other days only 0.5.
Fürth facts & analysis
– 1 point from 5 games
– Last lost 2:1 at Hertha BSC
– Winless in 19 Bundesliga home games
– On average 1 point per game on Fridays in the Bundesliga – on other days only 0.5
Bayern form & balance check
Whoever thought after the opening 1-1 draw at Borussia Mönchengladbach that Bayern lack consistency this season has since been proved wrong. The second league match against 1. FC Köln (3:2) was not quite convincing, but since then the form curve has shown a steep upward trend. The five subsequent competitive matches have impressively shown the level of performance at which Bayern have already returned. The 12:0 victory in the cup against Bremer SV was followed by a 5:0 win over Hertha BSC, before runners-up RB Leipzig were also beaten 1:4 away from home. Their most recent two competitive matches in the Champions League and the league were no less impressive.
Bayern with incredible hunger for goals
In the top flight, Bayern easily beat FC Barcelona 3-0 in their opener before sweeping promoted VfL Bochum 7-0 from the Allianz Arena just four days later. What is particularly impressive is the constant hunger for goals that Bayern display despite a comfortable lead. Many teams would have taken a 4-0 halftime lead, shifted down a gear or two, and easily cruised home with the victory. But not the Bavarians, who added three more goals at exactly that score against Bochum and could have won even more. It's quite possible that Greuther Fürth will also go down to defeat on Friday.
Bayern facts & analysis
13 points from 5 games
– Last win 7:0 against Bochum
– 20 goals after 5 league games
– Lewandowski could score in 16th game in a row
Predicted line-up – last update on 22 September 2021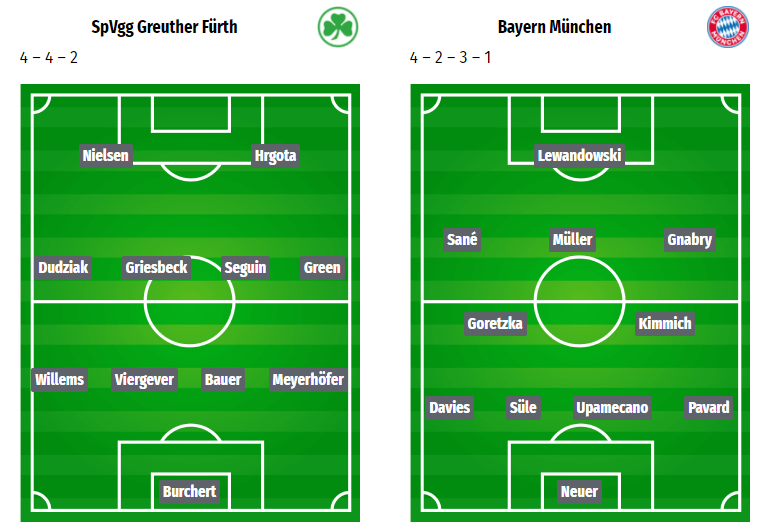 At SpVgg Greuther Fürth, we expect Julian Green to come in for striker Cedric Itten. The system could be changed to a flat 4-4-2 as a result. Havard Nielsen would act as a second striker in this case.
Bayern have a few minor injury worries. Both Serge Gnabry and Jamals Musiala are banged up. Gnabry should be fit again by Friday, though, so we don't expect any changes in the starting eleven.
I would like to thank my family, team mates, coaches and the entire @FCBayern team🙏I am extremely proud of what we have achieved together as a team. Thank you! #GoldenShoe2021 pic.twitter.com/UzECuxSd03

— Robert Lewandowski (@lewy_official) September 21, 2021
Fürth -Bayern direct comparison & statistics
Not surprisingly, the direct comparison clearly goes to the record champions from Munich with 15 wins to 4 and 3 draws. The last two duels took place in the 2012/13 season, when SpVgg paid a one-year short visit to the Bundesliga. On that occasion, Bayern won 2-0 and 3-0, with the cloverleaf's last success coming in August 1964 (2-1).
– A look at SpVgg Greuther Fürth: Branimir Hrgota is the top scorer with 2 goals. Robert Lewandowski scored 7 times for Bayern Munich.
– Bayern Munich have a run of 4 away games won.
– The winner of the last encounter was Bayern Munich.
– SpVgg Greuther Fürth have conceded one goal in each of their last 15 matches.