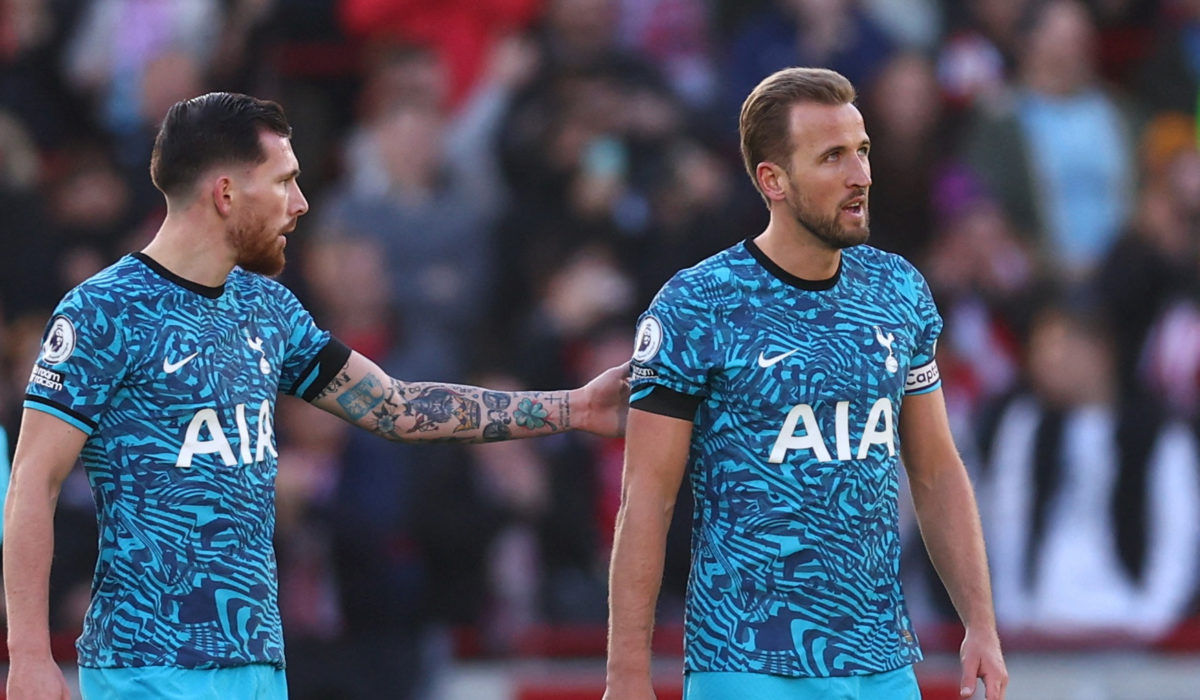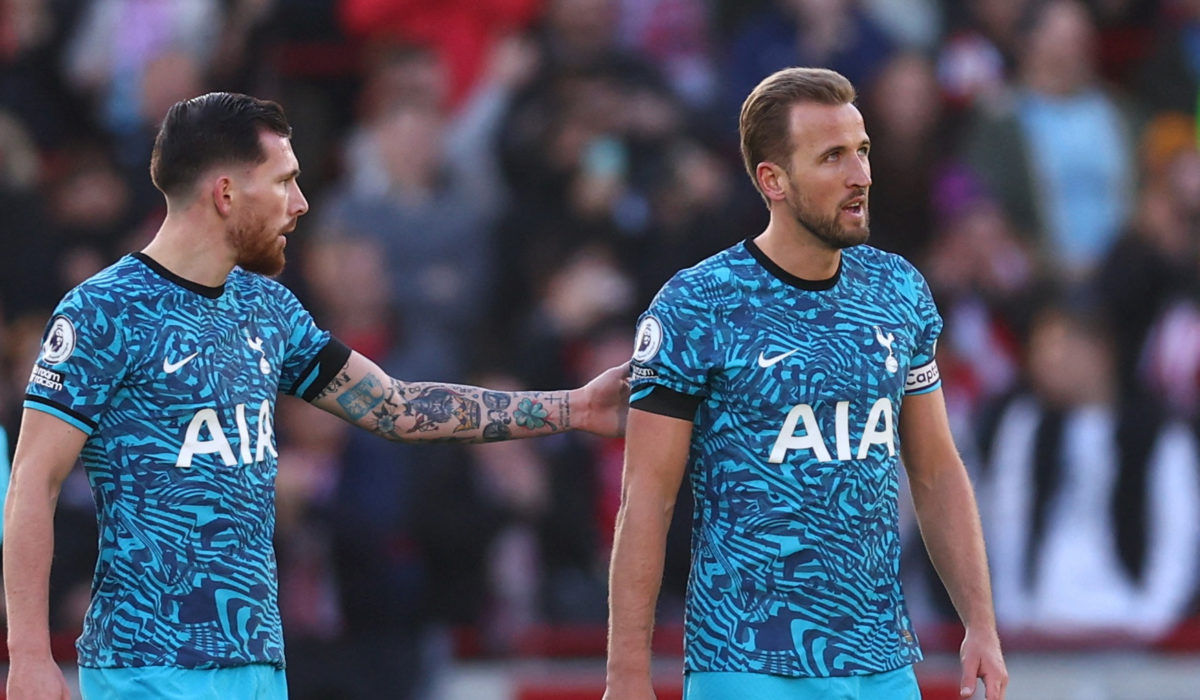 FC Fulham – Tottenham Hotspur
There are many exciting games on the schedule around the globe this weekend. Among other things, the Bundesliga opens its doors again and returns from hibernation. But English football still has plenty of exciting football in store for you after the weekend. To start the week, two Premier League rivals will meet on Monday evening. Tottenham Hotspur travel to the west of the city for the duel against Fulham.
Promoted Fulham are playing a very strong season so far. The West Londoners are sixth in the table after 20 games. In addition, the Lilywhites recently won four Premier League games in a row before a defeat at Newcastle United at the weekend. Nevertheless, coach Marco Silva's team is still on course for European business.
Tottenham are currently one place ahead of Fulham in the league. Spurs are clearly lacking consistency this season. Last week, Tottenham lost the North London derby at home to Arsenal 2-0, followed by a 4-2 defeat at Man City on Thursday. Find out who will come out on top at the end of matchday 21 in our Fulham vs Tottenham betting tips.
Fulham – Tottenham info:
– Date & Time: 23.01.2023, 21:00 Uhr
– Venue: Craven Cottage, London
– Competition: Premier League, Matchday 21
– TV broadcast: Sky
Fulham Form & Balance Check
Fans of Hamburger SV might not have good memories of Fulham FC. In the 2010 Europa League semi-final, HSV narrowly lost to the west London club, missing out on a place in the final at their own stadium by a hair's breadth. However, Fulham lost that final 2-1 after extra time against Atlético Madrid.
Currently, it looks as if there will soon be European nights at Craven Cottage again. Marco Silva's side, who were promoted to the Premier League last year, have taken their outstanding form from the Championship with them and are now playing their way through the top flight of English football. The Lilywhites are currently in sixth place in the Premier League and thus have a legitimate chance of participating in European business. Last Sunday, Fulham lost the top match against Newcastle unhappily with a goal in the last minute with 0:1.
With a lot of experience to success
Fulham has a lively team with a lot of offensive drive. But above all, FFC is also a team with a lot of experience. On average, Fulham's squad this season is 27.9 years old. No team in the league has a higher age average. The 35-year-old central defender Tim Ream or the 34-year-old outfielder Willian clearly help the team with their experience.
An essential part of the offensive is striker Aleksandar Mitrović who is still quite young by Fulham standards. The 28-year-old scored 43 times in just 44 games last second division season. This season he is simply building on his form in the Premier League. The Serbian has scored eleven goals in his first 16 games so far. In the game against Newcastle, however, Mitrović missed a penalty in curious fashion shortly before the end.
Fulham facts & analysis
– 6th on the table with 31 points.
– Twelve points in their last five Premier League games
– Only two defeats at home
Tottenham form & balance check
Tottenham reached the 2019 Champions League final in spectacular fashion, narrowly losing 2-0 to Liverpool. However, Spurs were unable to repeat this success in the following years. In the past three seasons, Tottenham finished the season in the top four in the league only once and thus secured their participation in the Champions League.
This season, too, the top 4 is anything but a guarantee for Tottenham. Coach Antonio Conte's team fails to bring consistency to their performances. Tottenham have never won more than two games in a row in the Premier League this season. Since the World Cup break, Spurs have generally only won one league game and have meanwhile slipped to fifth place in the table. On Thursday, they also lost the catch-up game against Manchester City with 2:4.
Defensively insufficient
The Spurs defence has been nothing more than absolute mediocrity in the league this year. Tottenham Hotspurs fans have already seen their team concede 31 goals this Premier League season. Even teams like Everton or West Ham, who are deep in the relegation battle, have conceded fewer goals. In total, only five teams in the Premier League have conceded more goals than Tottenham.
Goalkeeper Hugo Lloris has only conceded five times this season. The usually so secure goalkeeper of the French national team does not always look safe this season. In the last two games against Manchester City and Arsenal, several goals were clearly on him. In total, Lloris has already made four mistakes this season that have led directly to goals being conceded, more than any other player in the Premier League.
Tottenham facts & analysis
– 5th on the table with 33 points.
– Only one win in their last five Premier League games.
– In the last 16 of the Champions League
Predicted line-up – last update on 21 January 2023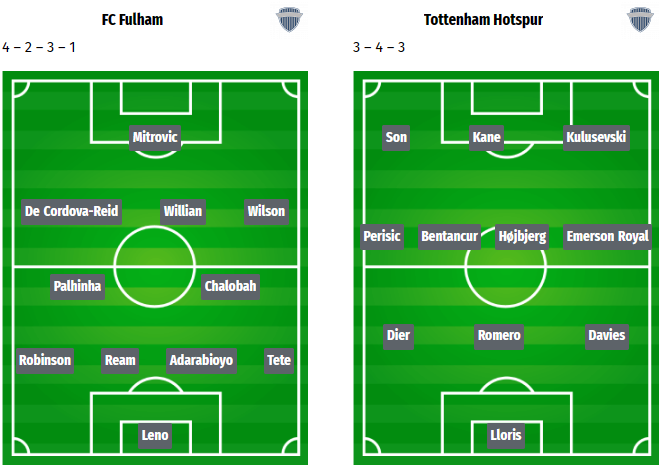 Fulham will field a 4-2-3-1. German international keeper Bernd Leno will guard the West Londoners' goal. In attack, Aleksandar Mitrović will try to make up for his missed penalty from the last game. Only Neeskens Kebano is missing Fulham through injury. Andreas Pereira received his fifth yellow card against Newcastle and will also miss the match.
Antonio Conte will probably send his team out on the field with a 3-4-3 again. Harry Kane will again provide a scoring threat up top. Dejan Kulusevski recently returned from injury and scored against Man City. Richarlison is likely to come off the bench first after his injury. Lucas Moura is still not fit and will not play.
Fulham – Tottenham direct comparison & stats
Both teams have faced each other 66 times in competitive matches so far. Tottenham have 38 wins so far and are clearly ahead in the standings. Fulham, on the other hand, have only won ten games against Spurs. In the first match this season, the north Londoners won 2-1 with goals from Kane and Højbjerg.
– Both teams are separated by two points in the league.
– Fulham have won only two of their last 20 duels with Tottenham
– Fulham have scored in nine of their ten home games in the league this season
– Did you know that Tottenham score 32% of their goals between the 61-75 minute mark?