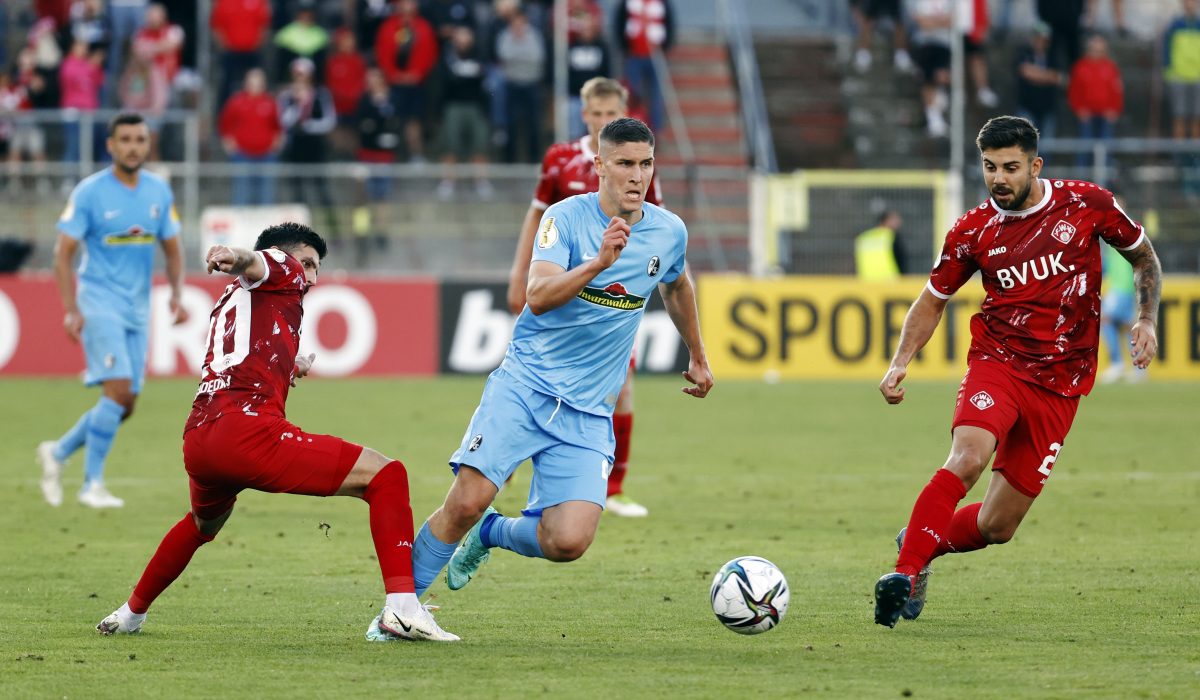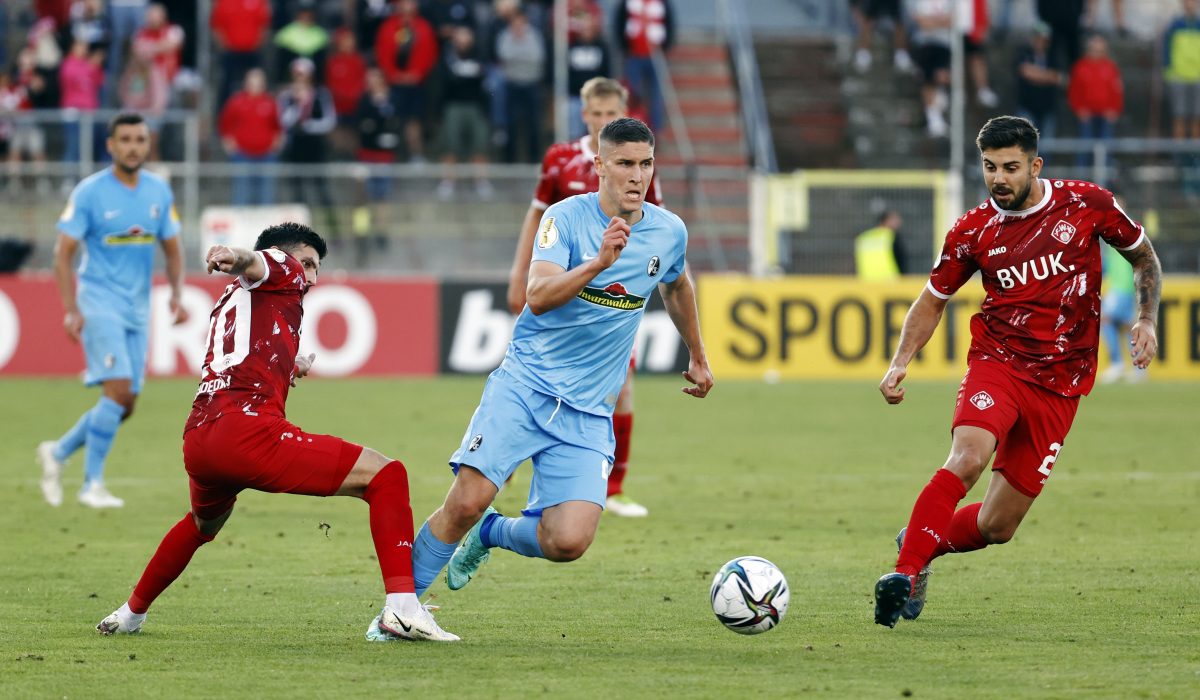 SC Freiburg vs. FC Augsburg
At the end of matchday 6 in the Bundesliga, we can expect a game between unbeaten Freiburg and FCA on Sunday at 17:30, who have already collected 5 points despite scoring only 2 goals so far. The Breisgauer have made a great start and have already collected 9 points after 5 match days. With a win on Sunday against Augsburg, they could take a really big step and distance themselves from the relegation places early on. The next three points would also be immensely important for the visitors and you can find out who we see in front in this game in this Freiburg – Augsburg tip.
For Augsburg, the win against Gladbach was immensely important, as it allowed them to pull away from the lower ranks. Markus Weinzierl's team jumped to 12th place with the 1-0 win, but is currently only one point ahead of the 16th relegation place. Freiburg, on the other hand, is currently in 6th place and has not lost yet despite a challenging opening programme. In any case, we expect a very competitive game in which one goal can and will probably decide the game.
Freiburg vs Augsburg info
– Date & Time: 26.09.2021, 17:30 hrs.
– Venue: Dreisamstadion (Freiburg)
– Competition: Bundesliga, Matchday 6
TV broadcast: In Livestream at DAZN
Freiburg Form & Balance Check
After the great start and 7 points from the first 3 games and the convincing win against the great BVB, Freiburg have slowed down a bit recently. The Breisgauers drew twice in a row and were especially lucky in the home match against Cologne, as they allowed many chances and benefited from an own goal in the end. The 0-0 draw in Mainz was another step forward and in the end the SCF could have even won, but Grifo missed with a beautiful shot in the final minute. On Sunday, the game should be better again and the forward momentum from the first games is needed to win the game against Augsburg.
Can Freiburg become the surprise team of the season?
There is absolutely nothing to say against it so far. Sure, the performances have not always been convincing, but the defence is stable and Freiburg is extremely efficient going forward. One of the positive surprises is the form of the South Korean Jeong, who has already scored twice for Sport-Club this season. Above all, the SCF fans fondly remember his brace in the 3:2 away win in Stuttgart. However, it is still too early to make a prediction for the rest of the season.
Freiburg facts & analysis
– SC Freiburg have not lost any of their last 7 home games
– A year ago, SC Freiburg were in 13th position in the table with 6 points. Currently they are in position 6 (9)
– SC Freiburg's performance in last 5 matches is better than FC Augsburg's performance.
– When SC Freiburg leads 1-0 in home matches, they win 70% of the matches
Augsburg form & balance check
You can't really make heads or tails of this Augsburg team so far this season. They have already conceded 8 goals after 5 matchdays, but have already played to nil three times. They have not conceded a goal away from home and have scored 0:0 twice against Union and Frankfurt. On the last matchday, they scored a lucky 1:0 against Gladbach in an extremely tough game, which for the first time catapulted the Fuggerstädter out of the worse relegation places. The golden goal scorer was Florian Niederlechner shortly before the end.
Can Augsburg score in the long run?
We don't want to get too close to coach Markus Weinzierl, but his team's offensive play this season is primarily based on lurking for the opponent's mistakes or becoming dangerous from set-pieces. FCA have only scored two goals this season, none of which were really well played. The only solid performance in the offensive was in the 0:0 against Union, when the Fuggerstädter missed some chances and had traction in their offensive play. Otherwise, 90% of Augsburg's game is about defending and we're not sure that's as promising in the long run.
Augsburg facts & analysis
– Augsburg have scored the fewest goals in the league (2).
– Augsburg have yet to concede or score a goal away from home.
– Florian Niederlechner is so far the only player from the squad who could score goals
– When FC Augsburg lead 0-1 in away games, they win 50% of the games
Predicted line-up – last update on 24 September 2021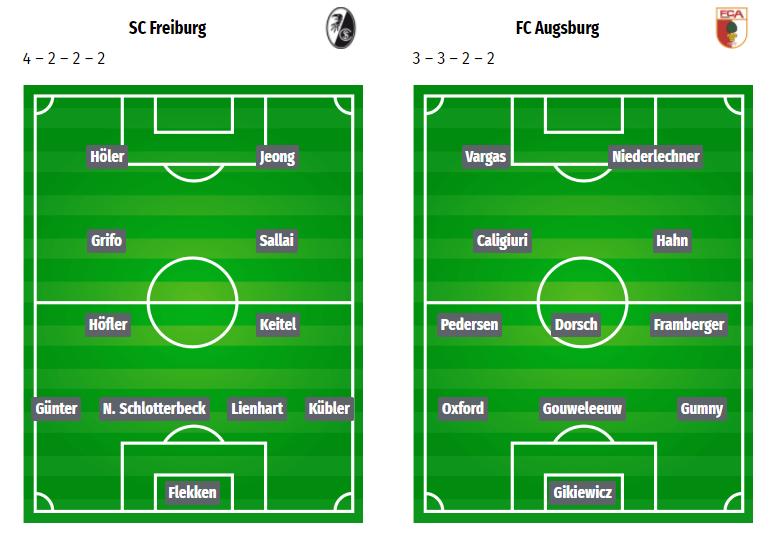 After Freiburg could hardly create anything against Mainz, the return of Italian offensive player Vincenzo Grifo is likely. Höfler is also likely to return after his injury. In attack, the accurate Nils Petersen is an option for Höler. We expect the visitors to play in their usual 5-3-2. Niederlechenr has recommended himself for the starting eleven with his winning goal against Gladbach and is therefore an option. Pedersen will replace Iago, who was injured last week. Uduokhai is also questionable for the match.
Freiburg – Augsburg direct comparison & Statistics
The two have met directly 18 times in the Bundesliga and the balance is in favour of the Breisgauer. Augsburg have only won once at the SCF and that victory was 7 years ago. In general, it is noticeable that the two have a hard time in each other's stadium. Freiburg have never won in Augsburg and at home they have a proud record of 7 wins from 9 games against the Fuggerstädter. Accordingly, the SCF is favoured in this encounter.
– In front of their home crowd, SC Freiburg have a proud record of 5 games without defeat against FC Augsburg.
The average number of goals scored in a Bundesliga match between Freiburg and Augsburg is 3.
– The average number of goals scored in the first half in matches between SC Freiburg and FC Augsburg is 1.2
– The winner of the last encounter was SC Freiburg