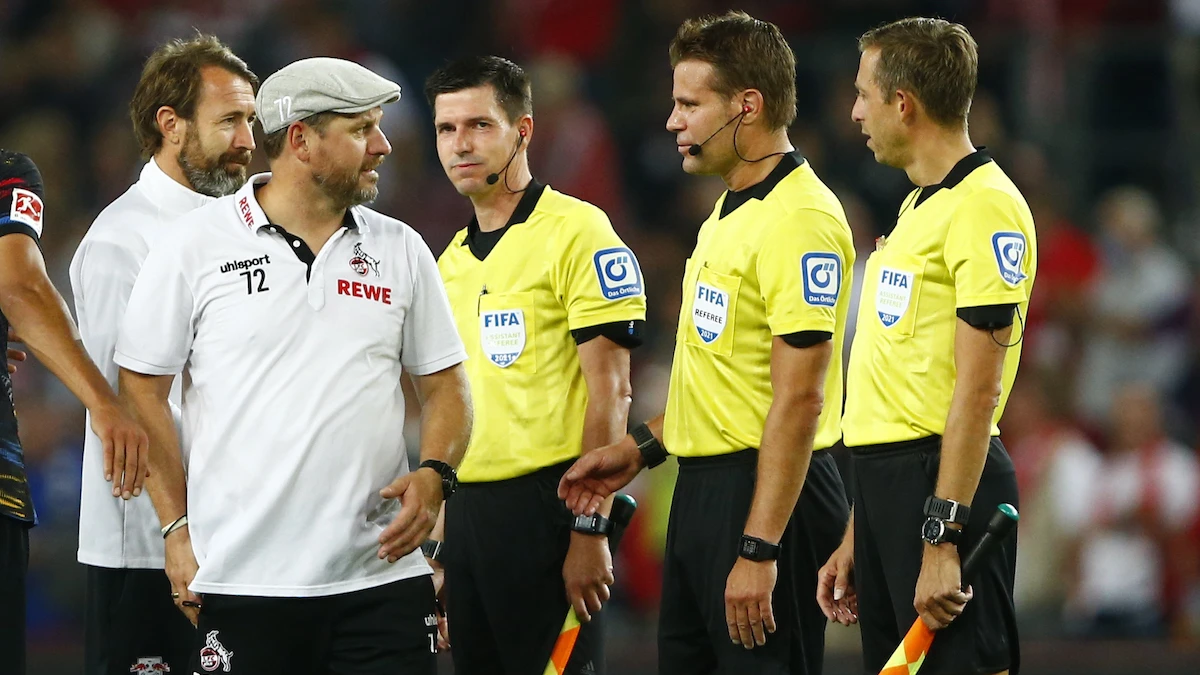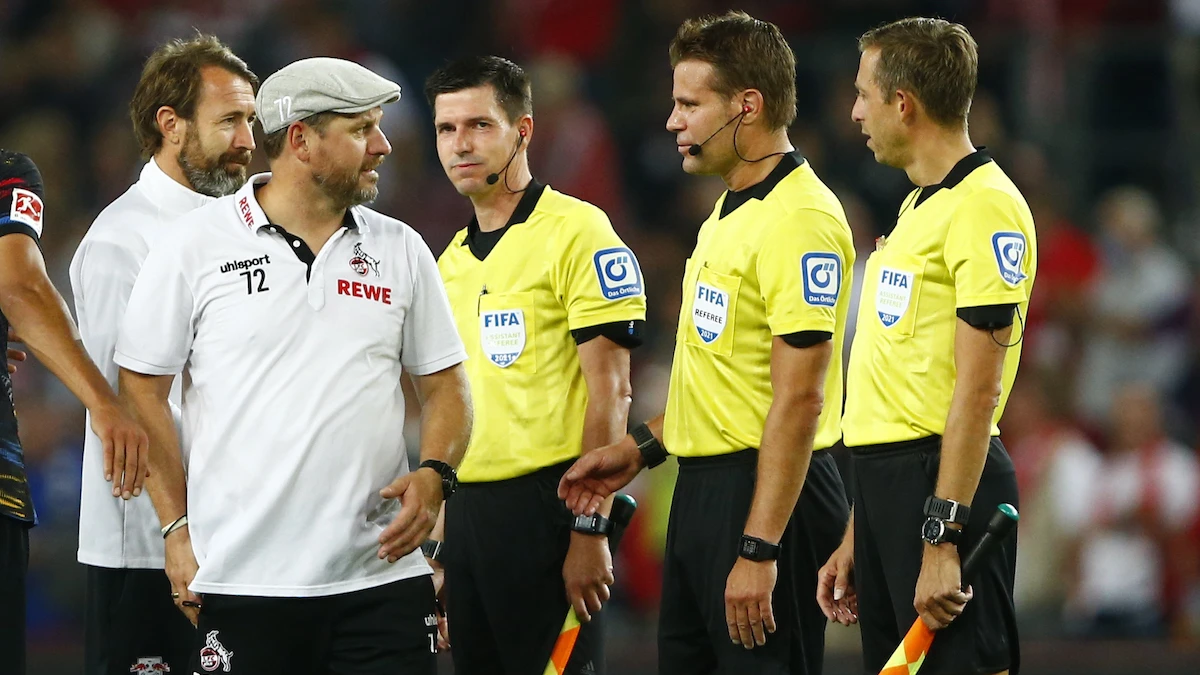 Eintracht Frankfurt vs. 1. FC Köln
On the 6th matchday of the Bundesliga, it comes to the clash between the still winless SG Eintracht Frankfurt and the 1. FC Köln at the Deutsche Bank Park in Frankfurt. The match will kick off on Saturday afternoon at 3:30 pm.
On this day, the hosts will start a new attempt to finally get their first win of the current Bundesliga season. But it definitely won't be easy against the in-form Cologne team. Whether we still think the Eagles can win and what other predictions we would make for this game, you can find out now in our Frankfurt vs Cologne tip.
Frankfurt – Cologne Info
Date & Time: 25.09.2021, at 15:30 hrs
Venue: Frankfurt, Deutsche Bank Park (up to 51,500 spectators)
Competition: Bundesliga, Matchday 6
TV broadcast: Sky Sport Bundesliga
Frankfurt -Cologne Tip
If someone had said before the season that Frankfurt and Cologne would meet on Matchday 6 as seventh and fifteenth in the table, everyone would surely have expected Eintracht to be in the top half of the table. In reality, however, it is Cologne who have a proud eight points after five games and have so far only been beaten by Bayern by a very narrow 2:3. The SGE, on the other hand, are still winless, but thanks to the four draws they have already managed to pick up a point or two.
Frankfurt Form & Balance Check
After three 1-1 draws in a row, SG Eintracht Frankfurt again failed to get beyond a draw in Wolfsburg on the last Bundesliga matchday. For the third time in a row, the Adler took a 1-0 lead and for the third time in a row, they had to concede an equaliser in the course of the match. After five league games, the SGE is still waiting for its first win – the last time Eintracht had to wait that long for its first three-goal win was in 2008/09. They are also yet to win their first competitive match under new coach Oliver Glasner after five draws and two defeats in the competition.
With the home strength to the first three?
But there is no reason to panic yet, after all, it was already clear in the run-up to the season that the newly formed attack in particular would need some time. However, with FC Augsburg and Arminia Bielefeld, they already had two opponents in front of them against whom they would have liked to score three points. Against Cologne, it is now primarily a matter of not also destroying the impressive home series after the somewhat disappointing start to the season. The SGE are unbeaten in 21 Bundesliga home games and are chasing their own club record from 1971 to 1973, when they did not lose at home 27 times in a row.
Frankfurt facts & analysis
– 4 points from 5 games
– Last played 1:1 in Wolfsburg
– Unbeaten for 21 Bundesliga home games
– Played last 4 competitive games 1-1
Cologne form & balance check
For the visitors from Cologne, the 2021/22 season is going more successfully than expected. In the first five games, the Geißböcke have only suffered one narrow defeat so far – against the record champions from Munich with 2:3. Apart from that, the two home games against Hertha BSC (3:1) and VfL Bochum (2:1) were won and most recently a point was picked up in Freiburg (1:1) and against Leipzig (1:1). Steffen Baumgart and 1. FC Köln – that seems to fit like a glove. The players, too, have already confirmed that the coach's euphoric nature is being transferred to the players on the pitch. No team will have an easy time against Cologne this season.
How long will the highs last?
This coming Saturday, the Cathedral City side will be looking for their next success in Frankfurt and the statistics are in favour of the in-form Effzeh before this match. Only in Stuttgart has 1. FC Köln recorded more away victories in its history than in Frankfurt. Consequently, it would be somehow fitting if Cologne, of all teams, were to end Frankfurt's impressive home streak. If that were to happen, Baumgart's eleven would even have the chance to move up to a Champions League place. Given their strong start to the season, that would not be undeserved for the moment.
Cologne facts & analysis
– 8 points from 5 games
– Last played 1:1 against Leipzig
– Only against Stuttgart more away wins than against Frankfurt
– Scored in every game so far
Predicted line-up – last update on 23 September 2021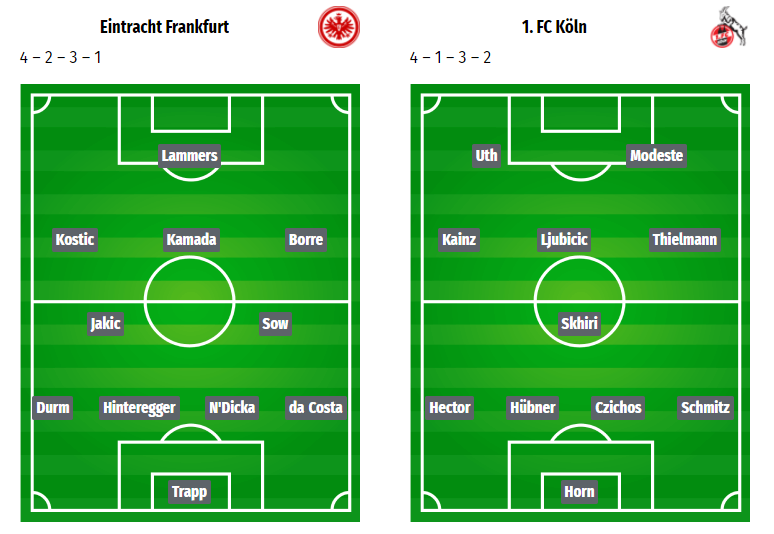 There should be no surprises in Eintracht's starting eleven. Only Daichi Kamada could be displaced by Jesper Lindström or Jens Petter Hauge. Sebastian Rode and Christopher Lenz are missing due to injury.
On the visitors' side, the offensive is likely to be set in stone. In defence, Kingsley Ehizibue and/or Luca Killian could play instead of Benno Schmitz and/or Timo Hübers. The only one missing is Jannes Horn.
Wenn du Grätschen geiler findest als Tore schießen! 🔥💪 #effzeh pic.twitter.com/8ykGTVzt7f

— 1. FC Köln (@fckoeln) September 21, 2021
Frankfurt -Cologne direct comparison & Statistics
The overall direct comparison is 40 to 38 wins and 30 very close in favour of Cologne, but the balance of the last five games is narrowly in favour of Eintracht. In addition to two draws, the Eagles have won two encounters in this period. The last encounter at Deutsche Bank Park was won 2-0 by the SGE, but the penultimate encounter in Frankfurt went down 4-2 to 1. FC Köln after leading 2-0.
– A year ago, 1. FC Köln were in 16th position in the table with 2 points. Currently they are in position 7 (8).
– The most common result between Eintracht Frankfurt and 1. FC Köln is 1-1. 7 matches ended like this.
– The winner of the last encounter was Eintracht Frankfurt.
– A look at Eintracht Frankfurt: Jens Hauge is the top scorer with 2 goals. Anthony Modeste scored 4 times for 1. FC Köln.
– The comparisons of both clubs in the last season: 2-0 (home for Eintracht Frankfurt) and 1-1 (home for 1. FC Köln).