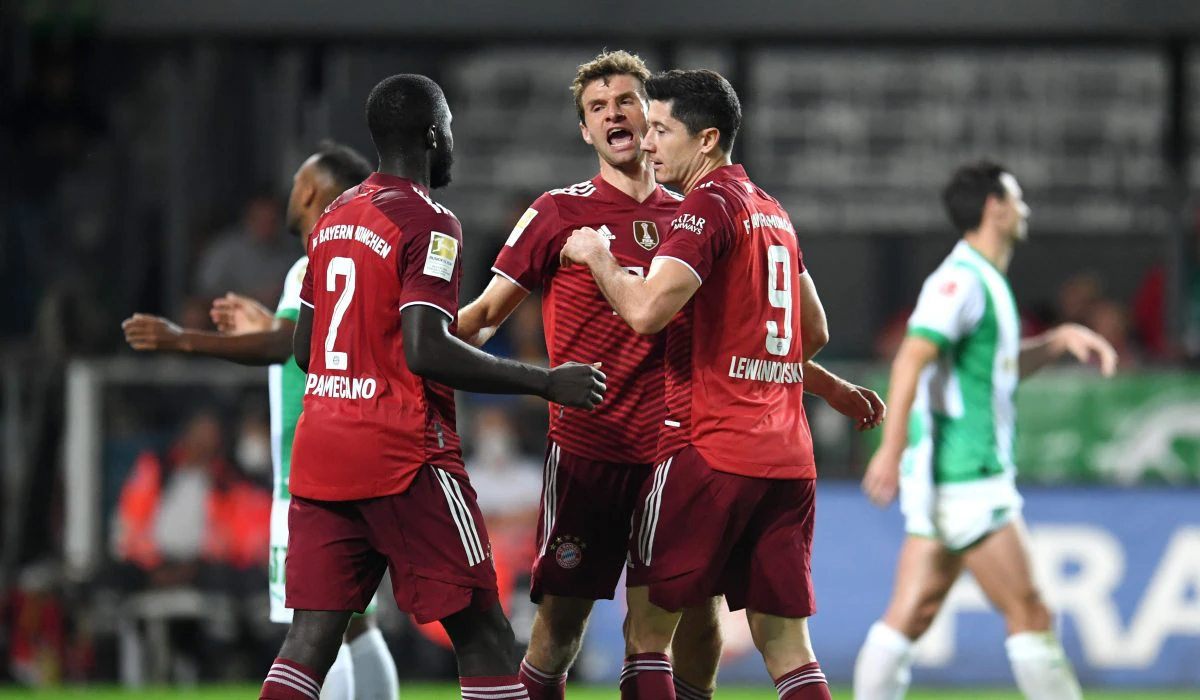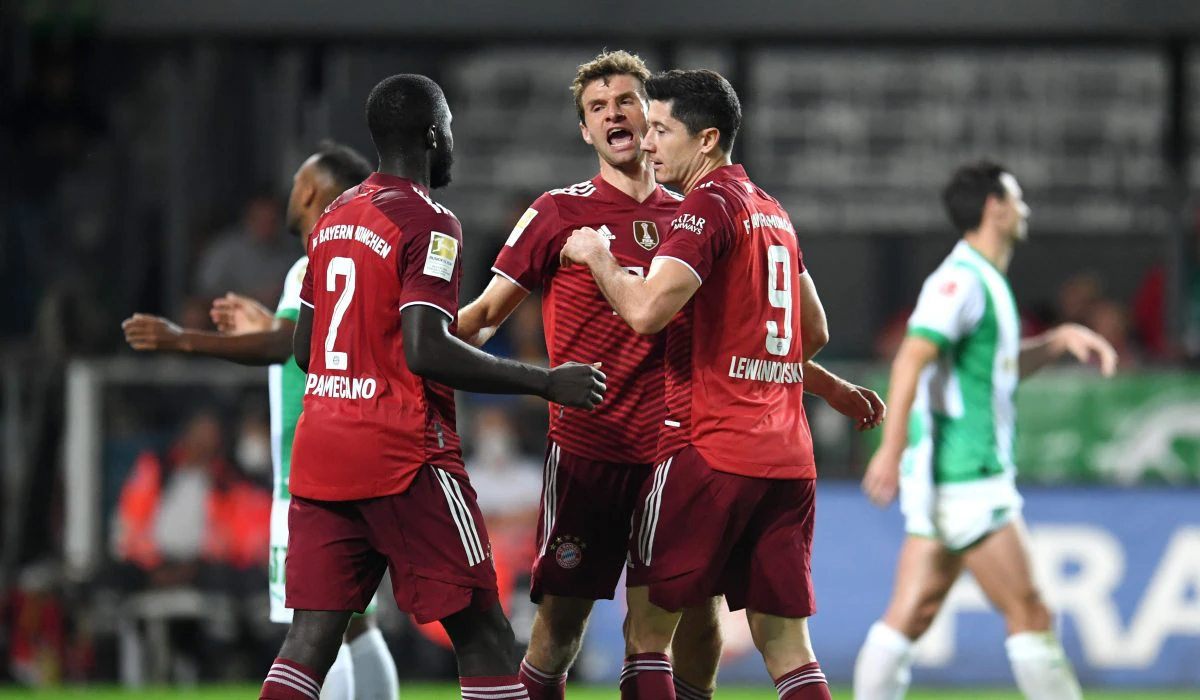 Bayern Munich vs. Eintracht Frankfurt
On the day of the German Unity there will be an enormously exciting duel in the Bundesliga. The record champion from Munich receives the Eintracht from Frankfurt and the Bavarians have been playing really strong lately. Just last week they gave Kiev absolutely no chance in the Champions League and sent them home with 5:0. Generally, this season, one canter victory follows the next and accordingly they are at the top of the table. Whether we believe that the FCB will score the next big win, you can find out in this Bayern – Frankfurt tip.
In any case, the signs are anything but good for the guests from Frankfurt. They have not yet won a single match this season and it was only last week that they won their first competitive match. Before that they played five times 1-1 across competitions and with a 1-1 on Sunday they could draw level with Werder Bremen, who achieved this result five times in a row last season and also set the record in Munich. Nevertheless, we are quite pessimistic, as Bayern are simply too strong at the moment. That's why we predict a Bayern win in a high-scoring match.
Bayern – Frankfurt Info
– Date & Time: 03.10.2021, 17:30 Uhr
– Venue: Allianz Arena (Munich)
– Competition: Bundesliga, Matchday 7
TV broadcast: In Livestream at DAZN
Bayern Form & Balance Check
At the start of the season, many doubted the chemistry between Nagelsmann and the team. That a very special eye is cast on the young coach is of course understandable with a transfer fee of € 25 million for a coach. After Bayern failed to win a single test match and only played to a draw in the season opener, many thought the record champions were in a crisis. But since then they have won every game, sometimes against opponents like Barcelona or RB Leipzig. Above all, players like Leroy Sané and Serge Gnabry seem to be really blossoming under Nagelsmann and rediscovering their strong form.
Who can stop these Bavarians?
At the moment we don't see (unfortunately from the others' point of view) any team that can be a threat to the record champions nationally. Leipzig, who started the season with ambition, had no chance in the direct duel and Dortmund is also still not 100% stable. The defeat in Gladbach has increased the gap. Bayern also got off to a perfect start internationally, beating Barca 3-0 and Kiev 5-0 during the week. They have now won 9 competitive games in a row and are accordingly deservedly in first place in any competitions.

Bayern facts & analysis
– Top scorer is Robert Lewandowski with 9 goals in 13 competitive games.
– Bayern is averaging 3.83 goals per game in the Bundesliga this season (top value)
– Bayern have won every game in their own stadium so far this season
– In home games, the record champion has scored an average of 5 goals per game this season
Frankfurt form & balance check
The start to the new season was certainly not what everyone imagined. Despite a feasible opening programme, the SGE has still not been able to win. They are also unbeaten for a few games, but they have drawn 6 of the last 7 encounters. The return of Filip Kostic has already had a positive effect, but some of the performances in recent weeks have simply not been good and defensive stability is almost completely lacking. So far, the new coach has not found a recipe to create the balance between defence and attack.
Is the Europa League too much of a burden for Eintracht?
So far this season, Frankfurt have had a surprising number of lapses in concentration in their own game. Above all, the defence is making many individual mistakes and the attack often lacks precision. Added to this is the double burden of the Europa League, the competition that Eintracht fans have enjoyed so much in the past. But this season it could be the club's undoing, as the Euro League will consume significantly more strength. But so far it is impossible to assess the situation, as the season is only very short.
Frankfurt facts & analysis
– The SGE has not yet won a game in the Bundesliga this season.
– Frankfurt have only scored 6 goals in 6 games this season
– Eintracht Frankfurt have not won any of their last 7 away games
– Eintracht Frankfurt have not lost any of their last 7 competitive matches (6 draws, 1 wins)
Predicted line-up – last update on 1 October 2021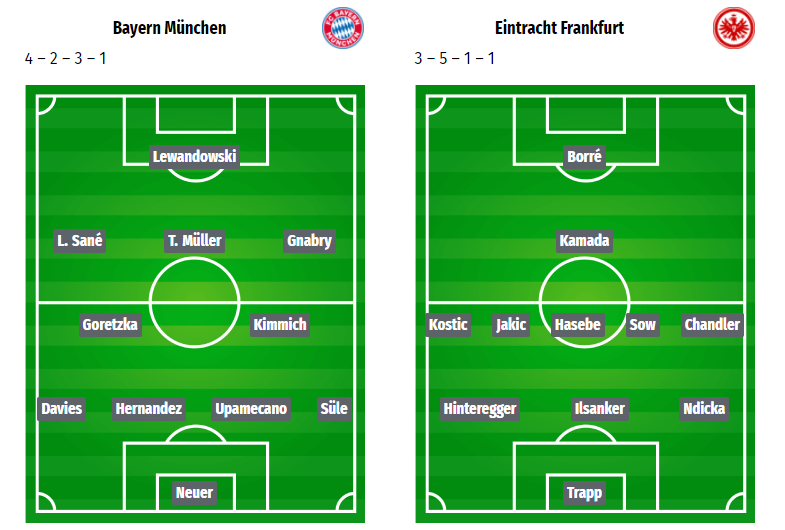 There is really no reason to change personnel at the record champions. Jamal Musiala may also be a candidate for the starting eleven and Kingsley Coman could return to the squad after his surgery. For Eintracht, it is quite possible that a defensive player will move into the team more than usual, as defensive stability is the top priority against Bayern. Striker Sam Lammers would have to make way for this.
Bayern – Frankfurt direct comparison & statistics
Bayern vs Frankfurt is one of the most traditional duels in Bundesliga history and the two have met exactly 100 times in the top flight. Bayern has won 55 of them and Frankfurt 23. The teams find it particularly difficult to win in each other's stadiums, with Frankfurt's last victory in Munich dating back more than 20 years. Bayern also recently lost twice in a row in Frankfurt, including the 1:5 2 years ago has remained in the minds of many and the SGE fans also think back fondly to the cup victory against Bayern in 2018.
– Bayern Munich score an average of 3.17 goals in home games and Eintracht Frankfurt average 1.59 goals in away games
– Will the streak continue? Bayern Munich have always scored in their last 10 games
– The comparisons between the two clubs last season: 5-0 (home for Bayern Munich) and 2-1 (home for Eintracht Frankfurt)
– The home record in the last 24 matches between Bayern Munich and Eintracht Frankfurt is: 20 wins with 3 draws and 1 defeat. Goal difference: 70-19 for Bayern Munich