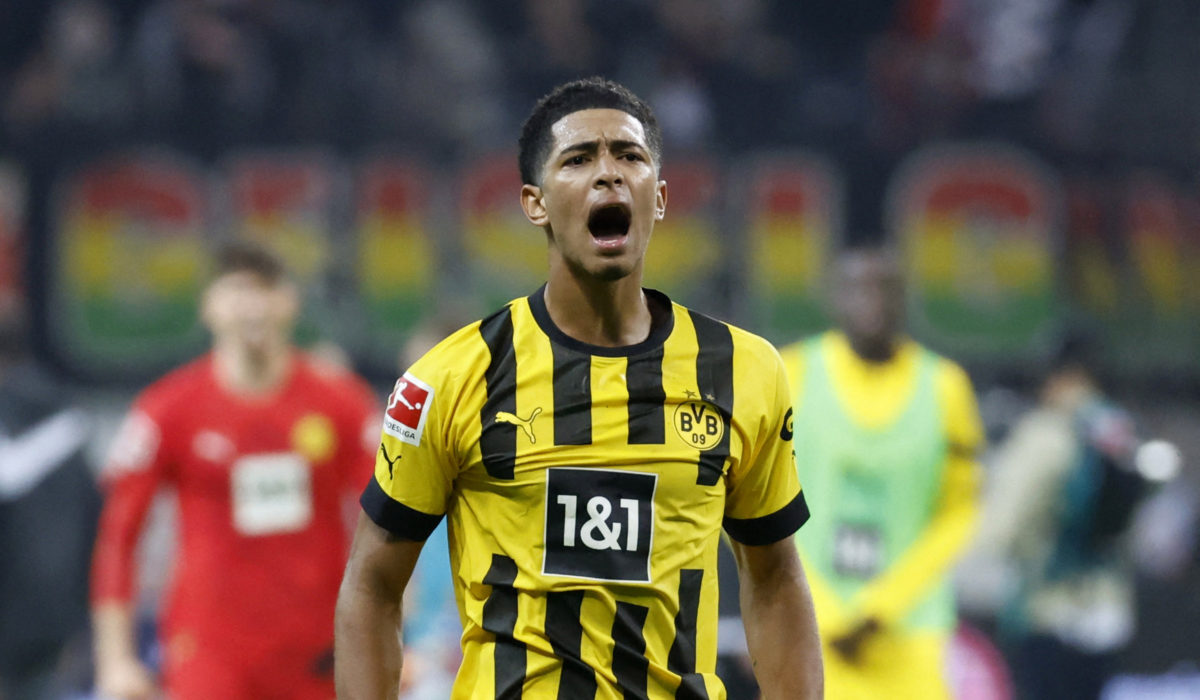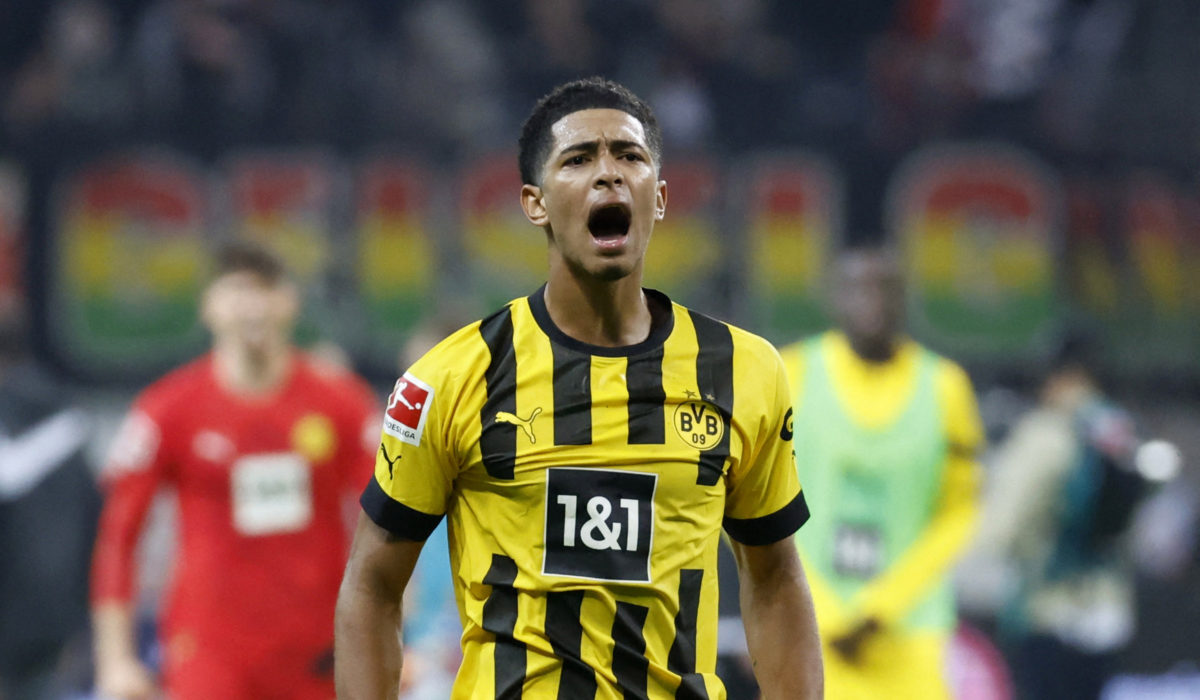 Borussia Dortmund – FC Augsburg
The weekends finally have a purpose again. The Bundesliga is back and provides you with the best entertainment this weekend. More than two months of winter break have come to an end and the ball is finally rolling again in the German top flight. On Sunday, two teams meet that would have hoped for a little more from the season so far. FC Augsburg travel to Borussia Dortmund in the Ruhr region. For a detailed outlook on the upcoming games in the Bundesliga, we still recommend our Bundesliga second-round forecast.
At the end of last year, Dortmund's form clearly buckled. BVB lost the last two Bundesliga games before the break. The games before that were also not convincing for Dortmund. Borussia spent the winter in sixth place in the table. In the new year, the Dortmunders want to tackle the Champions League places again.
Augsburg has also played a very changeable season so far. FCA had a good run in the league for a while, but failed to pick up a single win from the last seven Bundesliga matches. Augsburg lost the last match before the winter break at home against VfL Bochum 0:1 and thus spent the winter in 14th place in the table. Find out who will start the new year better and end the negative trend in our Dortmund vs Augsburg betting tips.
Dortmund – Augsburg info:
– Date & Time: 22.01.2023, 15:30 Uhr
– Venue: SIGNAL IDUNA PARK, Dortmund
– Competition: Bundesliga, Matchday 16
– TV broadcast: DAZN
Dortmund Form & Balance Check
In the 2010/2011 and 2011/2012 seasons, Borussia Dortmund won the championship and were crowned Bundesliga champions. One season later, BVB even reached the final of the Champions League. However, BVB fans are currently only dreaming of these times.
This year, Borussia is having great problems playing its game consistently. This season, Edin Terzić's team has yet to win more than three games in a row in the Bundesliga. At the same point last season, Dortmund had six points more on their account. BVB lost the last two games before the winter break against Wolfsburg and Gladbach. As a result, the Black and Yellows are currently only in sixth place in the table.
No offensive power
The defence looked much more stable than last year, except for the last two games before the World Cup break. The newcomers Süle and Schlotterbeck are slowly fitting in. In addition, Mats Hummels, who had more frequent weaker performances last season, is back in good form this year. Thomas Meunier, who was already frequently absent in the first half of the season, will again be out for a few weeks. For this reason, the Black and Yellows signed Julian Ryerson from Union Berlin during the week.
BVB's main problem is the offensive, which simply cannot get going. The loss of Erling Haaland has left a big gap in Borussia's forward line. New signing Anthony Modeste has so far failed to close that gap. Youssoufa Moukoko, only 18, has scored the most goals this season with six. Last season, despite missing six games through injury, Haaland already had eleven goals to his name after fifteen matchdays. Fortunately, Sebastian Haller has recovered from his testicular cancer and will be available to Borussia again in the new year.
Dortmund facts & analysis
– Currently 6th in the Bundesliga table.
– Eleven goals fewer on the account than last season at this time
– In the last 16 of the Champions League
Augsburg form & balance check
Augsburg FC is one of only seven teams in the Bundesliga that has never been relegated from the top flight of German football. In the 2010/2011 season, FCA was promoted to the Bundesliga and has been a fixture in the league ever since.
Currently, however, Augsburg is in danger of ending this streak. FCA is currently in a real crisis of form. The Fuggerstädter have not won any of their last eight competitive matches. This period of weakness is particularly astonishing, as coach Enrico Maaßen's team had previously picked up ten points from four games, beating FC Bayern, among others. In the last game before the winter break, FCA lost 0:1 at home to VfL Bochum.
Augsburg storm problem
For the most part, Augsburg's defence has not been bad. With 26 goals conceded after 15 games, Augsburg have even conceded fewer than, for example, Werder Bremen in ninth place. Ultimately, Augsburg's games are often decided by little things. This season, FCA has only lost two games with a goal difference of two or more. In decisive moments, Augsburg is often one step too late. This is also reflected in the fact that Augsburg have conceded the most yellow cards (46) in the Bundesliga.
In attack, however, the Fuggerstadters usually lack penetration. Augsburg scored only 18 goals in 15 games. Only Bochum and Schalke in the relegation places scored less often. In winter, FCA also sold its second-best scorer, Florian Niederlechner, to Hertha. The 20-year-old Croatian Dion Beljo was brought in as a replacement. The next few games will show whether this was a wise move.
Augsburg facts & analysis
– Seven games in the league without a win.
– Currently in 14th place in the league
– Top scorer is Demirović with five goals
Predicted line-up – last update on 20 January 2023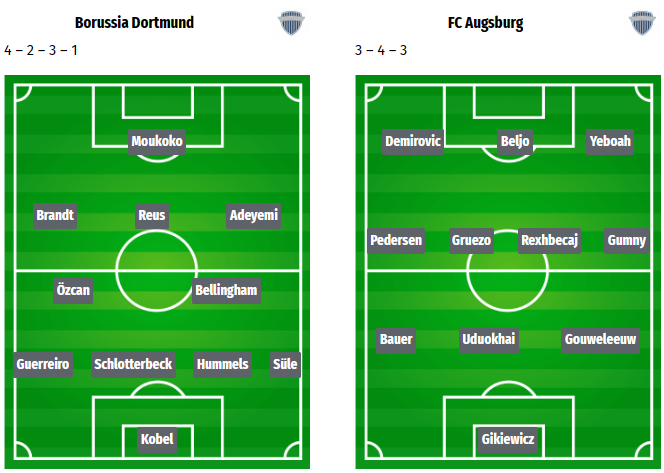 Edin Terzić will again send his team onto the field with a 4-2-3-1 formation. Moukoko will probably start up top again. Thomas Meunier will be missing due to injury. However, BVB can call back many recently injured players, including Sebastian Haller. Newcomer Ryerson will probably not play right from the start.
We expect coach Enrico Maaßen's team to play in a 3-4-3, but the two track players will mainly take on defensive duties. Strobl, Oxford, Iago and Hahn are still missing from the team due to injury. Berisha is missing due to his fifth yellow card before the winter break.
Dortmund – Augsburg direct comparison & statistics
23 competitive matches between the two teams so far. Augsburg have only managed three wins against BVB so far. Dortmund, on the other hand, have won 14 times against FCA. The last encounter ended in a 1-1 draw in February last year.
– Augsburg's last win in Dortmund was on 04.02.2015.
– Borussia Dortmund has not lost any of its last eight home matches.
– Dortmund score 28% of their goals between the 76-90 minute mark.
– When Augsburg lead 1-0 in away games, they win 60% of the games