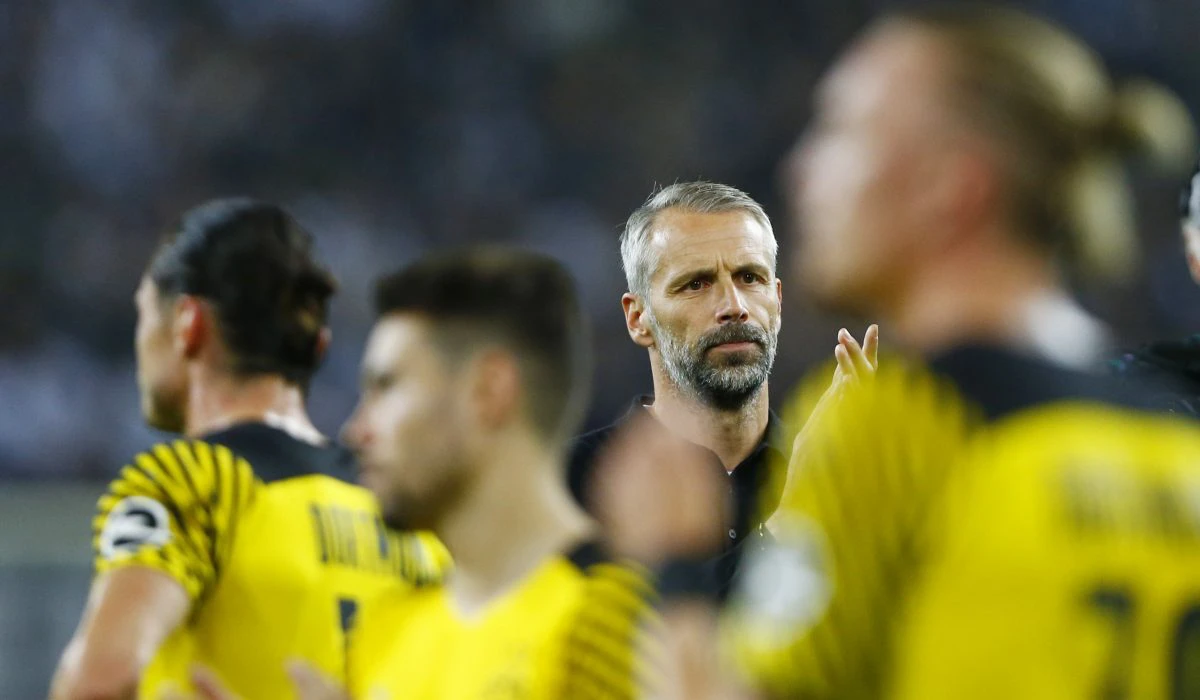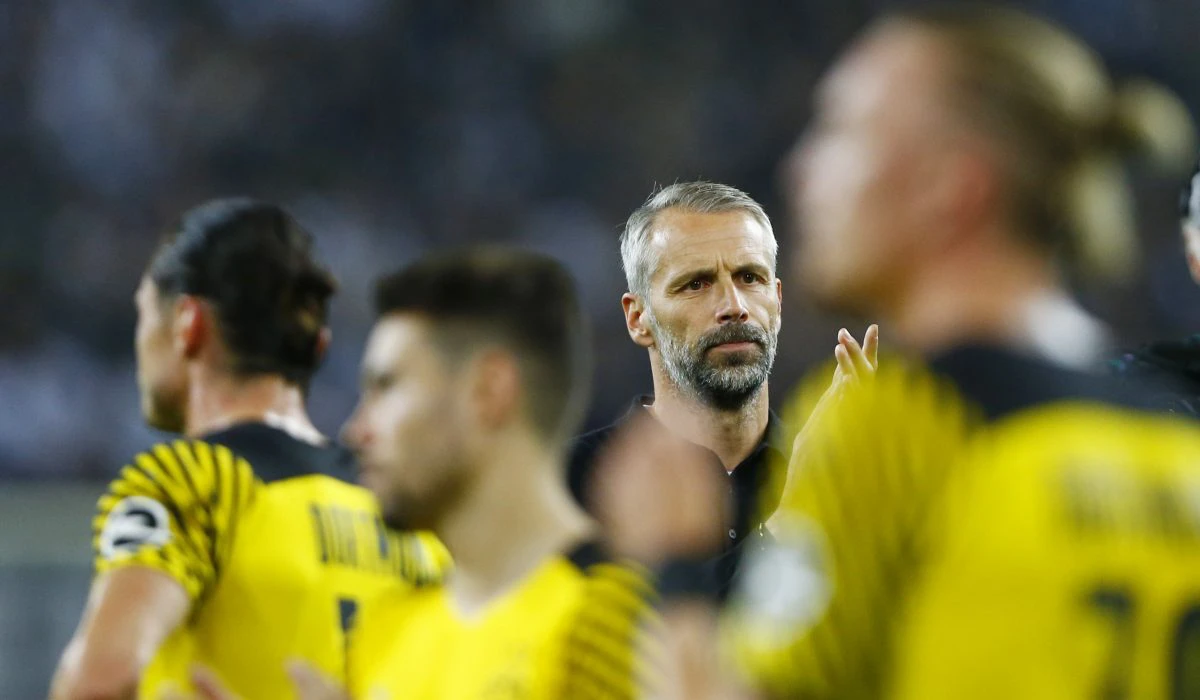 Borussia Dortmund vs. FC Augsburg
This weekend sees the seventh matchday of the Bundesliga. Before the international break, the teams want to have another sense of achievement and finish the matchday with a good feeling. In addition, the duel between Borussia Dortmund and FC Augsburg is a match that has always provided great entertainment with many goals in recent years. Unforgettable is the 3:5 one and a half years ago, when Erling Haaland celebrated his impressive Bundesliga debut with three goals. Find out who we believe in on Saturday at 3.30 pm in our Dortmund vs Augsburg tip.
Dortmund suffered their second league defeat last week and have slipped to fourth place as a result. With twelve points, the Borussians are now four points behind league leader Bayern Munich. FCA, on the other hand, have completely different problems, after only one win and five points from the first six games, the Fuggerstädter are currently only in 15th place. After the close finish last year, the Augsburgers actually wanted nothing more to do with relegation this year, but at the moment it looks different.
Dortmund – Augsburg Info
– Date & Time: 02.10.2021, at 15:30 hrs.
– Venue: Dortmund, Signal-Iduna Park (81,365 spectators)
– Competition: Bundesliga, Matchday 7
– TV broadcast: Sky
Dortmund Form & Balance Check
Dortmund have made a good start to the season under new coach Marco Rose, but have also allowed themselves gaffes time and again. For example, on the second matchday in Freiburg, when the currently very cheeky Breisgauer won 2:1. However, this was followed by four competitive match wins in a row, including the CL opener against Besiktas. The next setback came last weekend, when BVB lost 1-0 to Gladbach in a Borussia duel. During the week, however, BVB scored their second goal in the Champions League, with Donyell Malen's first goal for Dortmund securing a 1-0 home win against Sporting Lisbon.
Bulging lazaretto
In the defeat to Gladbach at the weekend, the offensively enormously harmless BVB had sorely missed key attacking players Erling Haaland and Marco Reus. Reus was able to return to the pitch for 90 minutes against Sporting on Tuesday, but Haaland is still in danger of being absent. While Julian Brandt celebrated his comeback, he was only substituted early due to an injury to Mo Dahoud. The injury worries at BVB are not abating at the moment.
Dortmund facts & analysis
– Currently 4th place in the league
– Last lost 0:1 against Gladbach
– Successful in the Champions League with 1:0 against Sporting
– Dahoud missing with injury and suspension
Augsburg form & balance check
Augsburg have made a poor start to the season. Under the new coach Markus Weinzierl, everything was supposed to get better, at least the Fuggerstädter didn't want to have anything to do with relegation this year. However, the situation currently looks different: FCA have only won one of their first six games and have already lost three times by at least a three-goal difference. In the most recent match against Freiburg, the final score of 3:0 was already on the scoreboard for the Breisgauer at half-time, and the team from Bavaria had to listen to heavy criticism afterwards.
Weak offence causes Augsburg problems
While the defence is quite weak at eleven goals conceded, it has also managed three games without conceding a goal. FCA's biggest problem therefore lies in their attacking department, which has only managed two goals in six games – minus figures in the Bundesliga. Both times, Florian Niederlechner scored for Augsburg's harmless attack. Against Freiburg, Union, Frankfurt and Hoffenheim, the Fuggerstadters failed to score at all. The lack of quality in the squad is noticeable, scoring chances are few and far between. Perhaps there will be an improvement against Dortmund's weak defence (one more goal conceded than FCA).
Augsburg facts & analysis
– Currently 15th place in the league
– With only 2 goals weakest offense in the league
– Last lost with 0:3 in Freiburg
Predicted line-up – last update on 30 September 2021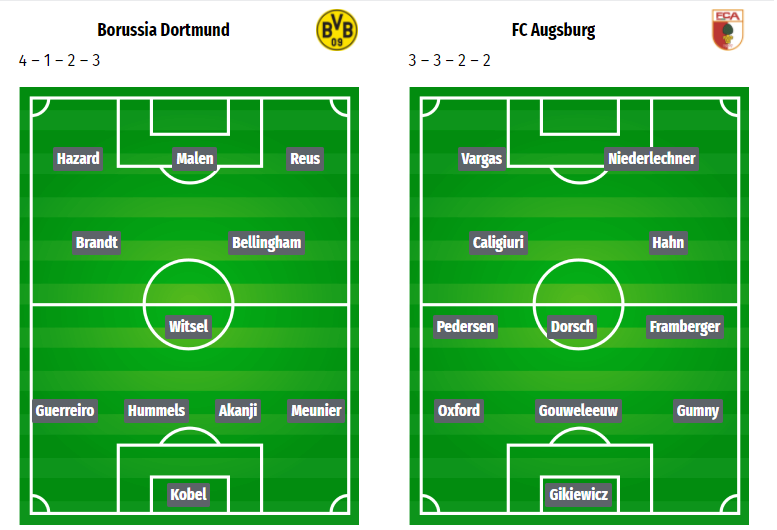 We don't currently believe Haaland will make a starting appearance this weekend. Even if he gets fit in time, the risk of a new injury could be too great. If he does start, Brandt, Hazard or Malen would have to make way. Dahoud is missing due to his suspension, but is injured anyway. Augsburg are likely to go back to their three-man defence, which has been at least halfway successful recently. Uduokhai is probably out again, Iago is also still questionable. For the recently weak Framberger, Caligiuri could also move to the right, which would free up another place in the centre.
Dortmund – Augsburg direct comparison & Statistics
Borussia Dortmund and FC Augsburg have met 21 times so far. Of these, 20 games were in the Bundesliga and the teams met once in the DFB Cup. As expected, the balance is clearly in favour of Dortmund, who have won 13 times. FCA only managed three wins against BVB, five games ended in draws. Last season, the home team won the direct duels in each case.
– FC Augsburg's last away win at Borussia Dortmund was in 2015.
– Borussia Dortmund's home record in the last 10 matches against FC Augsburg is: 6 wins with 3 draws and 1 defeat. The goal difference: 29-13 for Borussia Dortmund.
– The average number of goals scored in a Borussia Dortmund vs FC Augsburg clash is 4.6.
– The average number of goals scored in the first half in matches between Borussia Dortmund and FC Augsburg is 1.4.
– The comparisons between the two clubs last season: 3-1 (home for Borussia Dortmund) and 2-0 (home for FC Augsburg).