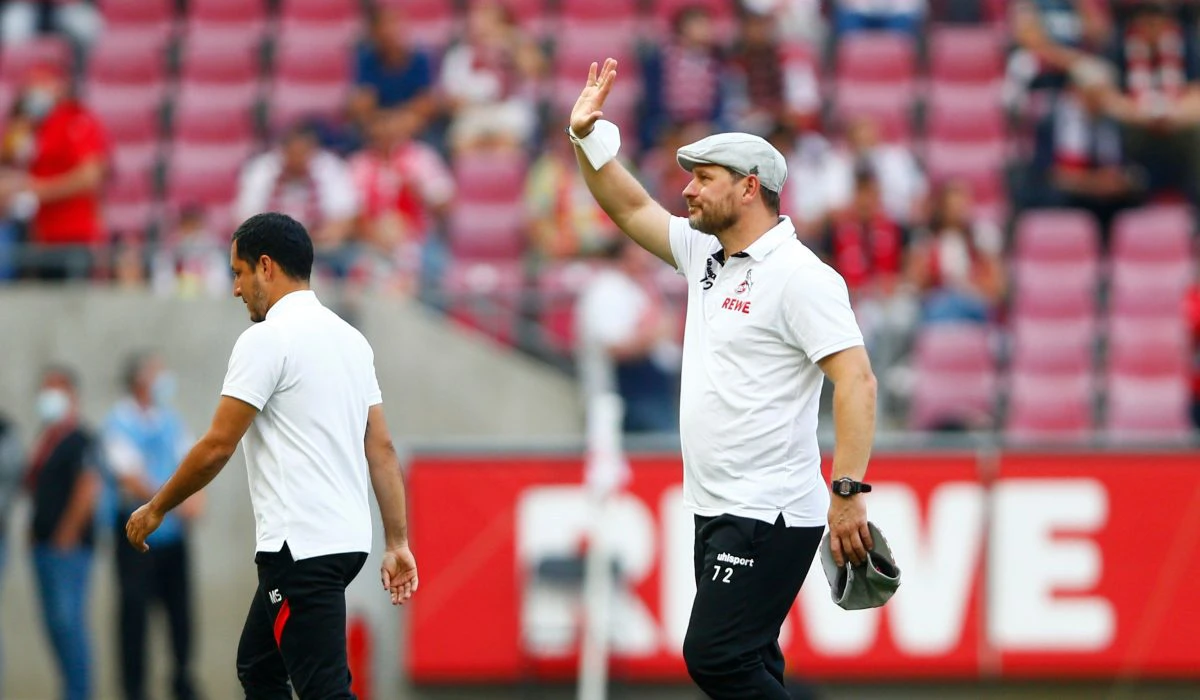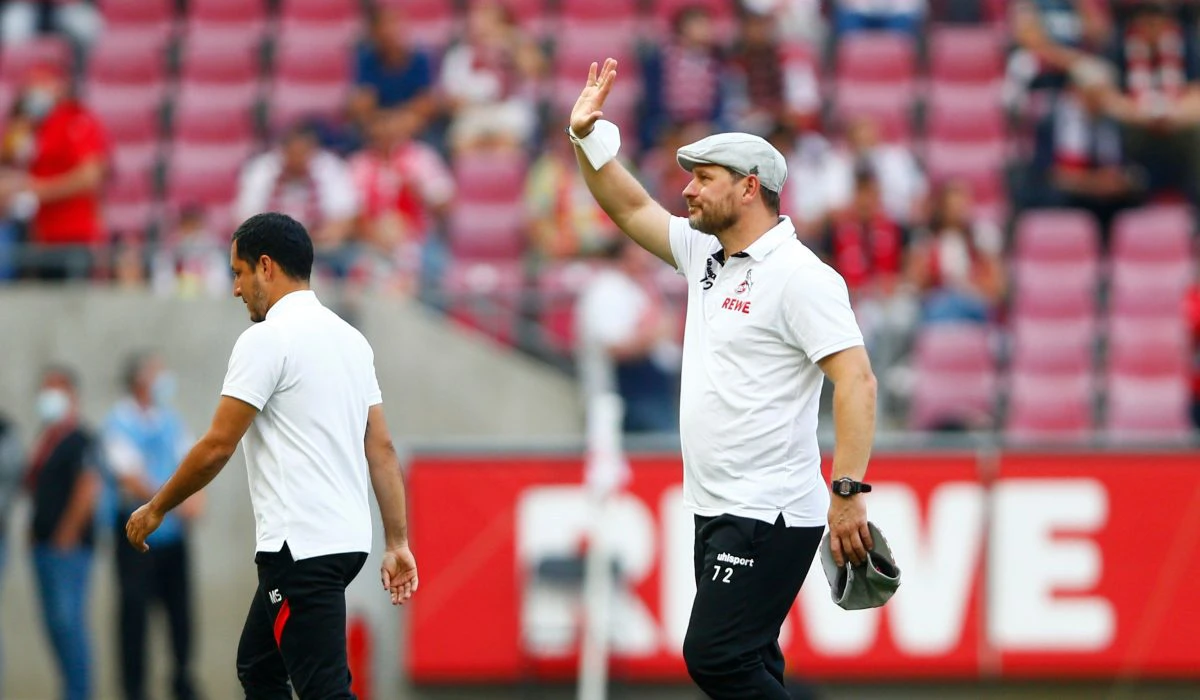 1. FC Köln vs. SpVgg Greuther Fürth
For the opener of Matchday 7 in the Bundesliga, Cologne and Greuther Fürth will meet at the Rhein-Energie-Stadion on Friday evening at 20:30. The opener could not have been more different for both and while the Effzeh are in 7th place in the table with 9 points, Fürth already have their backs to the wall and are in last place in the table with one point. The promoted team is finding it extremely difficult to cope with the level of the Bundesliga and currently it does not look as if Stefan Leitl's team will be able to stay in Germany's top division for long.
Above all, this stable start was extremely important for 1. FC Köln, as the past season was extremely weak. They were only just able to stay in the league and the club was facing upheaval. With Steffen Baumgart, a coach was hired who brings a breath of fresh air to the club and is currently igniting a new euphoria. Whether we believe that the positive trend will continue, you can find out in this Cologne – Fürth tip.
Cologne – Fürth info
– Date & Time: 01.10.2021, 20:30 Uhr
– Venue: Rhein-Energie-Stadion (Cologne)
– Competition: Bundesliga, Matchday 7
– TV broadcast: In Livestream at DAZN
Cologne Form & Balance Check
After an incredibly difficult last season and near relegation, calm has returned to 1. FC Köln. They have only lost one of their first 6 games and that was against the record champions from Munich. The last win was on matchday 3, but the three draws in a row were also convincing for the most part. With Steffen Baumgart, some players have regained their form and the balance between defence and offence has been restored. If things continue as they have been, Cologne fans can look forward to a fine season.
The Cologne Change
This positive development is mainly due to the fact that the Effzeh have abandoned the scaredy-cat football of last season and are displaying a courageous style of play under the new coach. The stability Cologne has after only so few match days is really impressive. The newcomers have integrated very well and at the moment almost all players of the Cologne squad are available to the coach. In attack, Anthony Modeste has rediscovered his scoring touch and has already scored 4 goals this season.
Cologne Facts & Analysis
– At the moment 1. FC Köln is on the 7th place in the table (9 points).
– Cologne have not yet played to nil this season.
– After 6 matchdays the goal difference is 10:8
– Cologne had not won a game at this time last season
Fürth Form & Balance Check
You can definitely speak of an absolute false start for the promoted team. After 6 games, the team has only one point and has already conceded 16 goals. The only point came on matchday 2 at home against Bielefeld, when Hrgota converted a penalty. In general, the defence seems to be too shaky and the offence too unthreatening for the first division. Departures like that of David Raum could not be replaced so far and so it already looks pretty bleak for the Kleeblätter.
What are the chances of staying in the league?
After 6 matchdays, being down by one point is of course not a pleasant situation for anyone. But the big problem for Fürth is that they currently don't know whether they have enough quality for more than that. In the past, some teams have shown that despite a lack of individual class, they can manage to stay in the league, but the style of play was correspondingly disgusting and unattractive. Those in charge will have to come up with something, yet it would be about time to start collecting points.
Fürth facts & analysis
– Greuther Fürth have not won a single one of 20 home games in the Bundesliga.
– 2 of the 4 goals scored this season have been penalties
– At the moment all regular players are fit for action
– Fürth have the second lowest squad value in the league
Predicted line-up – last update on 29 September 2021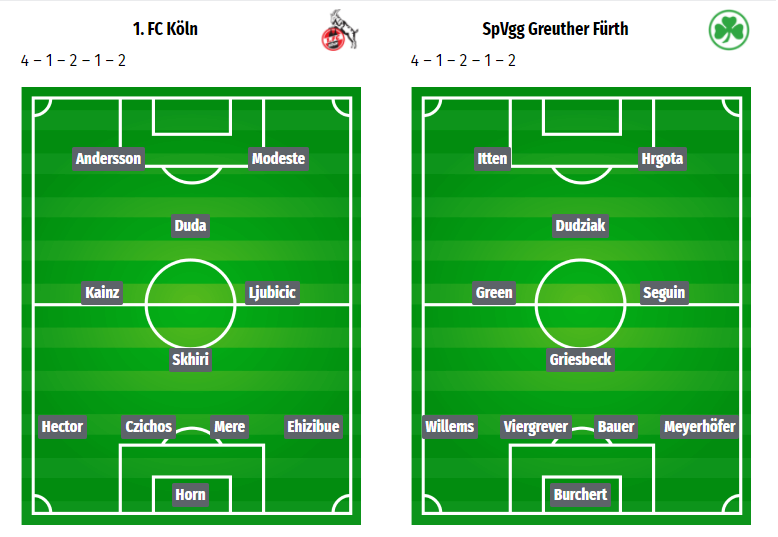 As we expect a slightly more defensive Fürth approach, we expect a lot of physicality on Cologne's side. The forward duo could again be Modeste and Andersson, in central defence Jorge Meré is an alternative for Luca Kilian. For Fürth, we expect few personnel changes, as the performance on the last matchday against the record champions was quite appealing. Cedrick Itten might start after his Joker goal against Bayern.
Cologne – Fürth direct comparison & statistics
This is actually the first direct encounter between the two in the Bundesliga. When Fürth played a season in the first division, the Effzeh had just been relegated. In the 2nd Bundesliga, however, they have already played each other 16 times and Cologne almost always came away victorious. Greuther Fürth have only won twice, and that was 14 years ago.
– In front of their home crowd, 1. FC Köln have a proud record of 3 games without defeat against SpVgg Greuther Fürth.
– The home record of 1. FC Köln this season: 2 wins – 1 draws – 0 losses
– The most common result between 1. FC Köln and SpVgg Greuther Fürth is 1-0. 4 games ended like this.
– The average number of goals scored in a clash between 1. FC Köln and SpVgg Greuther Fürth is 2.2