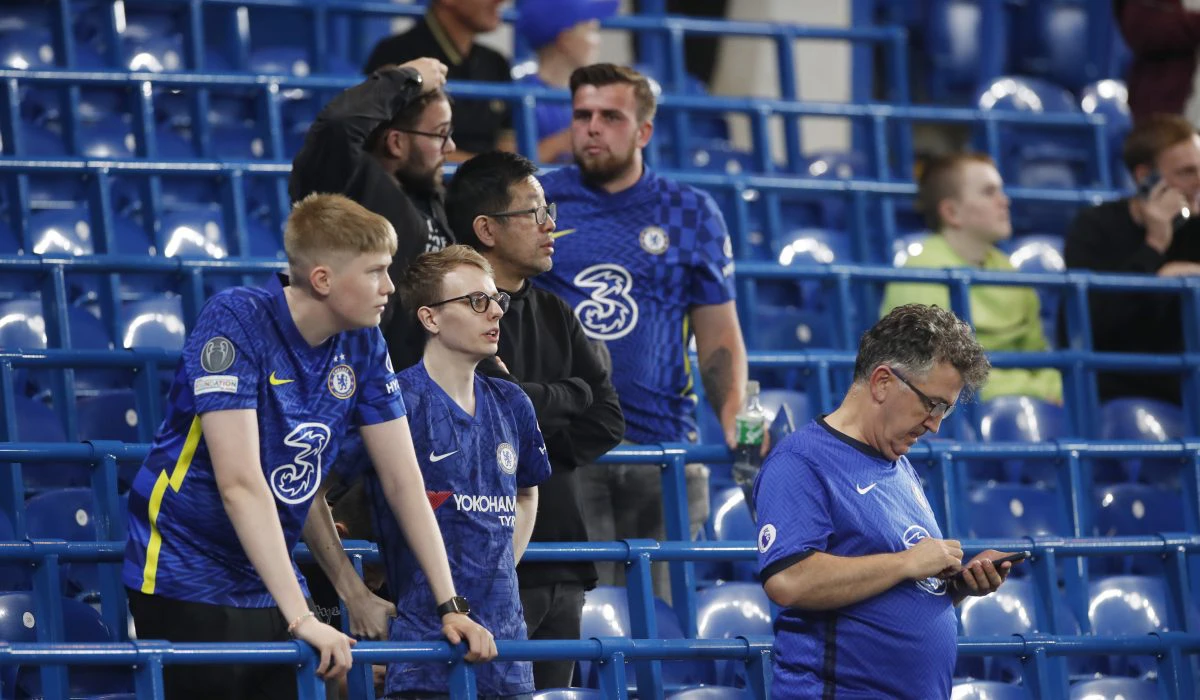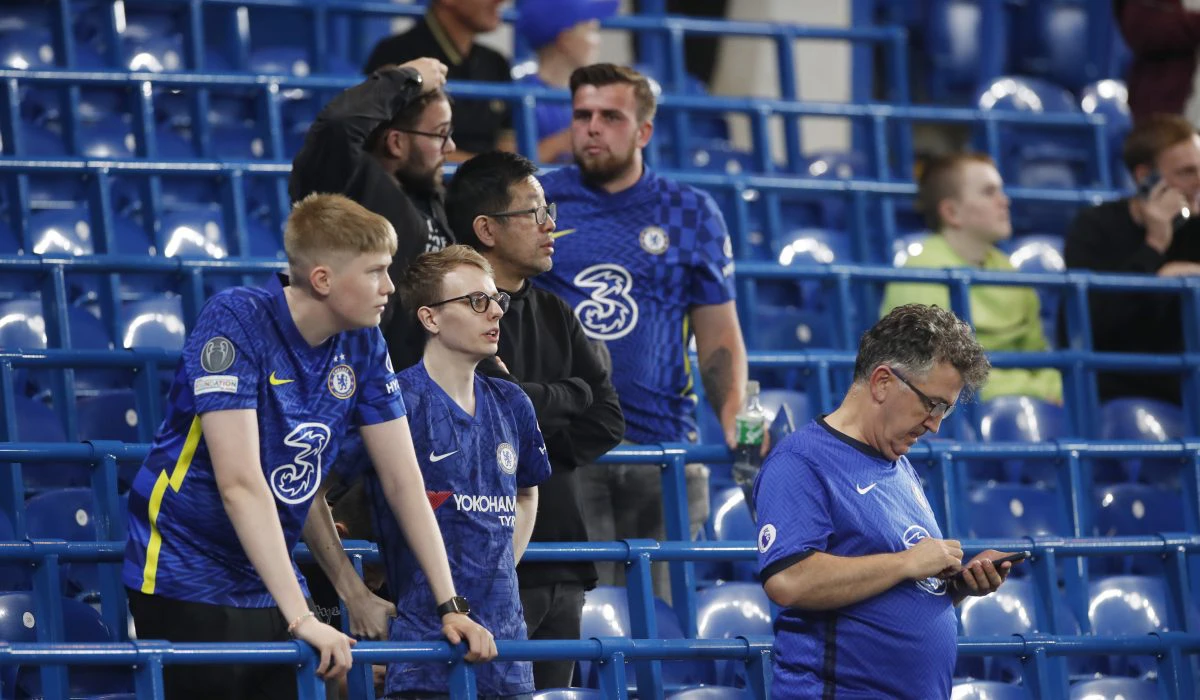 Chelsea FC vs. Southampton FC
It's not only in Germany that the ball is rolling this weekend, but also the Premier League continues on this first weekend in October. On Saturday at 4 pm Chelsea FC will host the Saints. For the Blues, last week was anything but good, first losing 1-0 at home to City on the last matchday, then losing 1-0 at Juve in the Champions League during the week. These two defeats were a real setback and whether we think Chelsea will recover from them, you can find out in this Chelsea – Southampton tip.
Southampton, a team that has yet to win a single game this season, now visits Stamford Bridge. They are currently in 16th place with 4 points. The Saints will certainly stand deep to make it as difficult as possible for the Blues. Chelsea have struggled to score goals recently and Thomas Tuchel has been puzzled by his side's poor display. We think it will be another tough game on Saturday afternoon and the Blues will have their problems with Southampton.
Chelsea – Southampton Info
– Date & Time: 02/10/2021, 16:00.
– Venue: Stamford Bridge (London)
– Competition: Premier League, Matchday 7
– TV broadcast: Online and on TV on Sky
Chelsea Form & Balance Check
Until last Saturday, the Blues' season could not have gone any better to date. They were still unbeaten, had only conceded one goal and had also made a good start to their Champions League campaign. But now they conceded two painful defeats in a very short space of time and now have a lot to work on. Against Juventus the Blues were extremely harmless and in the defeat against City last weekend they were also the weaker team and the defeat was deserved.
Does Chelsea have problems with deep opponents?
Against Juventus, Chelsea had a thick defensive block in front of them which made life difficult for the Londoners. The Blues' approach was too hesitant and Thomas Tuchel complained after the final whistle that his players lacked courage and finishes. The Italians primarily positioned themselves at the back and lurked on the counterattack. An individual mistake led to the 0:1 and Chelsea were unable to level the score. Southampton will be a team that will defend similarly deep and we are curious to see whether the Londoners will manage to break through this bulwark.
Chelsea Faken & Statistics
– The Blues have failed to score twice in a row recently.
– Chelsea have only conceded one goal at their own stadium
– The defeat to Juventus was their first in the group stage since 2019
– When Chelsea FC lead 1-0 in home games, they win 82% of matches
Southampton form & balance check
The Saints squad has seen a lot of changes this summer and especially offensively Southampton FC have lost strong players. First and foremost Danny Ings. The top scorer of the last few years has moved to Aston Villa and Southampton could not find an equal replacement. With Adam Armstrong, a promising player was signed, but so far one can see that the newcomer still needs some time. The defensive departures of long-time regulars Jannik Vestergaard and Ryan Bertrand are also making themselves felt.
Is there enough quality at Southampton?
For the last few years, the Saints have been primarily concerned with staying in the league. Last season they finished 15th, the season before that 11th. The great days when they were scratching at the European competitions and made a splash with Sadio Mané, Adam Lallana and a Toby Alderweireld in central defence are unfortunately long gone. Southampton have yet to win a game this season and it all looks like a tough and long battle to stay in the relegation places.
Southampton facts & analysis
– Southampton FC's away record this season: 0 wins – 2 draws – 1 defeats.
– When Southampton FC lead 0-1 in away games, they win 60% of the games.
– A year ago Southampton FC were on position 8 in the table with 10 points. Currently they are in position 16 (4)
– The Saints have a goal difference of 4:7
so far this season.
Predicted line-up – last update on 30 September 2021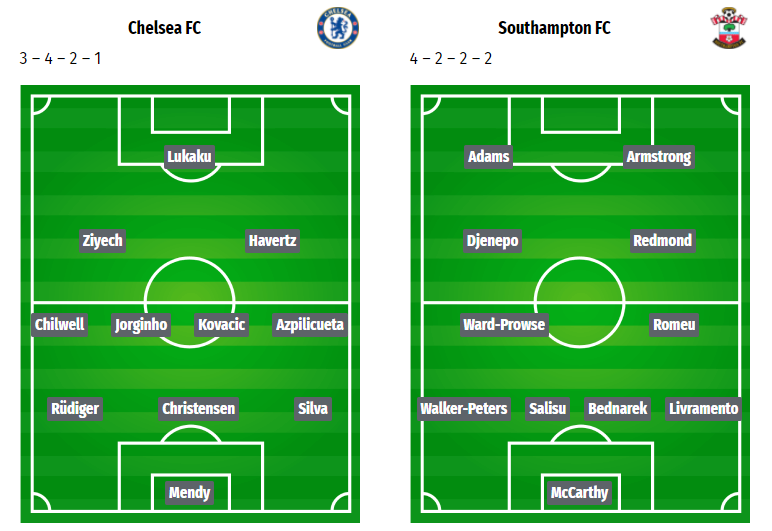 Although both teams lost their last game, we don't expect too many personnel changes. The Blues currently have to do without Kanté, who tested positive for the Corona virus, and Mount and Pulisic are also unavailable. Chilwell would be an option for Alonso on the left wing. The visitors may make one change. The quick Djenepo comes in, but Elyounussi stays out. The winger is expected to create danger with his speed.
Chelsea – Southampton direct comparison & Statistics
You'd think the head-to-head comparison would be pretty clear-cut, as the Blues have often been better individually in the past. But of their 76 Premier League games, the Saints have won 20. Chelsea have been successful 35 times, but out of the last 5 direct duels, Chelsea have only won once. It seems that Ralph Hasenhüttl has found the right tactics against the Blues. We are curious to see if the underdogs can upset the favourites on Saturday as well.
– The comparisons between the two clubs last season: 3-3 (home to Chelsea FC) and 1-1 (home to Southampton FC).
– The home record of Chelsea FC's last 21 matches against Southampton FC is: 11 wins with 6 draws and 4 defeats. Goal difference: 36-24 in favour of Chelsea FC.
– Both teams have lost their last match