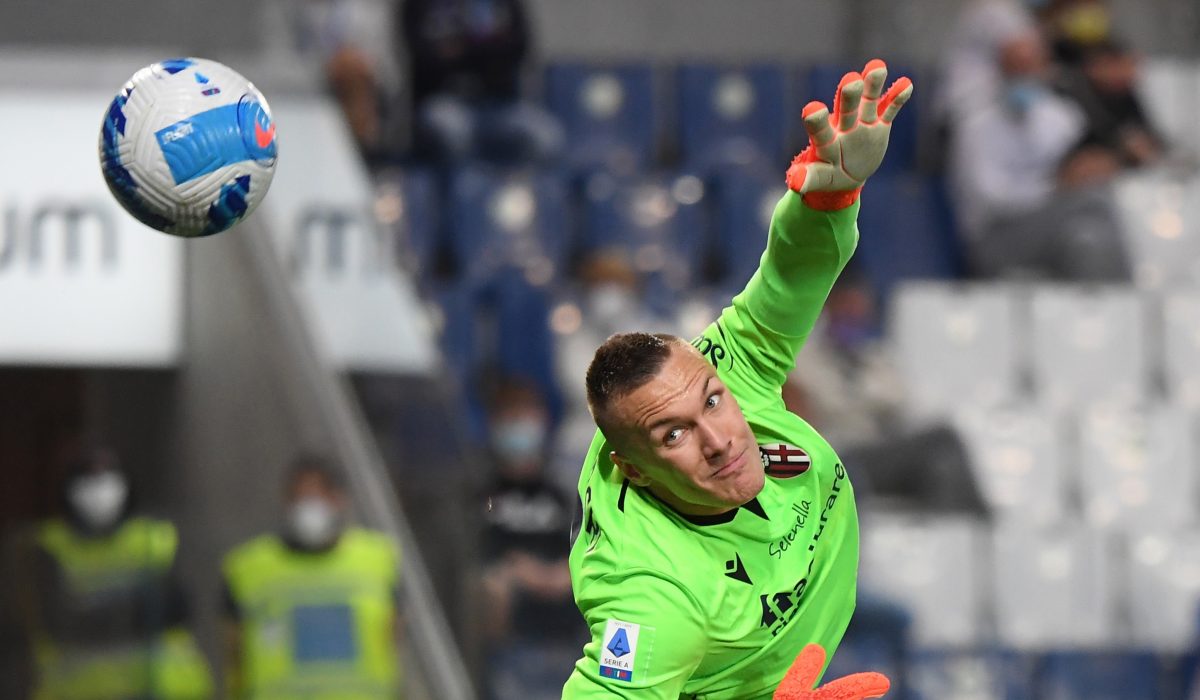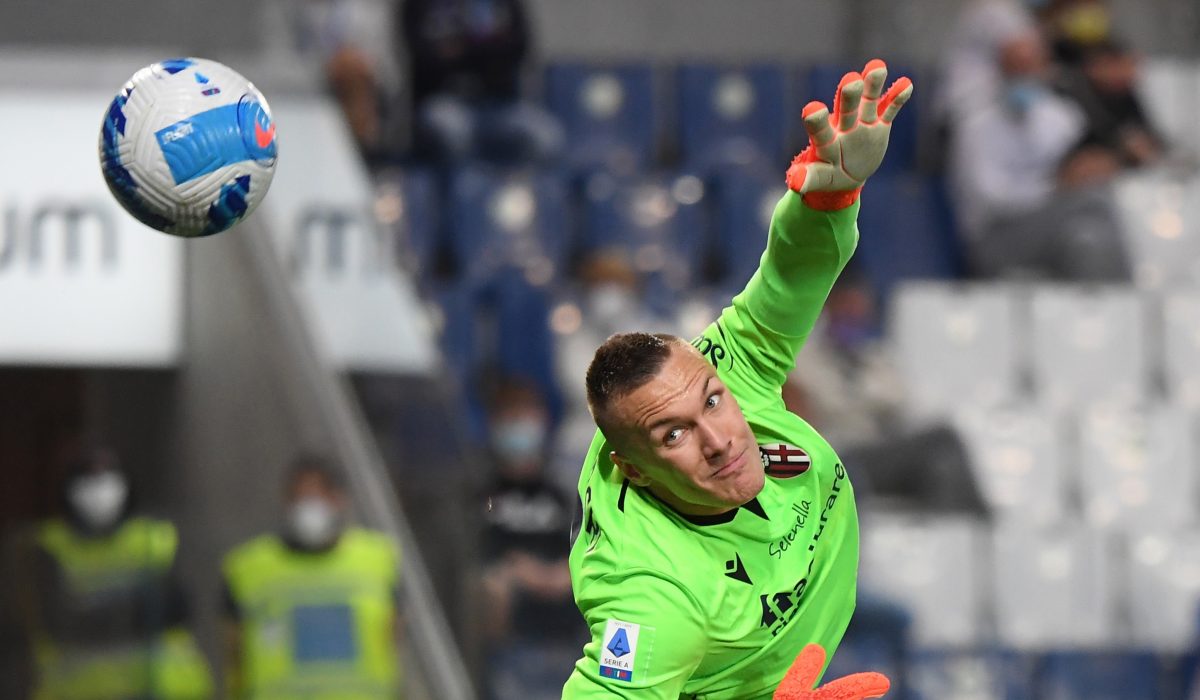 Bologna FC vs. Genoa CFC
An English week awaits us in the Italian Serie A. The 5th matchday is coming up and this opens tomorrow, Tuesday, 21/09/2021 at 18:30 Bologna and Genoa. While the home side have actually started the season well, Genoa have only won one of their last 4 games. The only win came on matchday 3 against Cagliari. Bologna, on the other hand, started the season with 7 points from their first 3 games, but they were beaten badly by reigning champions Inter Milan on Saturday. Whether we think the hosts will recover from this defeat, you can find out in this Bologna – Genoa tip.
Both Bologna and CFC are two real traditional teams in Italy, and they have met correspondingly often in the past. Already 92 times it was Bologna – Genoa or the other way round. The direct comparison is extremely even and both have won almost equally often. In recent years, both teams have had a hard time and have primarily found themselves in the lower half of the league. We therefore expect an even match that will possibly be decided by one or two goals at the most.
Bologna vs Genoa info
– Date and time: 21/09/2021, 18:30 hrs.
– Venue: Renato Dall'Ara (Bologna)
– Competition: Serie A, Matchday 5
– TV broadcast: DAZN
Quotes for Bologna against Genoa at Tipico
For the match in the Serie A on Tuesday evening, the bookmaker Tipico provides us with the odds. The bookmaker sees the home side with a slight advantage, which is understandable due to the start of the season. Nevertheless, the odds for a draw are relatively high at 3.50, and in our opinion, the teams are evenly matched. That's why we recommend you to take these odds at Tipico. You can also secure a Tipico bonus on your first deposit. The bookmaker will give you up to 100 € on your first deposit.
Bologna Form & Balance Check
The Rossoblu have set their sights extremely high this year and spent a lot of money in the summer. Shortly before the transfer deadline, however, came some unexpected income with the sale of Tomiyasu to FC Arsenal. Among others, the young striker Musa Barrow was signed from Atalanta for almost € 15 million and the experienced Marko Arnautovic came from China for € 3 million. The start of the season was promising and they scored 7 points in their first 3 games. But then they played in San Siro last Saturday and lost 1:6. Although this defeat was sobering, one should not attach too much importance to a defeat against the reigning champions.
What's in it for Bologna this year?
In the past seasons, it was primarily about keeping the 2015 promoted team in the league as early as possible, and they managed to do that every season. This year, however, the demands are likely to be higher, as some prominent additions have been made and the team is stronger than it has been individually for a long time. This presents some opportunities, but also dangers. The patience thread is shorter and the expectations higher. Accordingly, the pressure is increasing. We don't think Bologna will have anything to do with relegation, but it probably won't be enough for more this year either.
Bologna facts & analysis
– The Rossoblu have already played to nil twice this season.
– Brand Arnautovic has started well and could already score one goal himself and set up another one
– At the moment they are in 8th place in the table
– Bologna FC have not won any of their last 3 duels against Genoa CFC
Genoa form & balance check
No other team has seen as much upheaval in the summer as CFC Genoa. Almost the entire squad was replaced and a total of 22 players who were still active elsewhere last season now play for the team from northern Italy. The performances have fluctuated accordingly so far and it is noticeable that the team still needs time to settle in. Apart from a few experienced players, many players have left the club. The club generally relies on experience and has signed many seasoned players from the Serie A. In the past few years, things have been really mixed for the traditional club and they have often only just managed to stay in the league.
Where is Genoa heading?
Almost like their opponents in this Tuesday match, "Il Grifone" have only been concerned with staying in the league in recent years. Last season they finished 11th, and before that they finished 17th twice in a row. Now those responsible are trying to give the team new stability, which has only worked to a limited extent so far. But the season is still long and there is still enough time to achieve this stability and balance. Time will tell whether this will work out in the end.
Genoa Facts & Analysis
– So far Genoa have lost 3 of their 4 games this season.
– Top scorer is Mohamed Fares with 2 goals.
– The winner of the last encounter was Genoa CFC
Predicted line-up – last update on 20 September 2021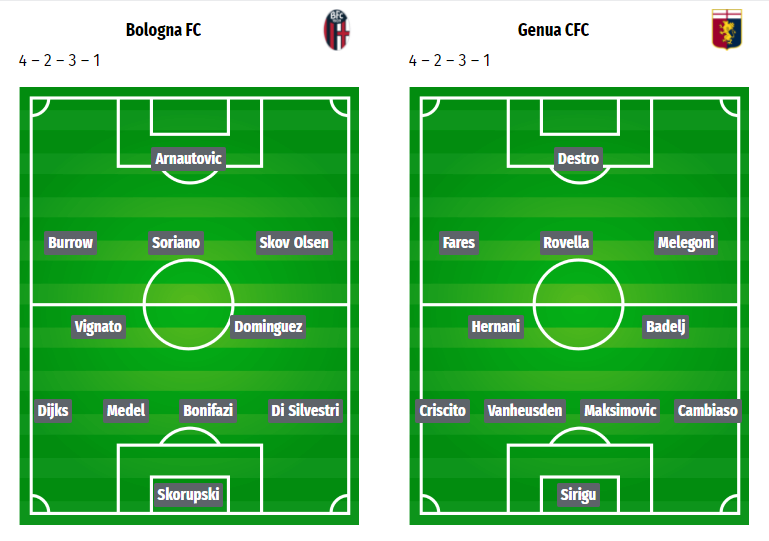 Despite the crushing defeat at champions Inter, we don't expect any extreme changes from the hosts. Young Burrow could replace Sansone on the wing and Vignato is also an option for the starting eleven. Dijks is likely to replace the weak Hickey. We expect something similar from the visitors. Just like Bologna, they will start in a 4-2-3-1 and will probably make one change. The newcomer Hernani will support Badelj on the double six. Otherwise, there is a lot of experience on the field again.
Bologna – Genoa direct comparison & Statistics
As already mentioned in the introduction, the two teams have already met a few times in Serie A. Of these 92 games, Bologne have won 35, while the visitors have only won 25. A total of 35 times these games ended in a draw. But the supposedly clear direct comparison is a little deceptive. The last 3 games were all won by Genoa and Bologna have not won against Il Grifone in 6 games. In these 6 matches, the home side only managed to score one goal. From Bologna's point of view, that should change on Tuesday.
– Bologna FC's performance in the last 5 matches is better than Genoa CFC's.
– Bologna FC has not won any match in their last 6 in Serie A against Genoa CFC
– Bologna FC score on average 1.84 goals in home matches and Genoa CFC score on average 1.28 goals in away matches
– When Bologna FC lead 1-0 in home matches, they win 69% of the matches
– When Genoa CFC lead 0-1 in away matches, they win 75% of them