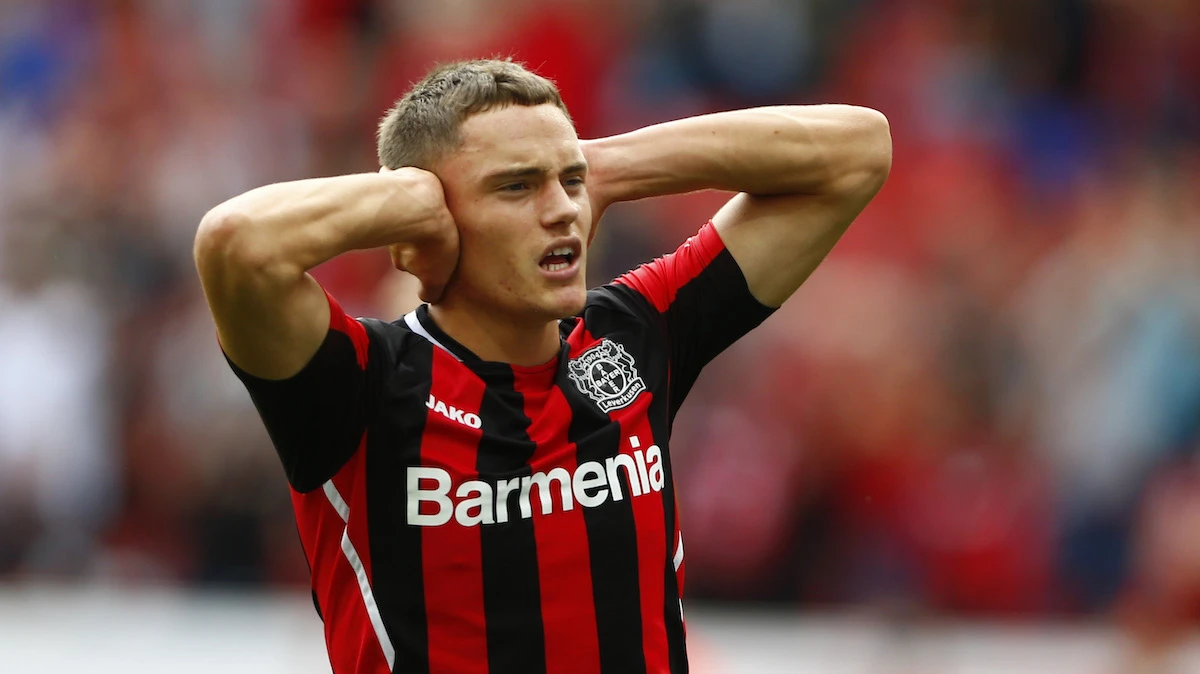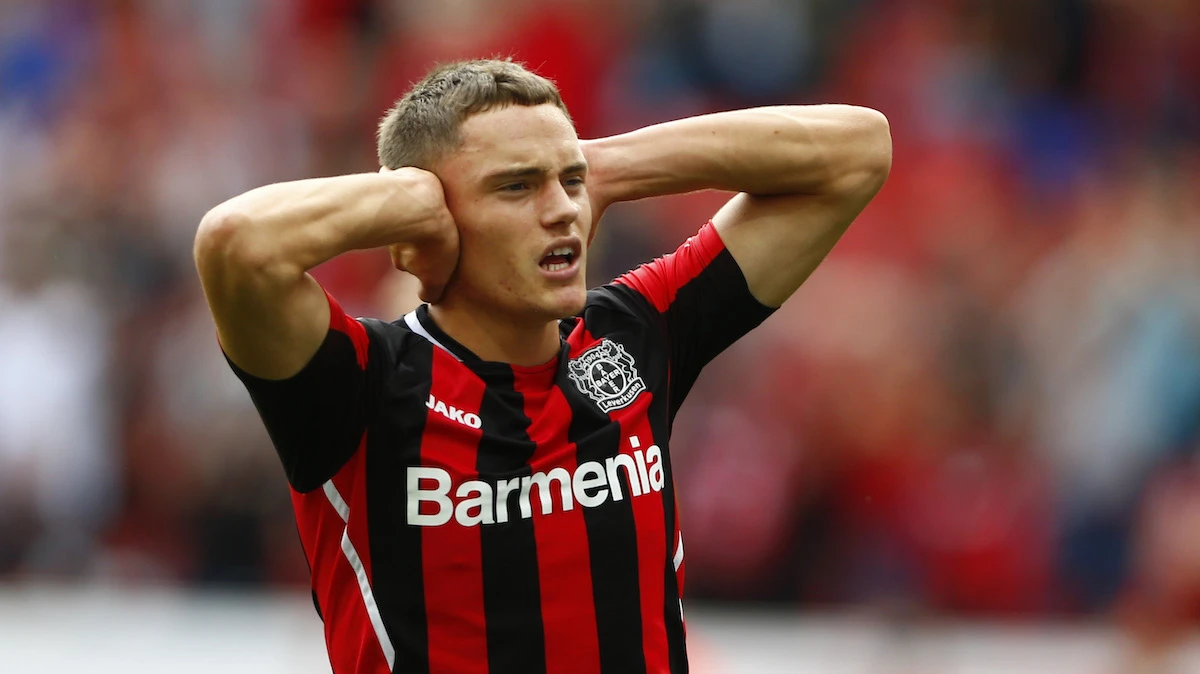 Arminia Bielefeld vs. Bayer Leverkusen
At the end of the 7th matchday of the Bundesliga we can look forward to the duel between Arminia Bielefeld and Bayer 04 Leverkusen at the Schüco Arena in Bielefeld on Sunday evening. The match will be played at an unusual kick-off time of 19:30.
In the last three encounters between these two clubs, the away team has always come out on top, with Arminia last winning 1-2 in March 2021. Based on how the season has gone so far, the chances are pretty good that this streak will continue on Sunday. Find out now whether we also assume this will happen and what odds we would otherwise recommend for this match in our Bielefeld vs Leverkusen tip.
Bielefeld -Leverkusen Info
– Date & Time: 03.10.2021, at 19:30 hrs.
– Venue: Bielefeld, Schüco Arena (up to 26,500 spectators)
– Competition: Bundesliga, Matchday 7
– TV broadcast: DAZN
Bielefeld -Leverkusen Tip
While the Werkself is currently Bayern's number one chaser with 13 points from the first six games, Arminia is still waiting for its first win of the current season after six games. However, Frank Kramer's team is not easy to beat, as Arminia have taken a point in four of their six games. Against the Werkself, the goal will once again be not to leave the pitch as losers. Leverkusen, on the other hand, clearly want the three points to stay at the top of the table.
Bielefeld Form & Balance Check
The hosts almost claimed their fifth draw in their seventh game of the season at Union Berlin last weekend. Until the 88th minute, it was 0-0 at the Stadion an der Alten Försterei, but Kevin Behrens actually scored the winner for the Eisernen shortly before the end. The Bielefeld side thus conceded their second away defeat in a row and now want to keep something tangible at home again. So far, the points have been shared in all three home games. Both against Freiburg (0:0) and Frankfurt (1:1) as well as on the penultimate matchday against TSG Hoffenheim (0:0).
Arminia must keep calm
For the fourth time since the 80/81, 84/85 and 96/97 seasons, Bielefeld have started a Bundesliga season with six winless games. Only in the latter season did DSC have more winless games at the start (8). At that time, however, Arminia still managed to stay in the league in 14th place. This year's poor start means nothing for the rest of the season, as Fabian Klos & Co. scored the majority of their points in the second half of last season. Back then, the first win came on matchday 2, but between matchdays 3 and 9, seven games in a row were lost. Arminia just have to be patient, then the results will probably come all by themselves again. However, it is doubtful whether this will happen against a top team like Leverkusen.
Bielefeld Facts & Analysis
– 4 points from 6 games
– Most recently lost 1:0 at Union Berlin
– Lost only 2 of last 11 duels with Leverkusen
– Undefeated since home games – longer last in 2006
Leverkusen Form & Balance Check
The visitors from Leverkusen have made an excellent start to the season and at the moment it doesn't look like the Werkself will be able to consistently repeat these performances in the future. In the league, Florian Wirtz & Co. only suffered a defeat at home against BVB (3:4). Apart from the away match at Union Berlin (1:1) on matchday 1, all other matches were won, some of them clearly. Both in the guest games in Augsburg (1:4) and Stuttgart (1:3) as well as in the home game against Gladbach (4:0), the Werkself cut a very good figure.
Werkself on a very good way
The most recent home game against FSV Mainz 05 was only won 1-0, but in the current state of the 05ers, it is a strong performance to take three points against them at all. Leverkusen are undoubtedly on a very good way and have confirmed this impressively in the Europa League during the week. After a strong opening phase of the Scots, the Werkself got a better and better grip on the game against Celtic Glasgow and in the end perhaps won a little too clearly with 0:4. If keeper Lukas Hradecky had not had a great day, it could have been a close game. The fourth Leverkusen goal only came in injury time after numerous chances for Celtic.
Leverkusen facts & analysis
– 7 points from 4 games
– Last lost 3:4 against Dortmund
– Last 3 away games won in Bielefeld
– Florian Wirtz has scored in each of his last 6 competitive matches
Predicted line-up – last update on 1 October 2021
Arminia are still worried about the deployment of left-back Jacob Laursen. If he is not fit, Lennart Czyborra could make his debut. The same applies to the injured Alessandro Schöpf, who could be replaced by Fabian Kunze. In the attacking midfield, we expect Patrick Wimmer or Bryan Lasme.
There could well be changes at Werkself after the English week. Schick and Kossounou were spared on Thursday and should certainly be in the starting eleven. Otherwise, Paulinho as well as Karim Bellarabi or newcomer Amine Adli could start at left wing
Glückwunsch @bayer04fussball 👍 Kann so weitergehen 💯 https://t.co/7akQAqjovv

— BAYER GIANTS Leverkusen (@BayerGiantsLev) September 30, 2021
Bielefeld -Leverkusen direct comparison & statistics
The overall direct comparison is surprisingly quite even, but still narrowly in favour of the Werkself with 19 wins to 16. The points have been shared 13 times. In the last three encounters, the away team always came out on top. Leverkusen won twice and Arminia won the most recent encounter at the BayArena in March 2021 (1:2). The last home victory was also celebrated by Bielefeld in 2008.
The most common result between Arminia Bielefeld and Bayer Leverkusen is 1-0, when Arminia Bielefeld had home advantage. 3 games ended like this.
– Arminia Bielefeld haven't won in 6 matches.
– Arminia Bielefeld's home record this season: 0 wins – 3 draws – 0 losses.
– When Bayer Leverkusen lead 0-1 in away matches, they win 84% of the matches.
– Did you know that Bayer Leverkusen score 44% of their goals between the 0-15 minute?