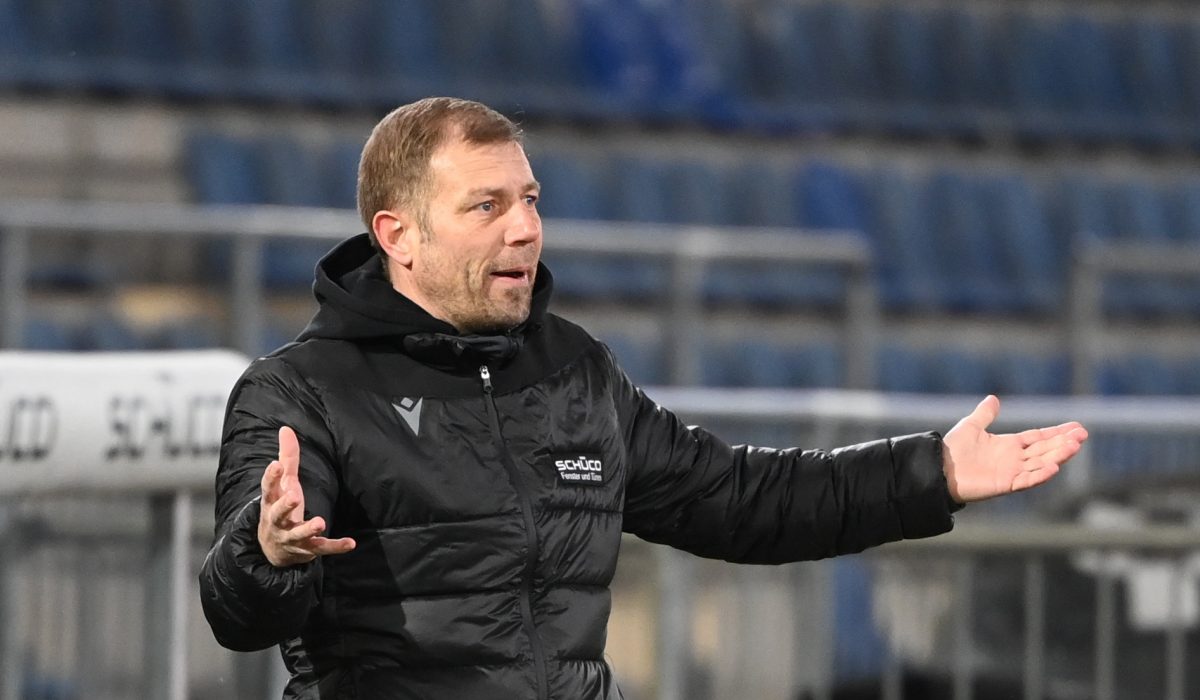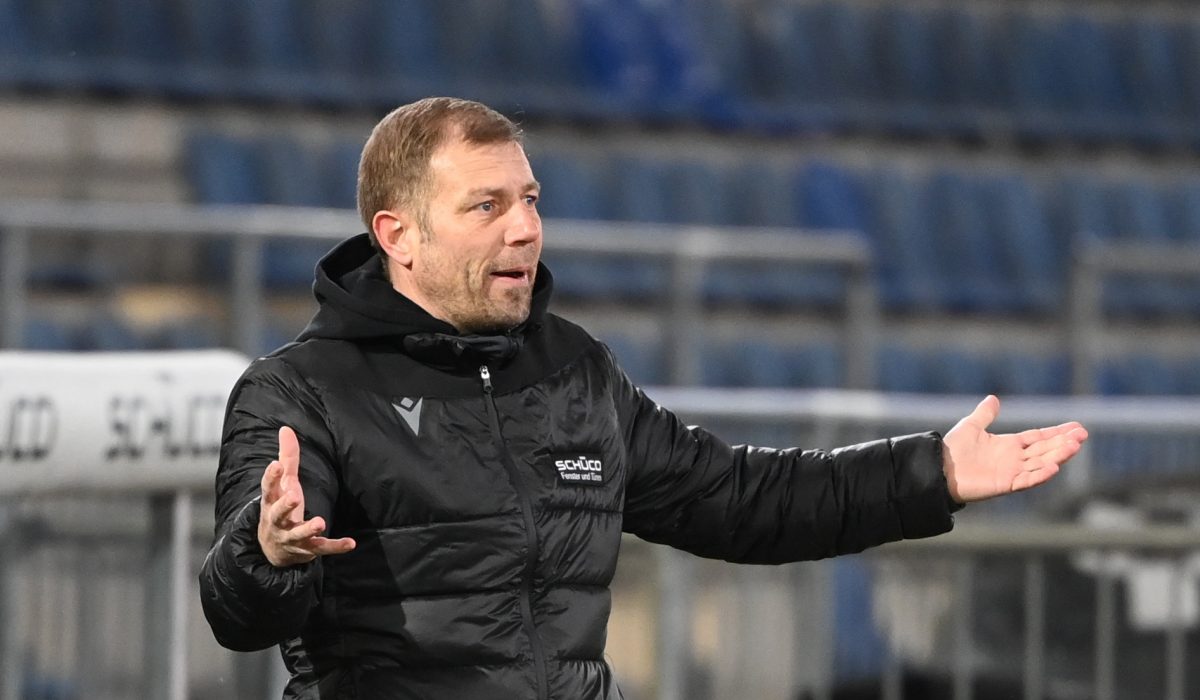 Arminia Bielefeld vs. TSG Hoffenheim
The fifth matchday of the Bundesliga is coming up next weekend. Arminia Bielefeld will play against TSG 1899 Hoffenheim. You can easily follow the match in the Bundesliga Conference at 15:30. The clash between Bielefeld and Hoffenheim can be described as a crisis duel. Both Hoffenheim and Arminia Bielefeld have failed to win their last two games.
The Arminen currently find themselves in 14th place in the table and the Hoffenheim side just managed to get into the single digits and occupy ninth place in the table. It is all the more astonishing that only one point separates the two teams. After four match days, the first conclusion can already be drawn: Hoffenheim have made a solid start to the season and the Arminen still have a lot of room for improvement, as they have yet to celebrate a victory. If you want to find out more about this match, then check out our Bielefeld vs Hoffenheim betting tips.
Bielefeld – Hoffenheim info
– Date & Time: 18.09.2021, at 15:30 hrs.
– Venue: Bielefeld, Schüco-Arena (26,515 spectators)
– Competition: Bundesliga, Matchday 5
– TV broadcast: SkySport
Bielefeld Form & Balance Check
Bielefeld started the new season with three draws. The teams they took points from were Freiburg, Fürth and Frankfurt. The Arminen earned a total of three points, but Greuther Fürth was a direct competitor against whom Arminia would have liked to win. On matchday four, the Westphalians travelled to Gladbach for their first test of maturity. There they were able to keep up in the first half, but in the end they deserved to lose 3:1. In view of this defeat, the Arminen are on the wane.
Hoffenheim seems to suit Bielefeld
Although TSG 1899 Hoffenheim are clearly superior to Bielefeld in terms of quality, they were unable to win a match against the Westphalians last season. Both duels last season ended in draws (0:0 and 1:1). Therefore, the Arminen can be expected to do a lot in front of their home crowd. Should they pick up another point against TSG, they would snatch a draw for the fourth time this season.
Bielefeld facts & analysis
– They are currently 14th in the table.
– Bielefeld snatched a draw in their last two games against Hoffenheim
– They lost the last match 3:1 against Gladbach
Hoffenheim form & balance check
Tsg 1899 Hoffenheim made a disappointing start to the season: At the beginning, on the first matchday, the men of coach Sebastian Hoeneß defeated FC Augsburg with a whopping 4:0, followed by a solid 2:2 draw against 1. FC Union Berlin. After the acceptable 3:2 defeat against Borussia Dortmund, TSG also suffered a 2:0 defeat against 1. FSV Mainz 05 most recently. The defeat against the 05ers certainly hurts tremendously, as Mainz is by no means better nominally than TSG. For these reasons, Hoffenheim are currently going through a sporting slump.
Great defensive problems
In the past three league games, TSG have conceded at least two goals each time. For a team that wants to participate in European competition next year, this trend is unacceptable. We suspect that coach Sebastian Hoeneß has been focusing on defending in training during the week. In the last four direct duels against the Arminen, however, Hoffenheim have conceded a total of only one goal. This record suggests that goalkeeper Baumann will be able to keep a clean sheet this time.
Hoffenheim facts & analysis
– They are currently in ninth place in the table.
– Hoffenheim have conceded at least two goals in each of their last three games
– They have recently suffered two defeats in a row
Predicted line-up – last update on 16 September 2021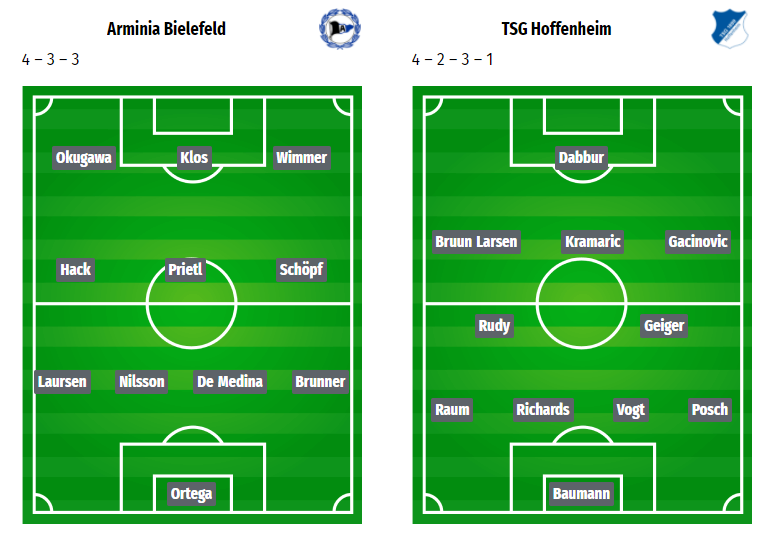 Frank Kramer currently always lets a more offensive 4-3-3 system play. However, this was not successful against Borussia M'gladbach. Nevertheless, we believe he will give his starting line-up and starting eleven another chance to return to winning ways.
For Hoffenheim, we expect a starting eleven change. We suspect that coach Sebastian Hoeneß will start with Dabbur in place of Rutter in the forward line. Coach Sebastian Hoeneß will most likely not change anything in terms of tactics.
Bielefeld – Hoffenheim direct comparison & statistics
In the past two direct duels, neither team could win. Once the match between Bielefeld and Hoffeinheim ended with a goalless draw and the other time with a 1:1 draw. Nevertheless, Hoffenheim were even able to celebrate two victories against Arminia from Bielefeld in the 2008/2009 Bundesliga season.
– Arminia Bielefeld have won only 0 games out of the last 4 in Bundesliga against TSG Hoffenheim.
– The average goals scored in a clash between Arminia Bielefeld and TSG Hoffenheim is 1.75
– Both teams did not win their last match in Bundesliga