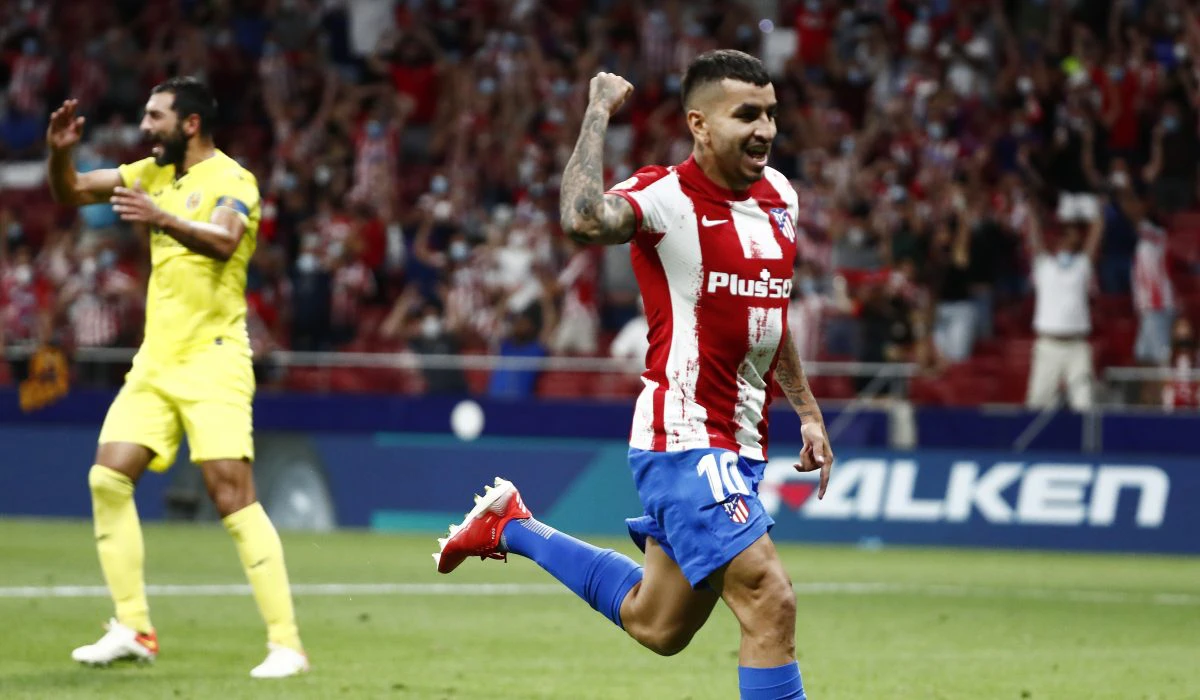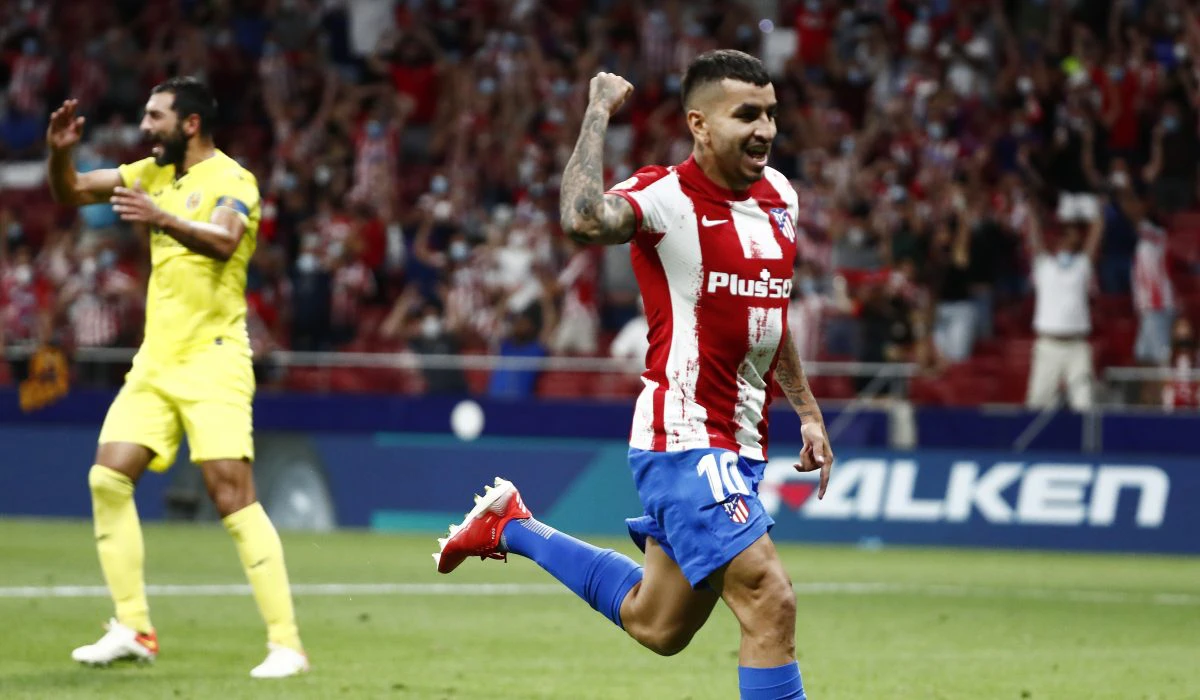 Atlético Madrid vs. FC Barcelona
On the 8th matchday of La Liga we will see a clash between two European heavyweights. At least the guest from Catalonia still claims to be. FC Barcelona will take on reigning champions Atletico Madrid at 21:00 on Saturday evening. Already this season, Barca fans worldwide noticed that the pride of Catalonia is slowly crumbling and is currently a shadow of its former self. Barca is currently not an opponent in front of whom it is clear before the game starts that there is nothing to be gained. The opposite is the case, as Barca revealed to us with their 3-0 defeat to Benfica Lisbon in the Champions League on Wednesday.
Atletico Madrid, however, is also not a team that is currently convincing with its playing class. Diego Simeone is again playing defensive football this season, even though Atletico could do so much more. In addition, the champions have achieved their last two victories through pure mentality rather than quality, as they often score the winning goal deep in injury time. But in the last league game, Simeone's tactics went wrong and they lost to the previously pointless bottom team. Now Atletico will have to put in a much better performance at home against Barca. For everything you need to know about this match, read our Atletico – Barcelona betting tip.
Atlético – Barcelona Info
– Date & Time: 02.10.2021, at 21:00 hrs.
– Venue: Madrid, Wanda Metropolitano
– Competition: La Liga, Matchday 8
– TV broadcast: DAZN
Atlético Form & Balance Check
Atlético's failure to play particularly watchable football is down to the Atlético-only Diego Simeone. The Argentine has had defensive football played since he joined Atlético, although most of his players want to be ranked in the world class. But success proves the head coach right. For example, Atlético won the championship in the previous season. But this season, the Madrilenians still have a lot to chew on with their style of play. Despite their solid defence, Atlético have trailed four times in their last five games. Despite Suarez, Felix and Co., they lack the drive forward. Atlético are currently fourth in the table and three points behind arch-rivals Real Madrid.
Not good football but success
Atlético picked up 14 points from seven games. Despite Griezmann returning, Suarez, Cunha, Felix and whatnot, Atlético only scored 9 goals. They are not playing convincingly at the moment, but they are justifiably in 4th place. Since Atlético display a mentality that doesn't exist twice, you see it again and again. For example, Atlético only won against Espanyol Barcelona in the 9th minute of injury time. Simeone's men worked and rewarded themselves for their morale, always believing in victory. Against Getafe, Atlético were behind until the 78th minute of the game. Then Suarez equalised and scored the winner again in injury time. But it didn't work against Alaves on the last matchday. Atlético could not turn around the fourth deficit in a row. They lost against the last team in the table, which had previously been without points. A defeat that Atlético could not afford.
Atlético facts & analysis
– Fourth in the table
– Only 2 wins from 5 games
– Lost last match
Barcelona form & balance check
FC Barcelona are still unbeaten in La Liga so far this season. Nevertheless, the pride of Catalonia is in a deep crisis. For Barca lost both group games of the Champions League so far completely deservedly. Wednesday's defeat to Benfica Lisbon was particularly painful, as Koeman's team did not even come close to showing a performance that could have earned them three points. The Catalans presented the same against FC Bayern, when all that mattered was not to go down 8:2 again. In the past, FC Barcelona's opponents were in awe. Today, Barca is absolutely beatable. After the defeat in Lisbon, Barça coach Koeman was publicly criticised and is already being ticked off.
A different face
Partly you do Koeman an injustice if you want to see him step down already. The Dutchman is still unbeaten in the league with Barca. Barca recently won 3-0 against UD Levante. But the truth is that the Catalans have already drawn three times against opponents that Barca would normally have to beat in their sleep. Before the win against Levante, Barca drew 1-1 with Granada and 0-0 with Cadiz. For FC Barcelona, these results are more than insufficient. They lack the winning mentality on the pitch. They absolutely have to present this in Madrid if they want to hold their own against Atletico.
Barcelona facts & analysis
– Sixth in the table
– Still unbeaten in the league
– Won last game in the league
Predicted line-up – last update on 30 September 2021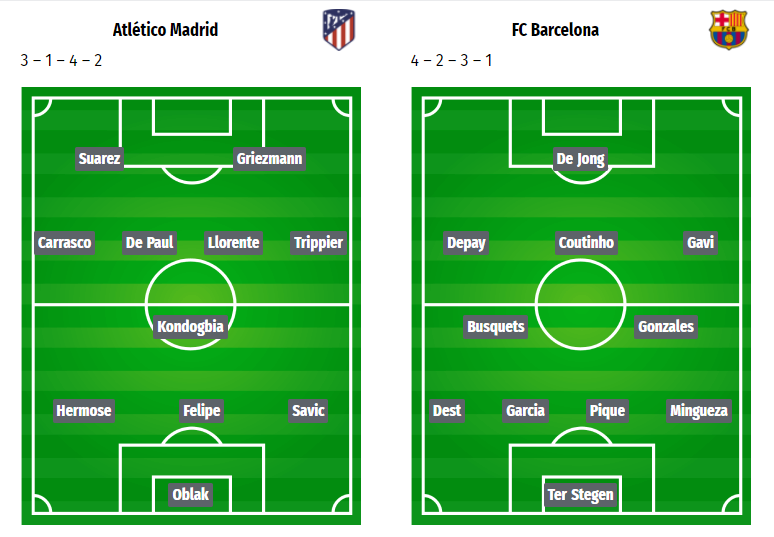 Atletico Madrid will play Barca in their initially offensive looking 3-5-2 system, which on closer inspection switches to a 5-3-2 formation. This will be used in generic possession. When in possession, the full-backs join in the attack and pull the opposition wide. Atletico have a deep squad from which Simeone can fish to field the right players against Barca. FC Barcelona play different systems under Ronald Koeman. 4-3-3 or 3-2-3-1 is popular with the Dutchman. We expect the coach to field the 3-2-3-1 formation against Atletico, which Barcelona used to beat Levante last time out.
Atletico- Barcelona direct comparison & Statistics
The encounter between these two football giants of Spain is deeply rooted in Spanish football history. Thus, Spain has already experienced this duel 175 times. The history shows that Barca has the better record, but in recent years has had to struggle with Atletico. Barca have been winless against the Madrilenians for four games and last won at Atletico in 2019. The last game ended 0-0 in Barcelona.
– Atletico won their last home match against Barca 1-0.
– Atletico won two out of their last 5 matches against Barca.
– Barca won only once against Atletico in last 5 matches.
– The highest win of this encounter was achieved by Barca with a 7:3 in 1956.