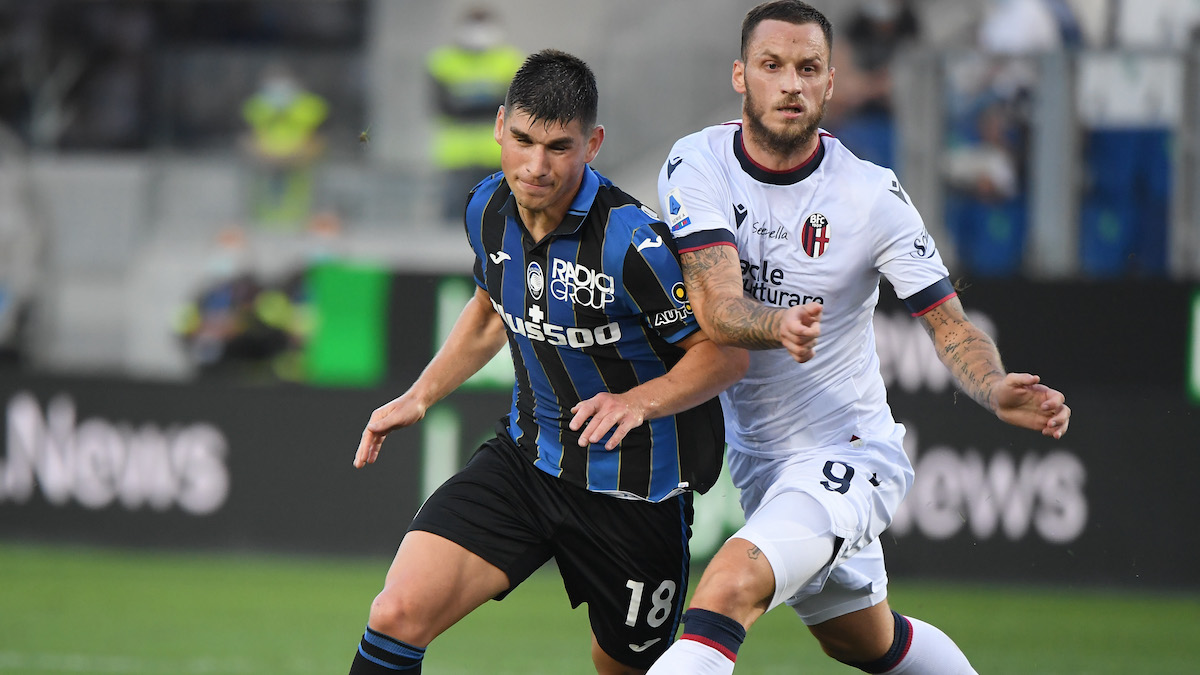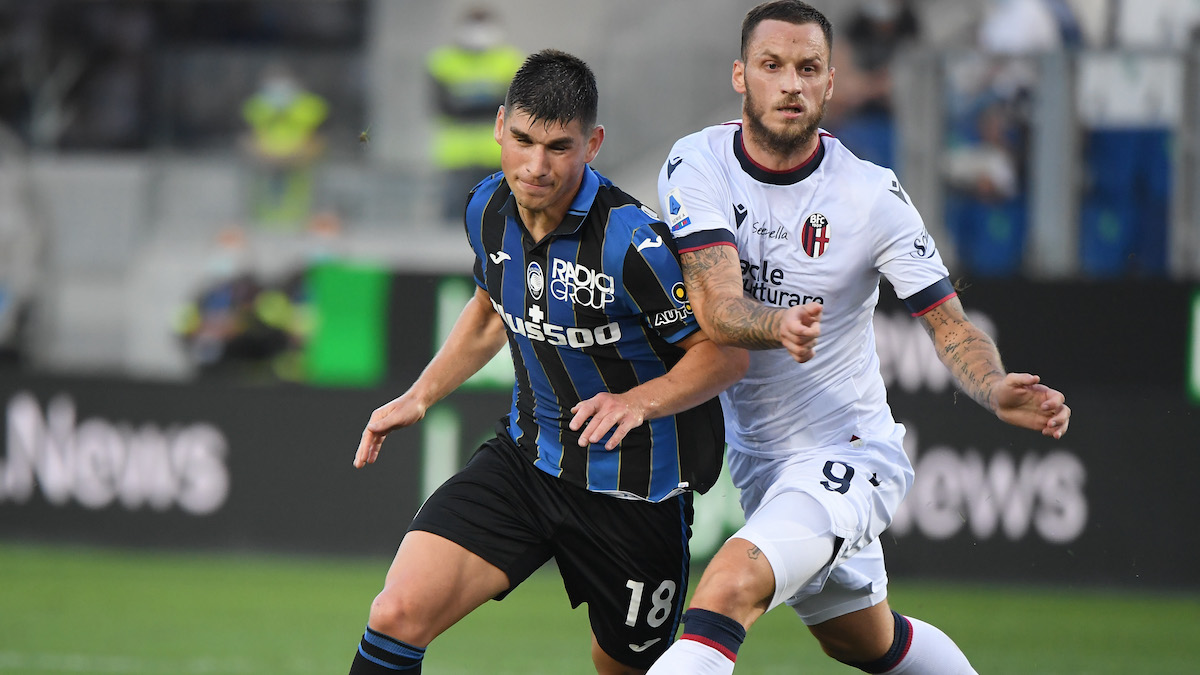 Atalanta BC vs. Sassuolo Calcio
While the Bundesliga takes a break during the week, other top leagues in Europe are still busy playing football. This is also the case in the Italian Serie A, where the duel between Atalanta Bergamo and Sassuolo, among others, takes place on Tuesday evening. Kick-off is at 20:45 at the Gewiss Stadium in Bergamo.
The home side will have fond memories of their last home games against Sassuolo. They have won all of the last five, most recently by clear 5-1 and 4-1 scorelines. Find out whether we expect another clear-cut affair on Tuesday and what other predictions we would make for this match in our Atalanta vs Sassuolo betting tips.
Atalanta -Sassuolo info
– Date & Time: 21/09/2021, at 20:45.
– Venue: Bergamo, Gewiss Stadium (up to 21,300 spectators).
– Competition: Serie A, Matchday 5
– TV broadcast: DAZN
Atalanta -Sassuolo Tip
After four completed matchdays, the teams are separated by three points in the table. The start went well on both sides, but lately especially the guests have lost some points. In the run-up to this match, it is not necessarily to be expected that Sassuolo will be able to get back on track in Bergamo. The last time that the Neroverdi were able to take something tangible with them here was a while ago. It would come as something of a surprise if Atalanta don't keep the three points at home on Tuesday.
Atalanta form & balance check
The hosts have seven points on their account after four games and should not be dissatisfied with that haul. More is always possible, of course, but the example of Juventus Turin shows that Serie A is anything but a walk in the park, even for the supposed favourites. Atalanta's close results also underline this thesis. They started with a 1:2 win at Torino, followed by a 0:0 against Bologna. After the narrow defeat against Florence (1:2) on matchday 3, Robin Gosens finally got their second three-pointer of the current season last weekend at Salernitana (0:1).
Offensive plagued by injuries
After looking at the results, you actually have to take a second look to see if this really is Atalanta Bergamo. The club that has embodied attacking football like no other in recent years. Last season, Atalanta scored a whopping 14 goals in their first four games – this year, only four.
One factor why things are not going so well yet might be the injuries of the two strikers Luis Muriel and Duvan Zapata. While Zapata missed the first two games and was back in action from matchday 3, Muriel has been out since exactly that matchday 3. So together, the two have not yet been on the pitch in Serie A this season. If that is the case again, we will surely see more goals in Atalanta's games.

Atalanta Facts & Analysis
– 7 points from 4 games
– Last win 0:1 at Salernitana
– Zapata & Muriel not yet together on the pitch
– Only scored 4 goals (last season after 4 games already 14)
Sassuolo Form & Balance Check
The visitors from Sassuolo have initially made the same start to the season as their upcoming opponents in terms of points (four points from the first two games). The 2:3 opening win at Hellas Verona was followed by a goalless draw against Samppdoria Genoa on matchday 2. In the last two weeks, however, Alessio Dionisi's team had no reason to celebrate. On matchday 3, theNeroverdi lost 1:2 at AS Roma and last weekend, the pre-season eighth-placed team also suffered a 0:1 defeat at home to AC Torino.
Sassuolo are also still struggling to score
In the last six years, Sassuolo have only taken fewer points from the first four games of a season in 2017/18 (1 point) than in the current season. In the past season, they already had ten points on their account and scored 13 goals. The starting situation before the away match in Bergamo is therefore similar on both sides. Both opponents have not yet been able to match last season's performance, especially offensively, and are desperate to score three points on Tuesday in order to make up for their less than satisfactory start to the season.

Sassuolo facts & Analysis
– 4 points from 4 games
– Last lost 0:1 against Torino
– Lost last two games
– Last took anything of note from Bergamo in 2017
Predicted line-up – last updated 20 September 2021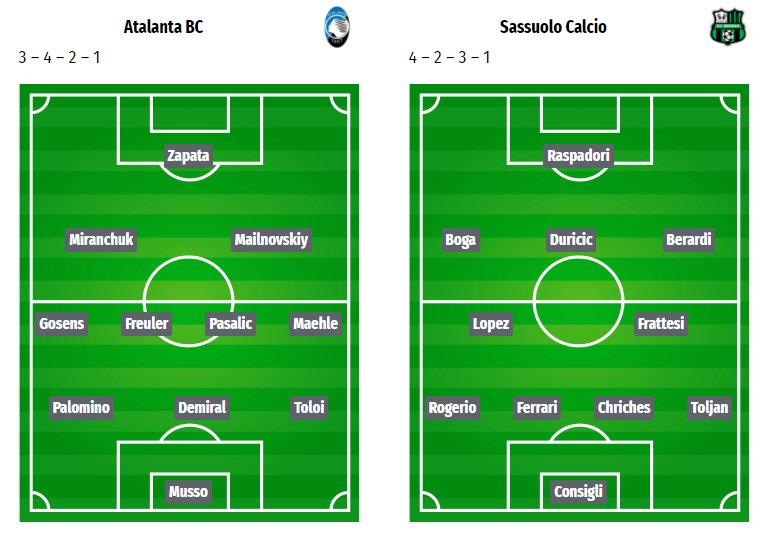 The hosts will still have to do without Luis Muriel and Hans Hateboer. The starting line-up is therefore unlikely to change compared to the weekend. The formation will again be 3-4-2-1. Sassuolo, on the other hand, have no fresh personnel problems apart from the long-term injuries. Here, the usual 4-2-3-1 system can be expected once again.
Josip #Iličić 👉🏼👈🏾 Duván #Zapata#SalernitanaAtalanta #GoAtalantaGo ⚫️🔵 pic.twitter.com/eOJymLZUAE

— Atalanta B.C. (@Atalanta_BC) September 19, 2021
Atalanta -Sassuolo direct comparison & Statistics
The overall direct comparison is relatively clearly in favour of the hosts, with 12 wins to 2 and 5 draws. The record at Atalanta's home ground is even clearer. There, in addition to seven home victories, there were two draws and one win for Sassuolo. Atalanta have won all of their last five home games.
– A look at Atalanta BC: Duvan Zapata is the top scorer with 2 goals. 2 times scored Filip Djuricic for Sassuolo Calcio.
– When Atalanta BC leads 1-0 in home matches, they win 94% of the games.
– A year ago Atalanta BC were in 3rd position in the table with 9 points. Currently they are in position 8 (7).
– The most common result between Atalanta BC and Sassuolo Calcio is 2-1, when Atalanta BC had home advantage. 3 matches ended like this.
– The comparisons between the two clubs last season: 5-1 (home for Atalanta BC) and 1-1 (home for Sassuolo Calcio).