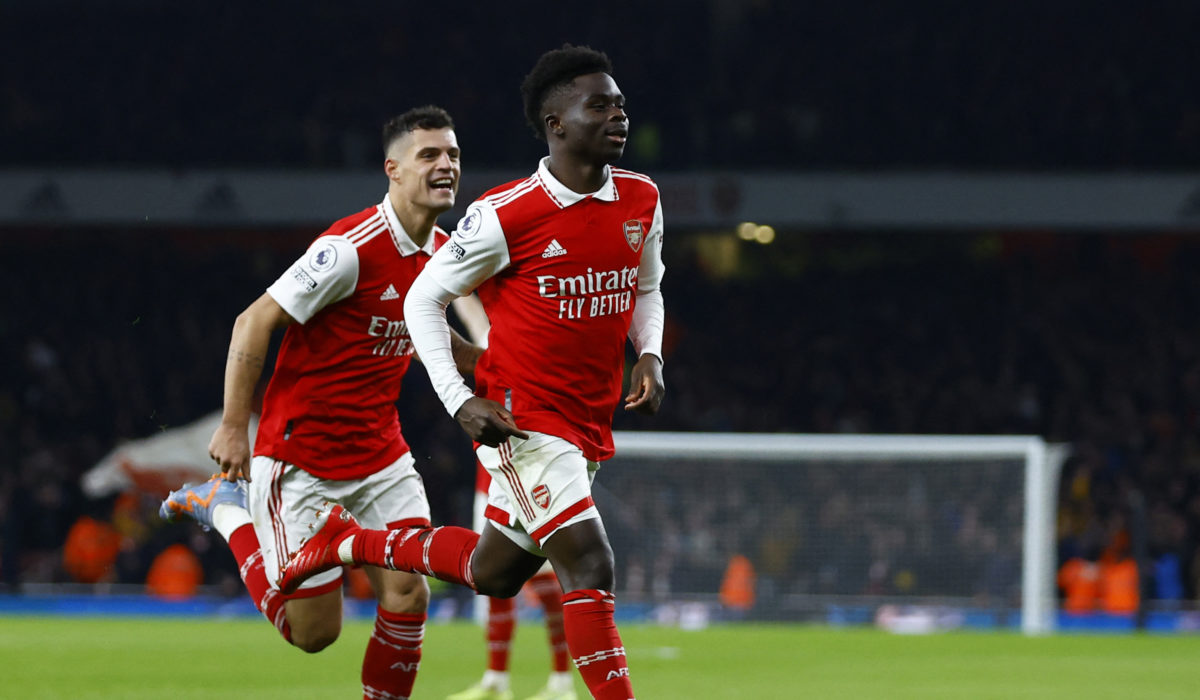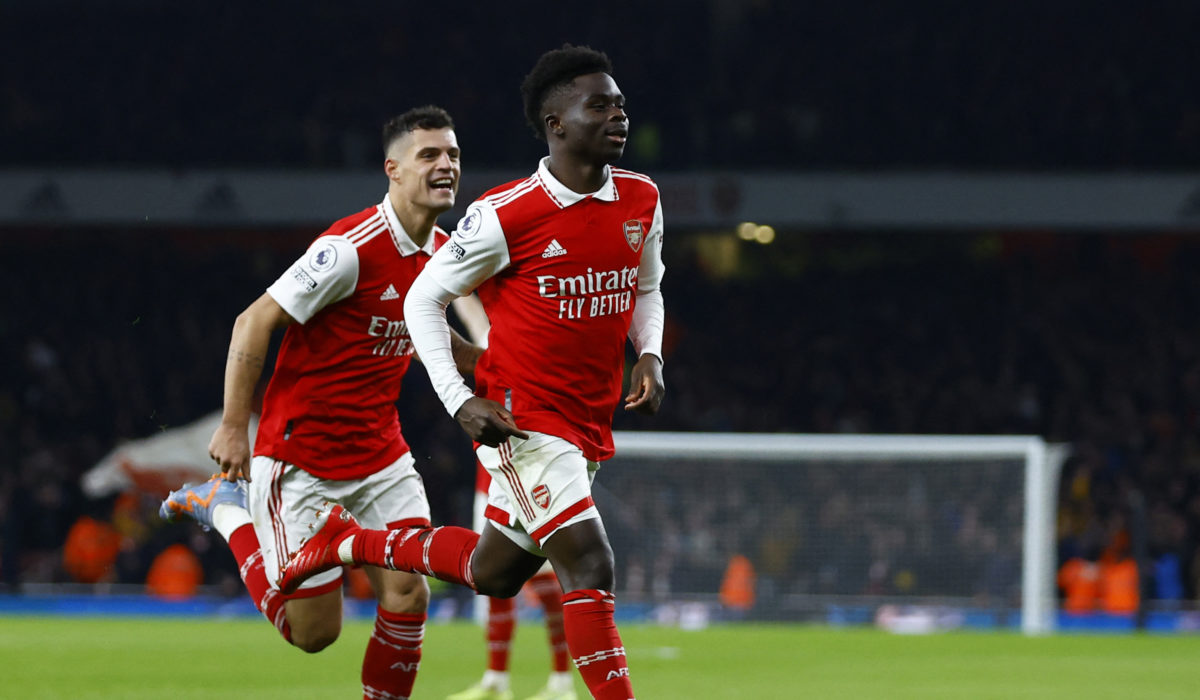 Arsenal FC – Manchester City
Not only the Champions League is in the spotlight in the coming days (to our Champions League tips). Also in the English Premier League the ball is rolling again during the week. Matchday number twelve will be made up on Wednesday evening at 20:30 and the fans can look forward to an absolute treat. League leaders Arsenal FC welcome the Sky Blues from Manchester and these two teams are currently among the best English football has to offer. Find out who we think will prevail in this top match in our Arsenal – Man City tip.
If we take a look at the table in the top flight of English football before this catch-up match, we see the Gunners still leading the league. Arsenal FC are on 51 points after 21 matchdays and the lead over their upcoming opponents from Manchester is only three points. However, coach Arteta's side still have a game in hand. Man City could overtake the Gunners with a win in London on Wednesday. Both teams have their strengths on the offensive without question and we can look forward to a goal or two.
Arsenal – Man City info:
– Date & Time: 15/02/2023, 20:30.
– Venue: Emirates Stadium, London
– Competition: Premier League, Matchday 12
– TV broadcast: Sky
Arsenal Form & Balance Check
The Gunners will be looking to get back to winning ways next Wednesday. Coach Mikel Arteta's side have so a little feather in their cap in recent weeks. As a result, the North Londoners have only managed to pick up two wins from their last five games. The Gunners' once comfortable lead over Man City has shrunk noticeably and if they lose on Wednesday, the Londoners could lose top spot in the table for the first time in what feels like an eternity. Last weekend there was the game against Brentford FC. Against the Londoners, Arsenal could not get beyond a 1-1 draw at home in the Emirates Stadium.
Are Arsenal running out of steam?
The coming weeks will be crucial for coach Mikel Arteta's team. Arsenal currently give the impression that they are running out of steam a bit. Especially the last transfer window did not go according to the Londoners' expectations. Arteta saw a need especially in central midfield and on the wings. So instead of Mudry and Caicedo, there was Jorginho and Trossard. In the end, the lack of quality could be Arsenal's undoing. In case of a win, however, Arsenal could pull away to six points. They also have a game in hand.
Arsenal facts & analysis
– Lead the Premier League table.
– Only 2 wins from last 5 games
– Played only 1-1 against Brentford last time
Man City form & balance check
The reigning English champions have had a great run of form. While the Gunners from London were already nine points behind, City are now within reach again with a gap of only three points. On the last matchday, Man City took advantage of Arsenal's slip-up. Pep Guardiola's team won 3-1 against Aston Villa. Rodri, Gündogan and Mahrez scored the goals last weekend. Erling Haaland, on the other hand, failed to score for the third time in a row. The Norwegian scored his last goal on 22 January in a 3-0 win over Wolves.
Are City still catching up?
It's all set up for another Man City win. The Sky Blues picked up three wins from their last five games. However, City were beaten 1-0 by Spurs of London in their last away game. If there is a weakness in Guardiola's team, it is without question the games away from home.
City have only won five of their ten away games, plus two draws and three defeats. In the away table, Manchester City are only in sixth place. Nevertheless, the chances of a win against Arsenal are not exactly bad. Man City have won their last six encounters against the Gunners.
Man City facts & analysis
– Currently in 2nd place.
– Won last 6 games against Arsenal
– Last won 3-1 against Aston Villa
Predicted line-up – last update on 13 Feb 2023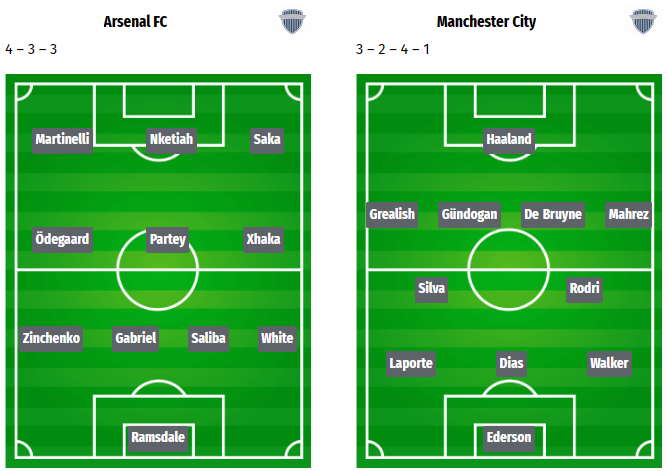 The hosts Arsenal FC are looking to go into the game in their usual 4-3-3. Coach Arteta will not change much compared to the 1-1 draw against Brentford. The Gunners will again rely on Saka, Nketiah and Martinelli on Wednesday night. Newcomer Joginho will probably only remain on the bench.
The visitors from Manchester will also go into the game without any changes. Guardiola is likely to play a 3-2-4-1. Haaland will again be the only top player. Mahrez, De Bruyne, captain Gündogan and Grealish will support the Norwegian.
Arsenal – Man City direct comparison & stats
Both teams have faced each other a whole 206 times in their history so far and the direct comparison clearly goes to Arsenal. The Gunners have won a whopping 98 games, plus 45 draws and just 63 defeats. However, Man City have won their last six games in a row. A few weeks ago, for example, there was a narrow 1-0 victory.
– Manchester City's current performance in the Premier League is better than Arsenal FC's.
– The average of goals scored in a clash between Arsenal FC and Manchester City is 3.
– The winner of the last meeting was Manchester City
– Arsenal FC home record this season: 8 wins – 2 draws – 0 losses