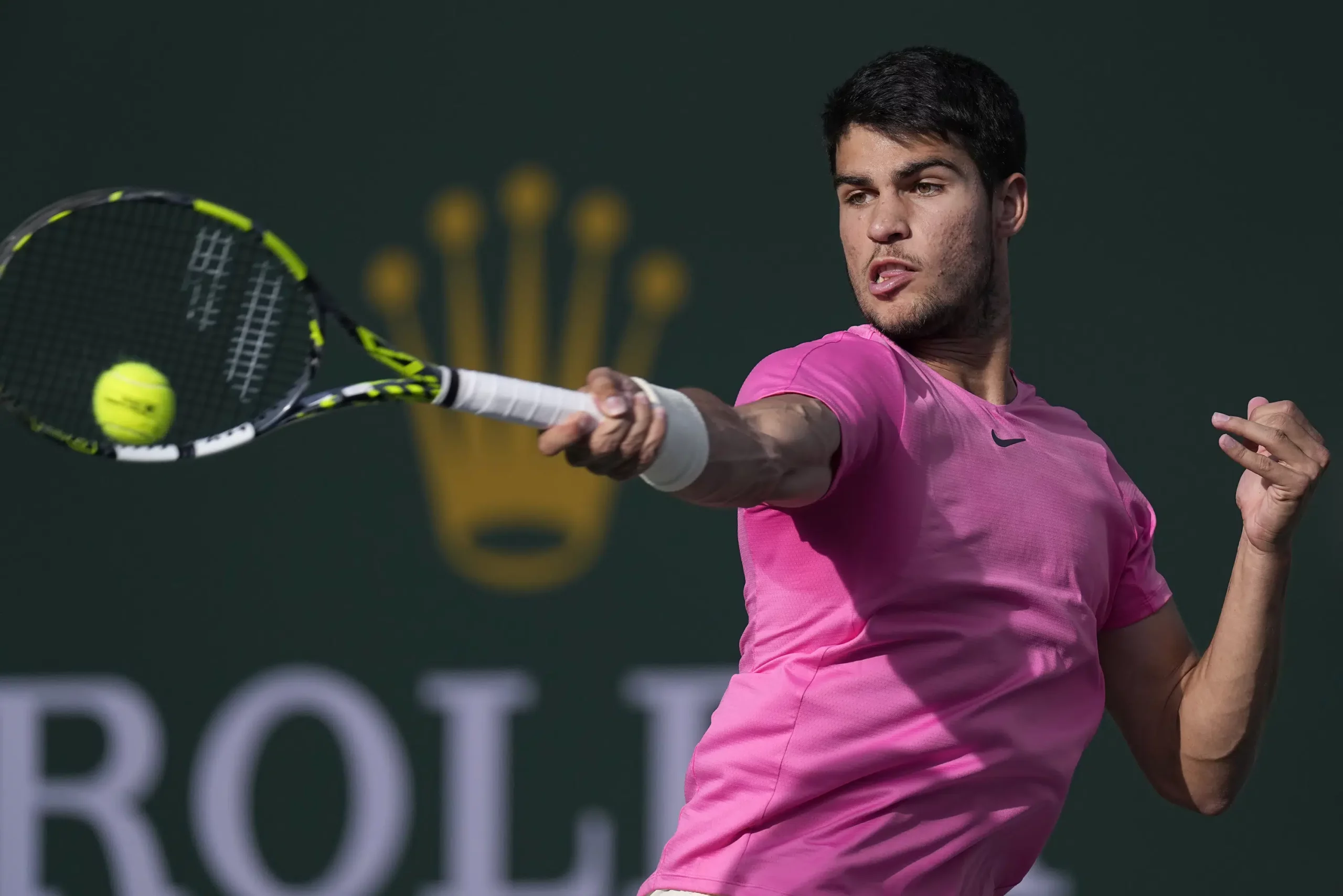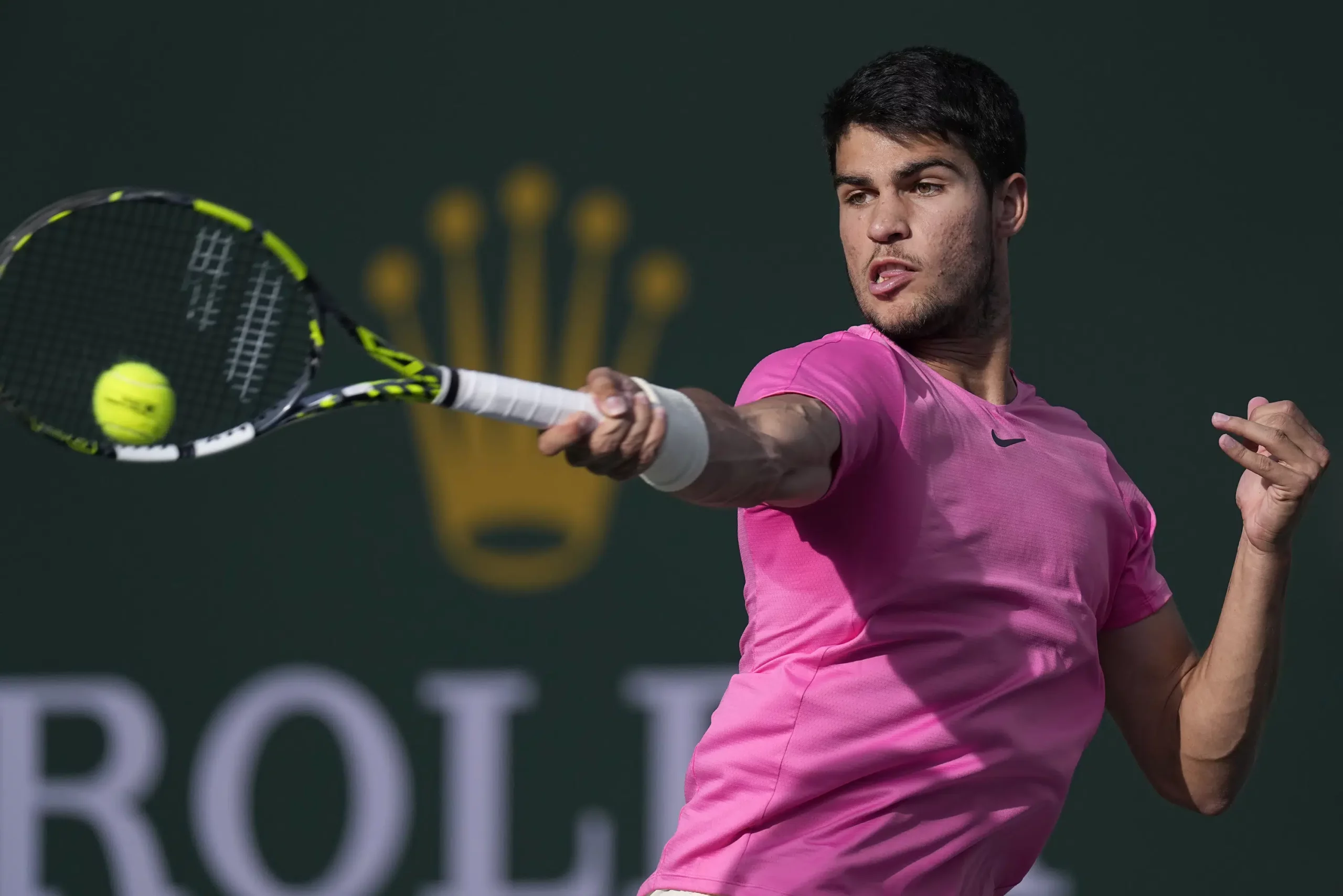 ATP Masters at Indian Wells, Final, Monday, 20/03/2023
It's set for a great final between exactly the two players the experts have seen in front from the start! Carlos Alcaraz and Daniil Medvedev will face each other at the Masters in Indian Wells on Monday night.
Both have played a strong tournament and have already secured one or two titles this year. In the direct duel, all eyes are now on this top duo, and the bookmakers have also picked a favourite.
At Bet-at-Home, it is the young Spaniard who is in the lead with average odds of 1.82 to 2.00. A very narrow lead, but one that the bookmakers have also picked out. A very narrow lead, but why I would also make this prediction, I will now reveal in my Alcaraz Medvedev Tip!
To reach the final of one of the biggest Masters tournaments of the season without losing a set? You can do that at 19 years old! No surprise that this someone goes by the name of Carlos Alcaraz.
The Spaniard has long since recovered from missing the Australian Open due to injury and also losing the No. 1 ranking to Novak Djokovic. On Monday, he can not only secure the Indian Wells title, but also jump back to the top of the world rankings.
There can't be much more motivation, especially as he should have the crowd on his side. He hasn't outclassed his opponents in the last few days, instead relying more on solid, commanding performances.
6-3, 6-3 against Thanasi Kokkinakis and 7-4, 6-3 against Tallon Griekspoor, after these two victories he met a battered Jack Draper. At 6-2, 2-0, his rival retired and Alcaraz was able to save valuable energy.
The really tough opponents came next. Felix Auger-Aliassime demanded everything from him, but Alcaraz sent him home with a 6-4, 6-4. He had only allowed one break so far, then it was time for the duel against Jannik Sinner.
Once again, the Spaniard was very strong on his own service, allowing Sinner to break exactly once. The result: 7-6, 6-3. The 19-year-old was always on the spot in the decisive moments and showed very strong nerves.
Against Daniil Medvedev, he will have to bring exactly these strengths onto the court. Two years ago in Wimbledon, the two top stars met for the first and so far only time and the result was crystal clear.

Medvedev showed the youngster the limits, winning 6-4, 6-1, 6-2. Our bettors are rather sceptical this time that there could be another demonstration of power, consider Alcaraz much too strong.
A 2:0 for the Russian would bring odds of 3.20, the Spaniard is the slight favourite. For Daniil Medvedev it should be clear that the current duel against Alcaraz is likely to be a much more challenging affair than in 2021.
The 27-year-old did not take such an easy path as Alcaraz and had to go through a lot more trouble. The 6-4, 6-3 against Brandon Nakashima was still very confident, but then the mistakes started to creep in.

After his 6-2, 3-6, 6-1 against Ilya Ivashka, the duel against Alexander Zverev was on the agenda. Over three hours were played, Medvedev grumbled, grumbled and was unhappy with the court and everything else.
In the end, he triumphed 6-7, 7-6, 7-5, but he did not manage a true tour de force here. A little later, he had everything under control again against Alejandro Davidovich-Fokina, collecting a 6-3, 7-5.
Frances Tiafoe was waiting in the semi-finals and once again Medvedev had to play to his limits. 7-5, 7-6, he stayed true to his line and collected the next close, lucky result.
After all, in the last two games he won more than 80% of the points on his first serve. But his service is not yet strong, because with round about 60 % of successful serves he lags far behind his former top values.
My Alcaraz Medvedev Tip
It's the first Indian Wells final for both Daniil Medvedev and Carlos Alcaraz. In my analysis, I could quickly see that the Spaniard clearly had the better results.
Especially the smooth wins against Felix Auger-Aliassime and Jannik Sinner were impressive. Medvedev, on the other hand, afforded himself some problems, tiebreaks, close results and 3-setters were always on his side.
Therefore, I believe Alcaraz will be there in the decisive moments. The fans should support him for the most part, moreover, he enters the tournament with the motivation to become number 1 in the world again. So my pick, logically, is:
Alcaraz beats Medvedev!