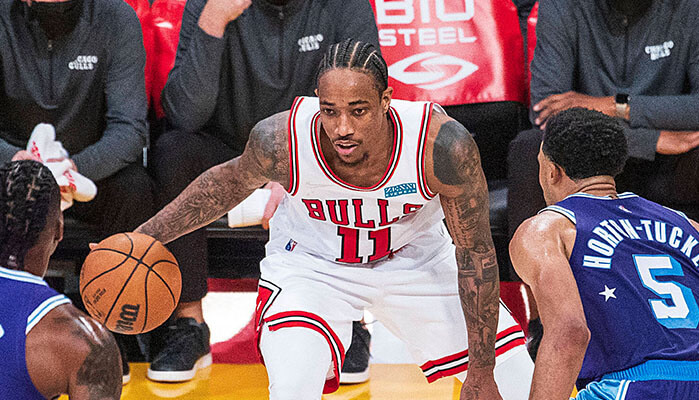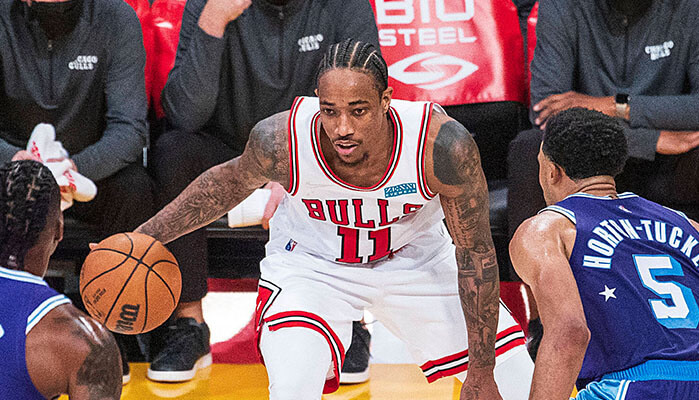 NBA 2021/22 on Thursday
This year, you have to watch the hell out of some teams that didn't even make the playoffs last year. In the game between the Portland Trail Blazers and the Chicago Bulls, we will get to see just such a team.
In my Trail Blazers Bulls tip, we'll also discuss why the visitors' offense is so brilliantly unpredictable, while Rip City's is one-dimensional and can't do much in the half court against a strong guard like DeRozan anyway.
These Bulls definitely have what it takes to make the playoffs, because if they can show off the Lakers like this, all roads are open to them – there's a reason the red and whites are currently fighting for the lead in the Western Conference with a record of (10-4).
After an already outstanding 100-90 win over the Clippers, it was the Lakers who lost last night's 121-103 defeat, mainly due to the many unnecessary turnovers in the final phase.
Emblematic for the course of the game: the Lakers made a total of six threes and thus fewer than Lonzo Ball, who alone was responsible for seven Bulls threes.
The Bulls have several three-point shooters who are incredibly good at setting each other up. Lonzo Ball is one of those shooters whose three-point percentage has steadily increased since the 2017/18 season and is now at a whopping 44.4%.
With the Bulls' offense fixated on working inside the perimeter, this gives Lonzo Ball the opportunity to take the occasional free three-pointer. But as soon as the opposing defence guards him too closely, suddenly a Zach LaVine is available for a three-pointer.
If need be, an Alex Caruso can also take a safe three-pointer if he has the opportunity to do so. However, the ex-Lakers player had a horrible day against his old clubs (0 points).
What I'm getting at is that the Bulls have an uncanny three-point percentage, which is due to their constant rotation of shooters from beyond the three-point line, as well as what should be a primarily half-court work-oriented offensive game.
One of the recipes for defeating the Bulls is to take the ball away from them for as long as possible. That's why teams like the Lakers, who are currently causing far too many turnovers, have a hard time doing that – but the Trail Blazers are also vulnerable in that regard.
While Portland is a serious opponent, it is also extremely predictable, with 39.7 three-point attempts per game, there are only three NBA teams that try it more often from long range, but their own scoring rate is "only" 35.2% (12th).
But a three-way duel from distance – which the Bulls would win – won't happen, because the Red and Whites' game is much harder to figure out for that compared to Portland's.
All the talk about Chicago's excellent three-point percentage might give the impression that the red and white also rely mostly on their long-range shooters – but that's not the case, they are just much more efficient – and how!
In fact, Chicago takes almost the fewest threes per game in the entire league (30th) with an average of only 27.9 attempts. But the relatively few that are attempted are hit surprisingly often, with a 36.9% success rate (4th place).

This gives the Bulls a much more flexible offensive game than Portland, who for their part come mostly from long range.
Chicago, in fact, has a rebounder like DeMar deRozan under the basket, who provides wonderful balance and eliminates the need for too many three-point attempts.
The Trail Blazers have no answer at all for DeRozan in the half court, who is averaging 26.9 points per game and destroying everything in his path. Powell and Covington will find it difficult to successfully block the guard's running routes.
With regard to the distribution of chances, American and German bookmakers are assuming a so-called "coin toss". Accordingly, a Blazers win leads to odds of around 1.90, whereas a Bulls win is traded at 2.05.
Conclusion: The Bulls have an extensive offense consisting of a lot of DeRozan in the half court and relatively few, but extremely efficient throws from long distance – this mixture is unique!
The Trail Blazers, on the other hand, come over their long-range shooters excessively often, but the scoring rate is not high enough to decide a game in this predictable way alone – besides, their not few turnovers could also pose problems for the home side.
The red and whites, on the other hand, can choose how they want to proceed. But they won't have to take too many threes, because DeRozan is in such good form at the moment that the mismatch against his direct opponent alone could lead to success.
My Trail Blazers Bulls tip is therefore: Bulls win!