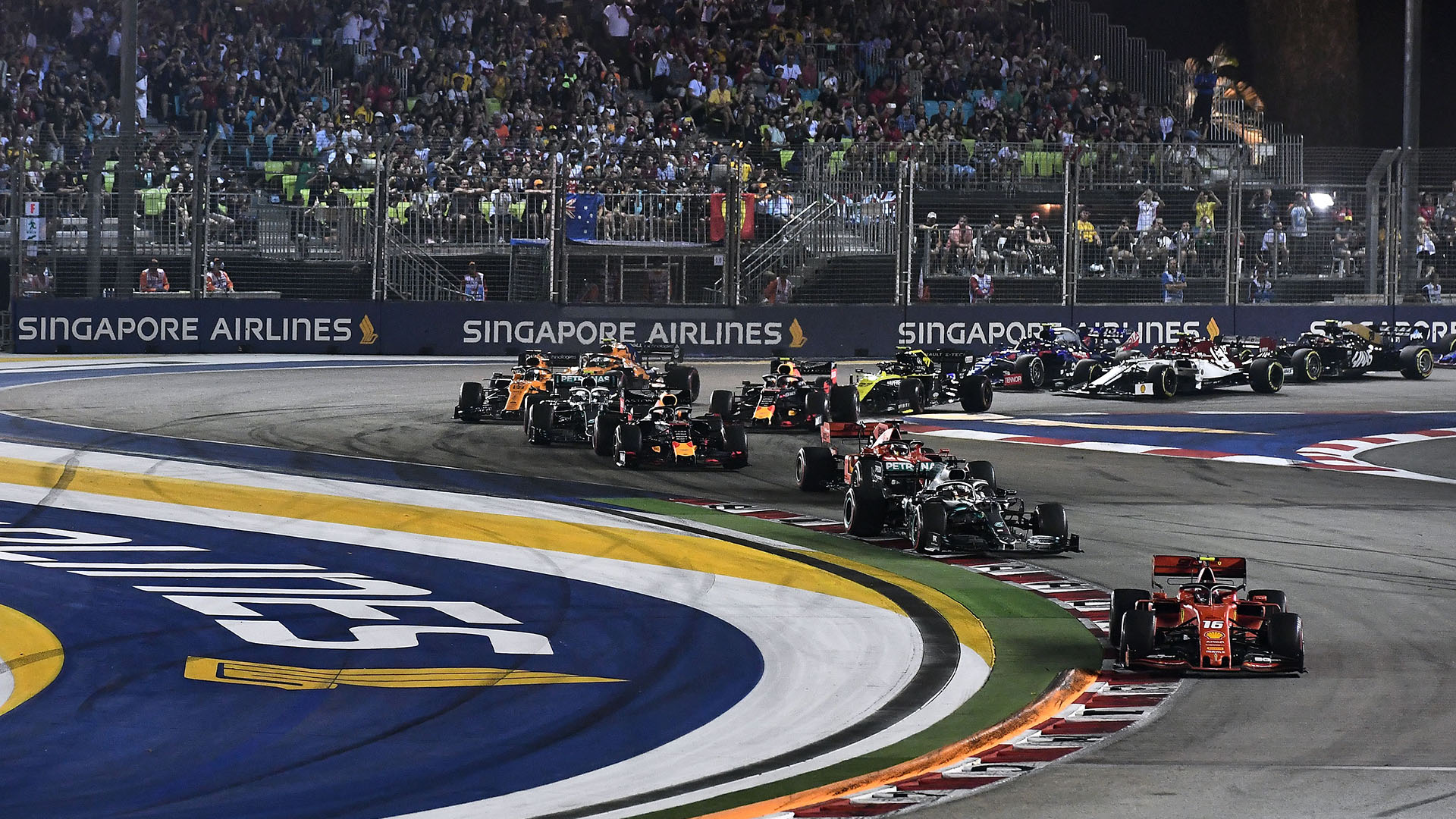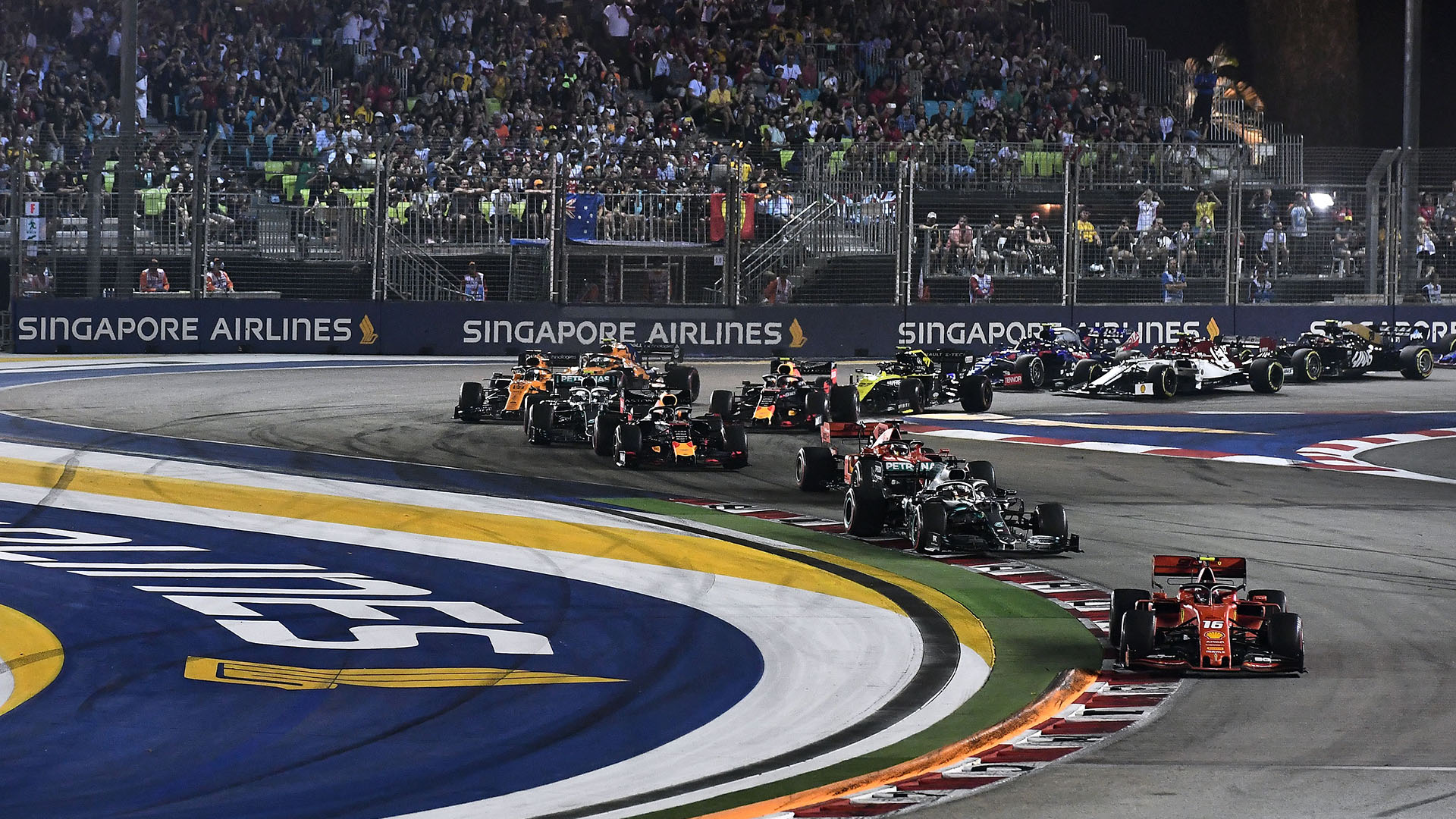 Singapore Grand Prix, Sunday, 02.10.2022
After a 3-year break, things will get exciting again this weekend at the Singapore Grand Prix. Because the race is the most challenging of the whole year for the Formula 1 drivers.
Not only because of the time change, but also because it is incredibly tight on the street circuit, it is fast and it gets unusually hot in the car.
In any case, one driver is also hot for a win. Verstappen could become world champion in Singapore with some support. That's why the Dutchman is not getting any generous offers for another victory from the bookmakers, with odds of around 1.40.
Some are racing for the world championship, others for a cockpit for next year, a few places are still up for grabs. So there will be excitement and I also believe that this race will offer spectacle, close duels and one or two surprises.
Nevertheless, in my Formula 1 forecast for the Singapore GP I expect a dominant performance by Verstappen and Red Bull. But why Ferrari could still have a chance at the podium, you can find out in my race preview for the Singapore Grand Prix.
It's very unlikely, but under certain scenarios Verstappen could defend his title as early as this weekend.
If the Dutchman wins the Singapore Grand Prix, sets the fastest race lap and Perez only finishes fourth and Leclerc eighth at best – then Verstappen can rejoice.
Looking at the course of the season, even the biggest critic has to admit that Red Bull has simply been in a league of its own this year.
The fewest retirements, no tactical mistakes like Ferrari and a Max Verstappen who has matured even more than last year.

The Scuderia, on the other hand, will have to tick off another miserable year and come up with a better strategy for 2023, when there will be more races on the calendar (including six sprint races instead of three).
The chances of winning a race are not very great, but there are still several advantages for Ferrari. Because on the track, with the new generation of cars, no team has an advantage because no data is available yet.
In addition, the track's characteristics suit the Scuderia. Singapore is a maximum downforce track, which tends to suit the Ferrari car.
On top of that, Leclerc is well acquainted with the track; after all, the Monegasque took pole position in 2019. If the Ferrari driver takes pole again after Italy, there are odds of around 2.75 at Bwin Sportwetten.
In addition, Ferrari celebrated a double victory at the Marina Bay Circuit three years ago, which has rarely been seen in recent years.
This year, also because Mercedes is now in better shape again, such a victory is very unlikely. Nevertheless, a podium finish is also possible for Carlos Sainz.
After all, he has already finished in the top three five times this season, but the last time he finished on the podium was several months ago.

But also the Mercedes mentioned are slowly getting back to their form of last year and are regularly among the front runners.
George Russell in particular is having an incredible season in his first year for the Silver Arrows.
Of the top drivers, I'd put him in third place behind Leclerc and Verstappen, as the Briton has already shown in recent races that he has a great future ahead of him.
In four of the past five races, Russell finished at least third – and yet the odds at German provider Betano Wetten are still higher at 2.25 than for Sainz at 2.00 or for Hamilton at 1.90.
There will definitely be a three-way fight for victory, because the last few years have already shown that there will be a lot of duels here and some mistakes could happen due to the many corners.
The last 5 races at the Marina Bay Circuit: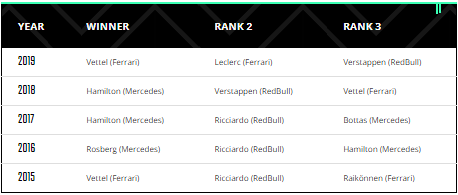 In terms of track layout, the Marina Bay Circuit has the most corners on the race calendar with 23, so the most important thing here is to get the tyres into the right window but not to overheat due to all the braking.
In addition, there are long high-speed straights with up to 300 km/h, which are interrupted by curves with up to 90°.
In addition, there are parts of the track that are very wide, but also sections that measure only 10 metres. Nevertheless, the circuit is considered to be overtaking-friendly, which is why I expect some lead changes.
The bookmakers like Bet365 Sportwetten also see it that way, which is why there are just odds of around 1.40 for three or more leaders. But if you bet on exactly two leaders, you can get odds of around 2.10.
Spectacle is definitely on offer in this race, because the sometimes narrow passages offer only little space to the right and left.
Especially if there should be a crash on the straights, several cars could be hit at once. In addition, this race will be the first night race of the year and the conditions will push the drivers to their limits.
Because at up to 30 degrees, the drivers lose up to 7! litres of fluid. In addition, heavy rain showers are on the schedule for this weekend, although it has never rained at the GP itself.
Nevertheless, my prediction, also due to the long season, would be that in addition due to some technical defects less than 17 cars will see the chequered flag.
Summary: Of course Max Verstappen is favourite in this race due to current form. Still, I wouldn't expect such a dominant performance as in the last races – because of the track.
Because the conditions make a lot of things seem possible in the race and Leclerc will also do everything he can to ensure that Verstappen doesn't become world champion in Singapore, at least not yet.
That's why I'm betting on Ferrari grabbing pole here.
My tip for the QF: Leclerc will start the race from P1.