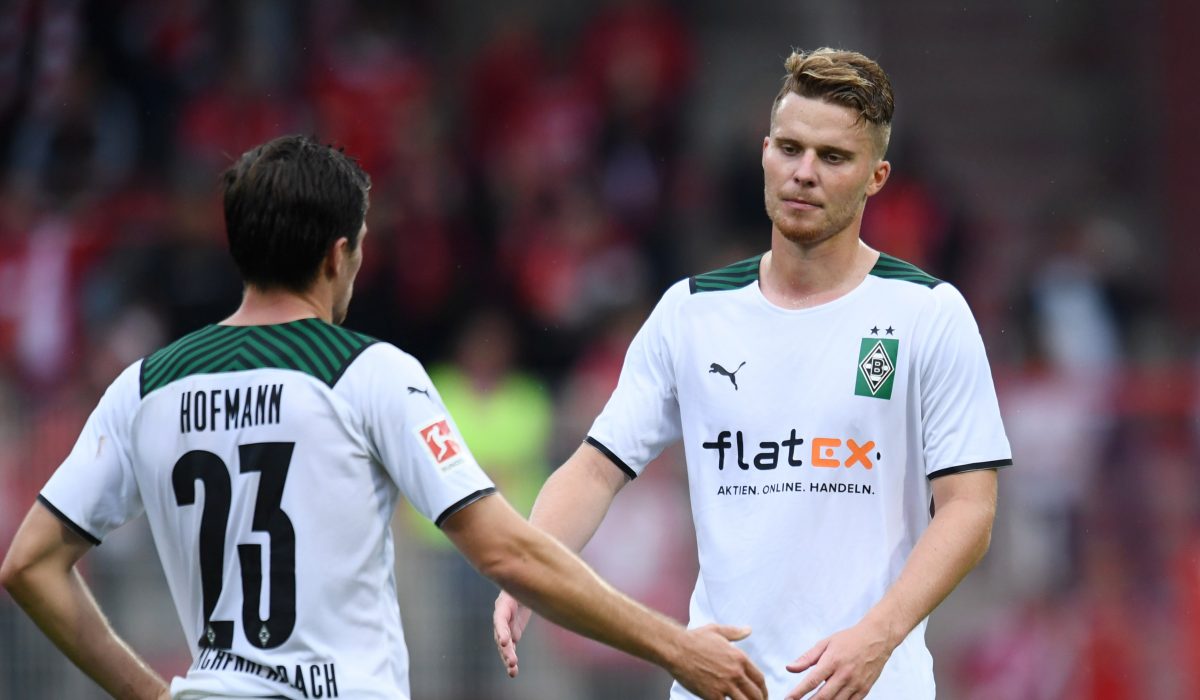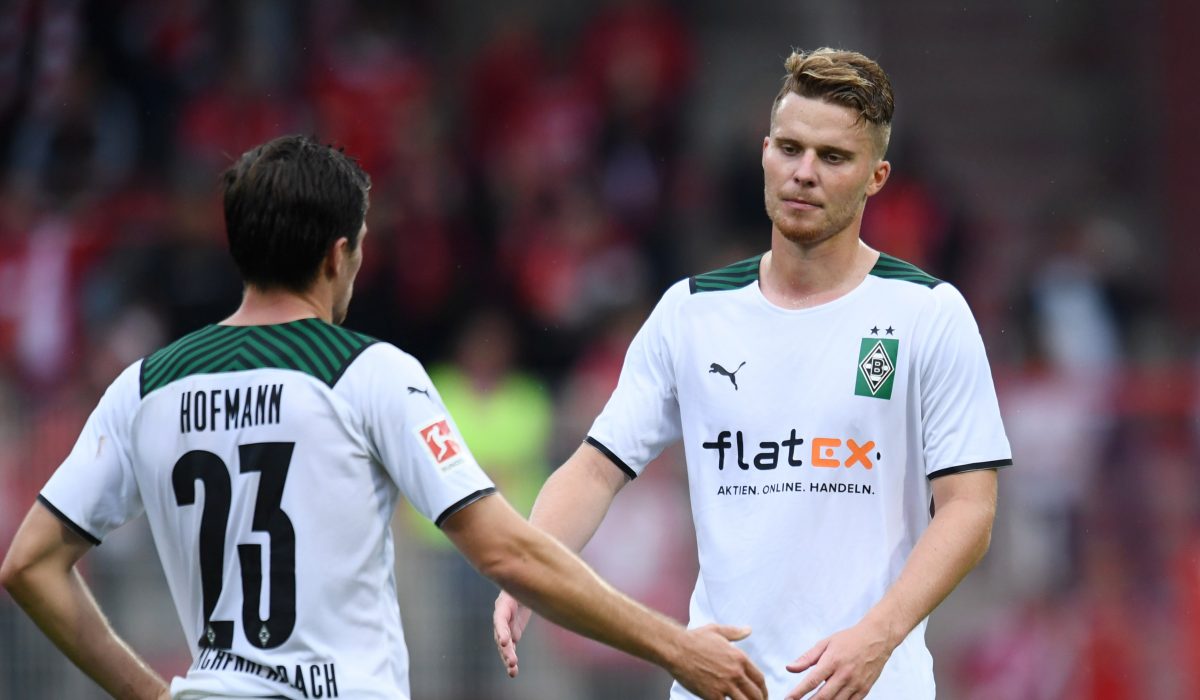 FC Augsburg vs. Borussia Mönchengladbach
Matchday 5 of the Bundesliga is upon us and after a number of teams have been away in European competitions during the week, it's back to league action. On Saturday, 18.09.2021, FC Augsburg and Borussia from Gladbach will meet at 15:30. While the visitors were able to record their first win of the season last matchday, the Fuggerstädter are still waiting for their first three points. In addition, Markus Weinzierl's team has only scored one goal. A win against Borussia would therefore be important. Find out who we see as the favourites in this Augsburg – Gladbach tip.
The direct comparison between the two teams is extremely even and each has won six times in the 20 games played. Last season, Augsburg won 3:1 at home. At that time, the outstanding man was Marco Richter, who has since moved to Hertha in the capital. Nevertheless, FCA are by no means without a chance and could have taken quite a bit more against Union last matchday. Still, we don't think they stand a chance against the Foals and remain pointless at home.
Augsburg Form & Balance Check
The start of the new season was certainly imagined differently by everyone in Augsburg. The opponents for the opener were not easy, yet more would have been possible than 2 points and a goal difference of 1:8. Interestingly, they conceded and scored all those goals in front of their home crowd. Away from home, the Fuggerstädter have twice parted with a goalless draw from their opponents in this still young season. However, the point gained at the Alte Försterei in Berlin should give the fans and those responsible confidence. There were plenty of chances and a win would not have been undeserved. Now it's on to Gladbach and the aim is to improve the poor home record this season.
Relegation fight to the end in Augsburg?
It's simply too early to make a season forecast at this stage. But the defence is surprisingly unstable and, above all, inconsistent. The forward play is not yet determined and when there are good chances, like against Union, the final conviction or quality to push the ball over the line is usually missing. The question is whether the coach can still reach the team. Markus Weinzierl came in last season as a fireman, but even then what FCA played was not really convincing. Accordingly, we are unsure whether those in charge will look at it for much longer should the results fail to materialise.
Augsburg facts & stats
– Augsburg have scored the fewest goals of all Bundesliga teams.
– They currently occupy 17th place in the table
– They are still without a point in their own stadium
– The winner of the last encounter was FC Augsburg
– When FC Augsburg lead 1-0 in home matches, they win 70% of the games
Gladbach form & balance check
The Foals certainly expected more from the new season as well. The promising start to the season against Bayern was followed by two unnecessary and bitter defeats in Leverkusen and Berlin. Accordingly, the first three points at home against their favourite opponents Arminia Bielefeld on the last matchday was important. Now they are in 11th place with 4 points from 4 games and naturally want to keep winning. Even though not everything is going together yet, the first home win in the new season was a big step in the right direction. Now it's time to score away from home as well, because the team from the Niederrhein is still without a point in a foreign stadium.
Is Gladbach on the road back to Europe?
The Foals have been one of the most promising teams in the Bundesliga for several years. Last season, they narrowly missed out on international competition, but that was primarily due to external circumstances. Adi Hütter is a coach who has twice reached the Europa League with the SGE and his style of play actually suits Borussia. But it will be interesting to see whether Gladbach, like Eintracht, will fold towards the end of the season. That was the case more often in Frankfurt under Hütter.
Gladbach facts & statistics
– The average number of goals scored in the first half in matches between FC Augsburg and Borussia Mönchengladbach is 1.
– On average FC Augsburg score 1.4 goals against Borussia Mönchengladbach and Borussia Mönchengladbach score 2.4 goals against FC Augsburg
– Lars Stindl's 2 goals are the most scored by Borussia
Predicted line-up – last update on 16 September 2021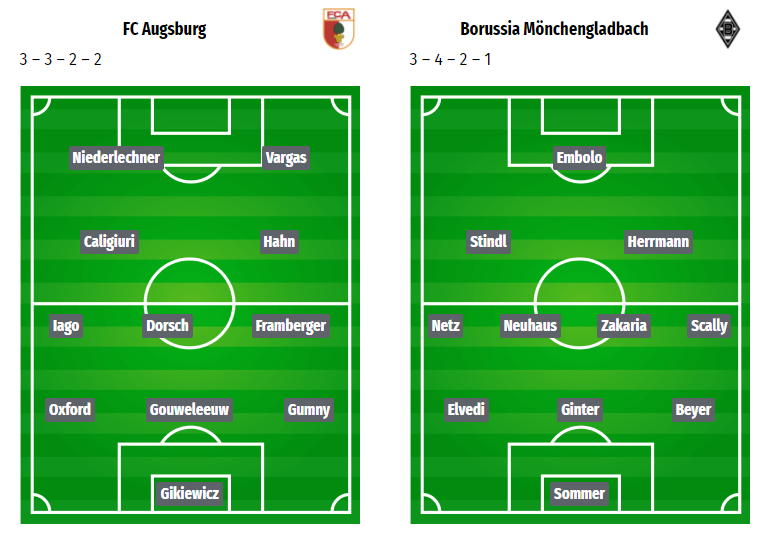 Both coaches have a wide variety of options. It is questionable whether Udoukhai will be available again after his injury. If he is, he will probably start instead of Gumny. If Weinzierl does start with a back four, a double six consisting of Dorsch and Maier is the most likely option. The visitors will probably also start with a three-man backline. Herrmann is a candidate for the starting eleven after his strong game against Bielefeld. We also expect Embolo to be in Adi Hütter's first eleven.
Missing and injured players FC Augsburg
– Moravek, Jan
– Strobl, Tobias
Missing and injured players Borussia Mönchengladbach
– Lainer, Stefan
– Thuram, Marcus
– Doucoure, Mamadou
FC Augsburg vs Borussia Mönchengladbach – Bundesliga 21/22 on 18/09/2021
– Start of match: Saturday 15:30 hrs.
– TV Broadcast: Sky Bundesliga HD 3 – Astra 1C-1H / 2C (19.2E)
– Venue: Augsburg, Germany
– Stadium: WWK ARENA
– Stadium capacity: 30660 spectators
FC Augsburg vs Borussia Mönchengladbach TV broadcast, live stream and time
The match between FC Augsburg and Borussia Mönchengladbach will take place on Saturday, 18/09/2021 at 15:30 on TV channel Sky Bundesliga HD 3 – Astra 1C-1H / 2C (19.2E).
FC Augsburg vs Borussia Mönchengladbach – form check and comparison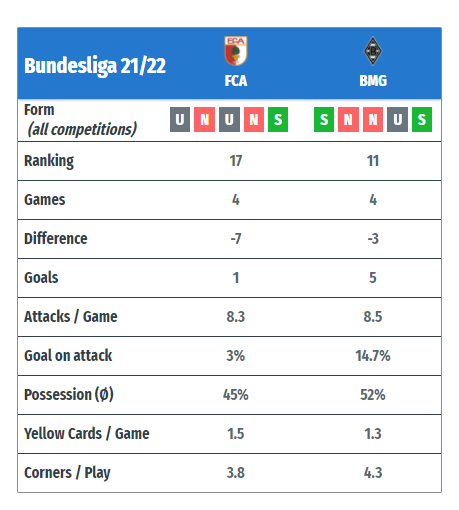 Result Statistics – FC Augsburg and Borussia Mönchengladbach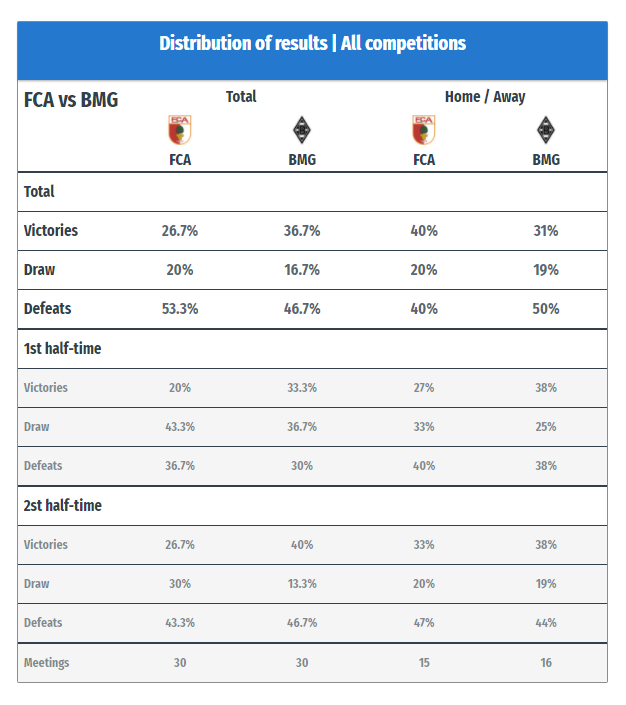 Goal betting and Over/Under predictions